Anti-Trump Third Party Discussed by Former Reagan, Bush Officials: Report
Former Republican officials from the administrations of Ronald Reagan, George H.W. Bush and George W. Bush have been in discussions regarding an anti-Trump third party, according to a new report.
More than 120 former GOP lawmakers, administration officials, ex-Republican strategists and even former ambassadors were on a Zoom call last Friday, Reuters reported, noting that plans for the creation of a new "center-right" party or faction within the GOP were central to the talks.
The Integrity Party and Center Right Party were reportedly among the names floated for the newly proposed third party, with Center Right Republicans also under consideration if the group decides to opt for a faction within the GOP instead.
Evan McMullin, a former independent presidential candidate and House GOP Conference staffer, told Reuters that only around 40 percent of those on the call backed the idea of creating a new anti-Trump third party.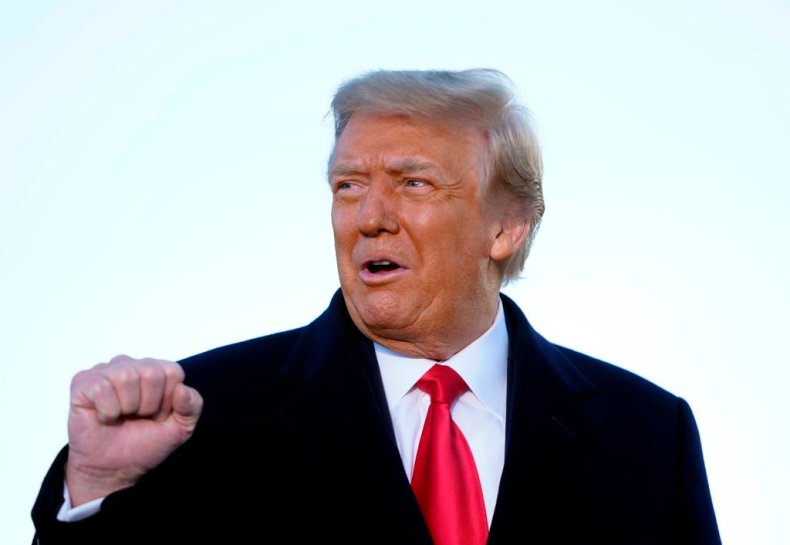 "The [Republican] party needs to recommit to truth, reason and founding ideals or there clearly needs to be something new," McMullin told Reuters, as another call participant claimed they had not seen "greater hunger" for a new party in their lifetime.
Newsweek has contacted the Republican National Committee, Evan McMullin and former President Donald Trump's team for further comment. This article will be updated with any responses.
The fringe talk of establishing a third party comes as many in the GOP remain fiercely loyal to Trump in the wake of the January 6 Capitol riots and the beginning of his second Senate impeachment trial.
Most Republican senators have twice voted against the ex-president's second impeachment trial moving ahead, and have argued that it is unconstitutional to put a private citizen on trial in the Senate, even under impeachment charges brought against them while they still sat in the Oval Office.
In a Senate vote on Tuesday, the upper chamber voted 56-44 in favor of the trial's constitutionality. Just six Republican senators broke with their party after House impeachment managers and Trump's defense team made opening arguments.
The vote indicated that the rump of the GOP caucus would remain loyal to the former president, and refuse to convict him under the charge of incitement of insurrection brought forward by the Democratic-controlled House in January.
Ten House Republicans voted with Democrats to impeach Trump in the wake of the fatal Capitol riots, while 197 lawmakers stood by the former commander-in-chief and opposed the incitement of insurrection charge.
A Morning Consult poll released last month also found that the GOP base still backed the then-outgoing president as he faced another impeachment trial, with 79 percent telling pollsters that they approved of his performance in the White House.