More Than Half of All Anti-Vaccine Facebook Ads Posted by Just Two Groups
Much of the rise in anti-vax sentiment on social media has been orchestrated by just two ad buyers, according to a study published in the journal Vaccine. The buyers exploited Facebook targeted advertising in a way similar to the methods used by campaign groups in the Brexit referendum and the 2016 U.S. presidential election.
Researchers analyzing anti-vaccine ads running in late 2018 and early 2019 found more than half were posted by two groups—the World Mercury Project and Stop Mandatory Vaccination.
Both these groups are run by private individuals—the former by Robert F. Kennedy Jr., son of Robert F. Kennedy and Ethel Skakel.
"The average person might think that this anti-vaccine movement is a grassroots effort led by parents, but what we see on Facebook is that there are a handful of well-connected, powerful people who are responsible for the majority of advertisements," lead author Amelia Jamison, a faculty research assistant in the Maryland Center for Health Equity, said in a statement. "These buyers are more organized than people think."
For the study, Jamison and colleagues searched Facebook's Ad Archive— a platform introduced in 2018 to improve transparency related to certain forms of advertising considered of "national importance"—for "vaccine" two times. Once on December 13, 2018 and once on February 22, 2019.
The search pulled information for 505 ads, which were then split into three categories: pro vaccines, against vaccines and irrelevant. The researchers then analysed 309 of these ads (163 (53%) pro-vaccine advertisements and 145 (47%) anti-vaccine advertisements) for themes.
The analysis revealed that there were "significantly" higher numbers of buyers for pro-vaccine ads compared to anti-vaccine ads—83 in total. In contrast, just two groups (the World Mercury Project and Stop Mandatory Vaccination) were responsible for 54 percent of ads categorized as anti-vax. Pro-vaccine ads also tended to have more varied and more specific aims related to a single vaccine. For example, the Gates Foundation campaign to fight polio (theme: philanthropy) or WalMart's advertisement for its local flu vaccine clinic (theme: promotion).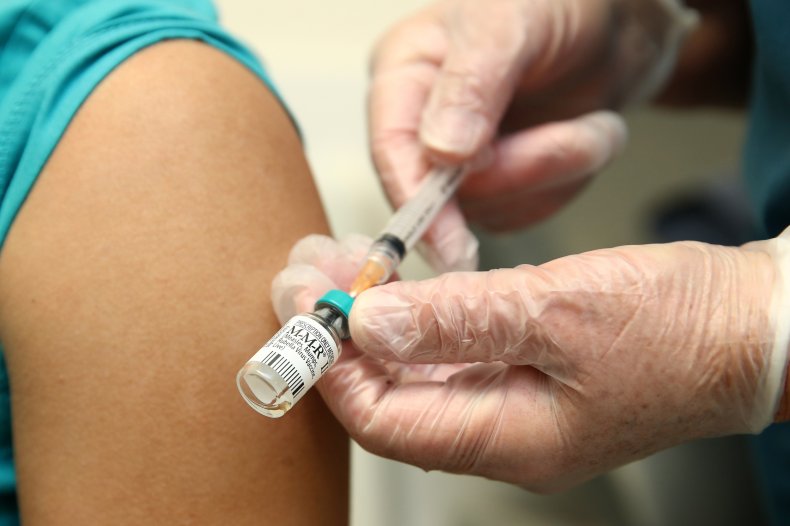 In their conclusions, the researchers criticize the way Facebook handles the vaccine "debate," noting that because the company categorizes these ads as "political," several pro-vaccine ads have been rejected.
"By accepting the framing of vaccine opponents—that vaccination is a political topic, rather than one on which there is widespread public agreement and scientific consensus—Facebook perpetuates the false idea that there is even a debate to be had," David Broniatowski, associate professor of engineering management and systems engineering at GW involved in the study, said in a statement. "This leads to increased vaccine hesitancy, and ultimately, more epidemics."
"Worse, these policies actually penalize pro-vaccine content since Facebook requires disclosure of funding sources for 'political' ads, but vaccine proponents rarely think of themselves as political. Additionally, vaccine opponents are more organized and more able to make sure that their ads meet these requirements."
The researchers also highlight concerns over the influence Facebook has when it comes to the spread information and misinformation—and the social and political impact that influence can have.
"While everyone knows that Facebook can be used to spread misinformation, few people realize the control that advertisers have to target their message," said Mark Dredze, the John C. Malone associate professor of computer science at Johns Hopkins.
"This puts public health officials, with limited staff resources for social media campaigns, at a true disadvantage, just when we need to communicate the urgency of vaccines as a means to protect our children and our families," said Sandra Crouse Quinn, professor and chair of the Department of Family Science at UMD's School of Public Health, involved in the study.
The team hope to continue their research and find out how changes to Facebook's policy regarding vaccine-related ads (introduced earlier this year) will affect the spread of anti-vaccine sentiment.
The Rise of the Anti-Vaccine Movement
Despite the fact that the main anti-vax arguments have been thoroughly debunked, medical professionals from around the world have reported declines in the number of children being vaccinated. This trend has led the World Health Organization (WHO) to list "vaccine hesitancy" among the top threats to human health, alongside climate change and antimicrobial resistance.
At the same time, there has been a huge uptick in the number of measles cases. In 2000, the disease was declared eliminated in the U.S. This year, 1,261 cases were reported between January 1 and November 7—the highest number since 1992, according to the Centers for Disease Control and Prevention (CDC).
Below is a graph created by Statista showing the percentage of respondents from different countries who believed some vaccines could cause autism in children.