Attorney Lin Wood announced on Friday that podcaster Doug Kuzma, a supporter of former President Donald Trump known for his anti-vaccine stance, is in the hospital due to COVID after attending a QAnon-friendly conference in Texas earlier this month.
Wood wrote in a Telegram post that he received a call for help from Kuzma's administrator, who said the Frog News Network host had been suffering from the disease and his lungs were not responding to treatment.
According to Telegram posts by Frog News Network on Saturday, Kuzma was placed on a ventilator early Christmas morning and was unconscious and unable to answer calls or messages.
Frog News Network noted that the last contact with Kuzma was on December 19, when he shared a photo of ivermectin he had stockpiled before heading to the Texas event.
Kuzma attended the QAnon-friendly "ReAwaken America" event in Dallas from December 9 to 11. The event drew speakers and attendees known for promoting vaccine conspiracies and claims of 2020 presidential election fraud.
The ongoing tour is taking place in several states, with guest speakers having included MyPillow CEO Mike Lindell and former Trump National Security Advisor Michael Flynn.
Some far-right attendees, including podcast host Joe Oltman, claimed afterwards that they had experienced anthrax poisoning at the event. On December 19, Oltman wrote in a Telegram post that he became ill. He later claimed that another attendee, Jovan Pulitzer, was also sick.
Pultizer wrote on Twitter on Wednesday: "To my friends tried to keep this underwraps until we knew what we were dealing with but Evidence suggest that several of us were targeted by biological agents at an event This has wreaked havoc on my system w all of the most dangerous symptoms appearing Scary to say the least."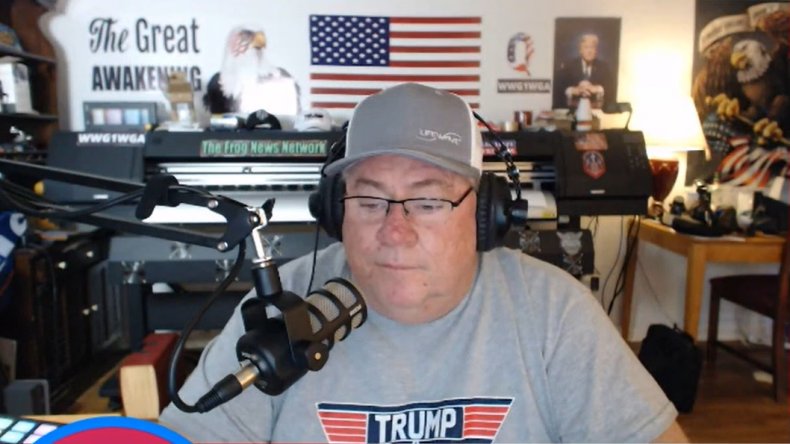 Anti-vaxxer David Clements, a former New Mexico State University professor, claimed that Oltman, Pulitzer and others who "were present at the last ReAwaken America tour" had suffered "from symptoms related to an anthrax attack."
Clements didn't mention evidence to back his claim. Anthrax is a bacterial infection that has been long used as a biological weapon, according to the Centers for Disease Control and Prevention (CDC). Like COVID, symptoms of anthrax poisoning include coughing and shortness of breath.
Claims of anthrax poisoning by Wood and John Sabal were widely shared on Telegram by Trump supporters.
Texas recorded just over 11,000 new COVID cases on December 21, with the new Omicron variant spreading rapidly across the U.S.