Anti-Vaxxers Could Get Boost from FDA If Coronavirus Vaccine Authorized Prematurely
The prospect of the U.S. Food and Drug Administration (FDA) granting an emergency use authorization (EUA) ahead of approving a potential coronavirus vaccine risks playing into the hands of anti-vaxxers, experts have told Newsweek.
Almost 200 coronavirus vaccines are currently under development around the world, including 33 that are in clinical trials according to the World Health Organization. This week, AstraZeneca's joined Moderna and Pfizer/BioNTech by launching Phase 3 trials in the U.S. Researchers hope to enroll 30,000 people for their respective studies.
On Sunday, FDA commissioner Dr. Stephen Hahn told the Financial Times the body would issue an EUA, which has a lower threshold than an approval, for a coronavirus vaccine before Phase Three clinical trials were finished, if officials thought the benefits outweighed the risks. The criteria for an EUA to be issued includes that a product "may be effective" to prevent or treat disease, and that the benefits outweigh the risks.
Hahn denied accusations that it was speeding up the process to aid Donald Trump's in the upcoming presidential election. He said the onus is on the vaccine developers to apply for authorization or approval, and the FDA makes a judgement based on their application.
"If they do that before the end of Phase Three, we may find that appropriate. We may find that inappropriate, we will make a determination," said Hahn.
Last week, the FDA controversially issued an emergency use authorization for convalescent plasma therapy in COVID-19 patients, despite it not being proven to be effective in randomized controlled trials, the gold standard of research into treatments.
Usually, it takes several years for a vaccine to be developed after extensive lab and clinical tests, with Phase 3 trials examining whether a vaccine is safe and effective in a large group of people. The FDA then reviews the results when considering approval. As the side effects and effectiveness of vaccines can differ between the general population and subpopulations, such as the immunocompromized or those with certain underlying conditions, Phase 3 trials help to establish general efficacy.
It is hoped a coronavirus vaccine will be proven safe and effective by the end of the year. The process has been sped up partly due to existing knowledge about fellow members of the coronavirus family of viruses, such as SARS and MERS, and because governments are taking on the financial risks, for instance by buying up doses before they are proven to work so they are ready to roll out if and when they are.
Dr. Anthony Fauci, a top infectious disease expert and member of the White House coronavirus task force member, has repeatedly stressed the rate of development is not compromising safety.
Clinical trials are each assigned an independent data safety and monitoring board (DSMB). Fauci told STAT News for a report on how a vaccine could be safely authorized before Phase Three trials conclude that the DSMB reviews data from trials intermittently. It then makes one of four determinations: that a trial can be halted because the product is effective, that it should end because there are side effects, recommend changes, or allow it to proceed.
"The earlier you stop it, the higher the bar [of criteria to hit to stop a trial]," Fauci said.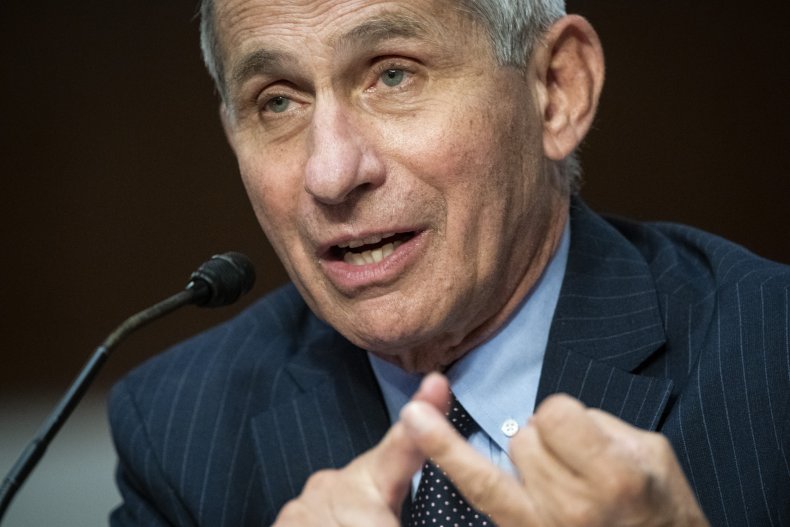 In a call with reporters on Friday about Operation Warp Speed attended by CNN, Paul Mango, deputy chief of staff for policy at the US Department of Health Human Services, said officials can't see the data until the DSMB allows them. Mango said officials look for the number of positive case from the placebo and vaccine groups.
"Once we get to 150 or so, statistically that is significant regardless of how many enrollees we have in the trial," he said.
Asked to react to Hahn's statement regarding Phase 3 trials in the Financial Times, experts told Newsweek they were worried that issuing an EUA too soon could pose safety hazards, boost the anti-vaccine movement, and undermine confidence not only in a coronavirus vaccine but others.
Julie Kalabalik-Hoganson, associate professor of pharmacy practice at Fairleigh Dickinson University School of Pharmacy and Health Sciences, told Newsweek: "expediting a coronavirus vaccine should not come at the cost of patient safety.
"A premature EUA issuance and failure of the vaccine could have a negative impact on the public's trust of the FDA and the vaccine approval process. The scientific evidence should drive the process, not external factors."
Robert Carnahan, associate Director of the Vanderbilt Vaccine Center issuing an EUA could play into the hands of anti-vaxxers. Although Phase 1 and 2 trials will have shown the vaccines are safe, he said, Phase 3 trials are needed to document potential rare events in wider populations and the previously mentioned subpopulations.
"There may be an authorization in the absence of data supporting efficacy in some of the groups that are most in need, least likely to respond with protective antibodies, and ones where adverse events may be particularly dangerous," he said.
An equal or bigger risk, according to Carnahan, was that an EUA could undermine public confidence in vaccines. He gave the hypothetical scenario of the first coronavirus vaccines being authorized but failing to show adequate protection, prompting articles in the media about vaccine failures. Then if a third vaccine emerges that does work across all or most populations, there may already be increased vaccine hesitancy, Carnahan said.
"This may not harm people directly, but the indirect harm could far outpace direct adverse events," he said.
"Any real or perceived 'cutting of corners' can be used as evidence to undermine vaccine efficacy," Carnahan went on. He pointed to the effects of the discredited studies by Andrew Wakefield regarding the MMR vaccine.
"These studies were fraudulent and misinterpreted in their conclusions of negative outcomes associated with the MMR vaccine. But the misinformation from these studies has been used not only against MMR, but against many and or all vaccines, even ones with absolutely no shared components with the MMR vaccine."
Surveys show an EUA could come amid a climate of suspicion towards vaccines. According to a World Economic Forum/Ipsos survey released on Monday, 67 percent of Americans would get a coronavirus vaccine while 33 percent say they had little or no interest. Of respondents who said they would not have a vaccine, 60 percent said they were worried about side effects, and 37 percent said they did not think it would be effective.
Prakash Nagarkatti vice president of research at the University of South Carolina's department of Pathology, Microbiology and Immunology, told Newsweek that unlike a drug that may be used to treat a terminally ill patient where a EUA may be approved in the middle of a trial because of encouraging results it is "absolutely critical" that trials are completed to show that the average health person would not suffer from any toxic effects, thereby making a well person unnecessarily sick.
"There is lot of misinformation in social media about the vaccine and the federal government can play a major role in communicating in a meaningful way to gain public confidence," Nagarkatti said.
This includes informing the public that vaccines work on the principle that benefits outweigh risks, and should be made aware of success stories such as the eradication of smallpox, which killed over 300 million people in the 20th century.
Concluding, Nagarkatti said: "if we wish to enjoy the life the way we did before the pandemic, [a] vaccine is the only solution."