'Antifa' Group Behind November 4 'Civil War' Protests Will Take a Knee Against Trump in Atlanta Tonight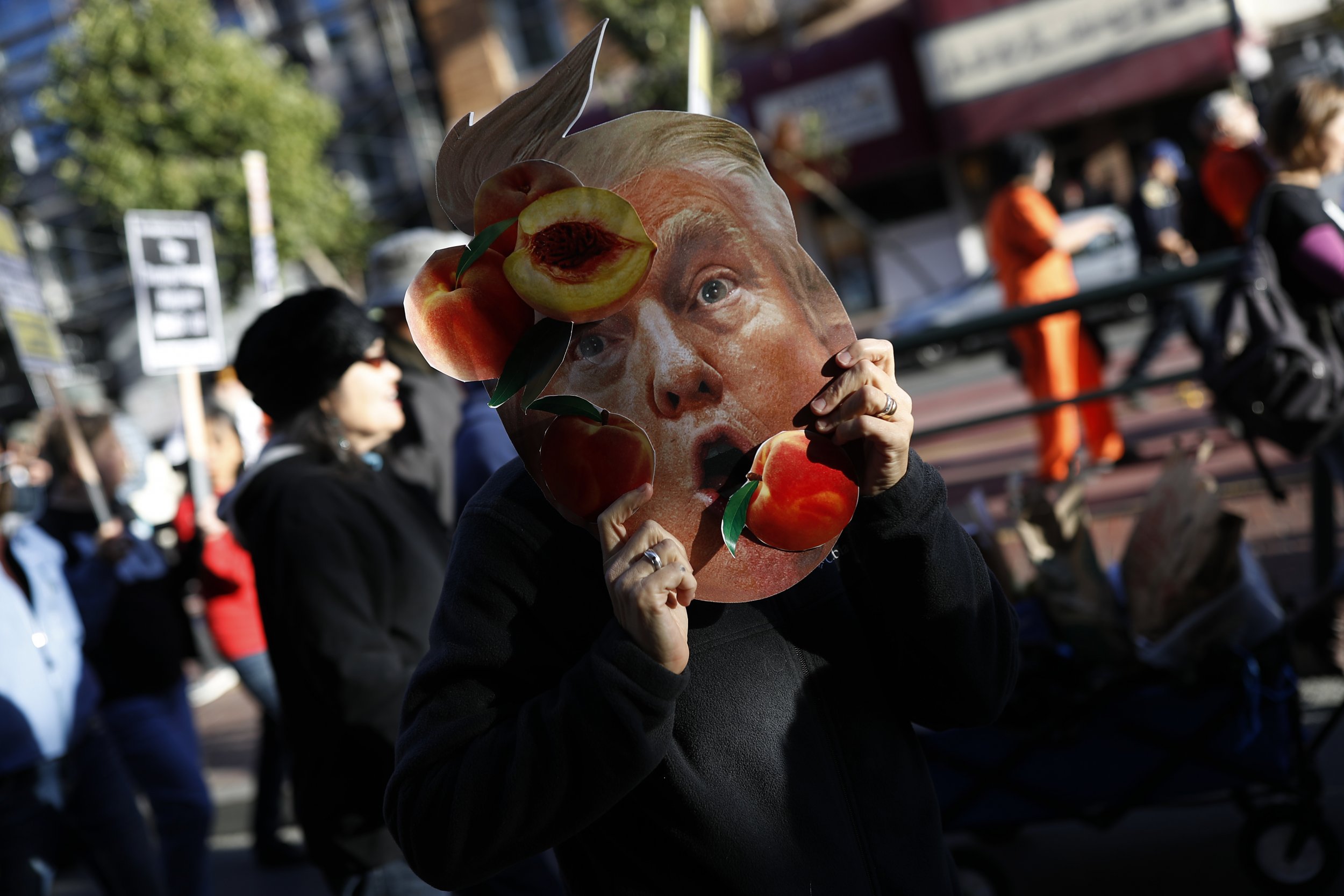 President Trump is headed to Atlanta to watch Georgia play Alabama, and when he gets there, not everyone will be standing.
Refuse Fascism, the group behind the so-called November 4 protests that InfoWars and other conspiracy sites attempted to hype into an act of civil war, are staging protests against the president when he arrives to watch the college football national championship game Monday night.
Refuse Fascism's Atlanta chapter is headed to CNN headquarters, which is located in downtown Atlanta, to "Take a Knee Against Trump," according to the group's Facebook page. The protest references former San Francisco 49ers quarterback and civil rights activist Colin Kaepernick, who kneeled during the national anthem to protest police brutality—and was criticized for it by Trump.
"Trump dissed Atlanta by calling it 'crime infested' – code for 'too many Black people'; dissed John Lewis for correctly calling him ILLEGITIMATE; dissed football players of conscience, women, immigrants, LGBTQ people, Muslims, science, critical thinking, the environment; threatens the whole world with nuclear holocaust," the group writes. "And now, he thinks he can just stroll into Atlanta and watch football on Monday??? F--k that s--t!"
The group resurrected some of the language they used in hyping up the protests on November 4, 2017, when several thousand people marched against Trump in cities across the country.
"Take a stand by taking a knee against Trump, Pence, and the whole fascist regime! Let's make it clear they're not welcome here! (or anywhere)!!" the group writes. "The Trump/Pence Regime Must Go!"
The protest is scheduled for 6 p.m., two hours before the game will kick off at Mercedes-Benz Stadium, which is located a little more than half of a mile away from CNN. Antifascism is a style of protest and not a "group" with any hierarchy or leadership, making the term nebulous and easy to misunderstand. The November 4 protests were billed by InfoWars and other sites as a civil war led by "antifa," but in reality, the events played out as a fairly normal protest against the Trump administration.
Refuse Fascism has proved to be a source of fascination for conspiracy theorists on the far-right, but its membership tends to be quite different from the young anarchists and Marxists that form the stereotype of an "antifa" protester. The group has ties to the Revolutionary Communist Party, an older political group founded by a man named Bob Avakian in the mid-1970s. Avakian, affectionately nicknamed "Chairman Bob," is a Maoist, and an outspoken critic of capitalism.
The NAACP of Atlanta is also expected to protest Trump's presence at the game on Monday, according to a report by The Associated Press. The civil rights organization is asking people to wear white and carry anti-Trump signs to the game. Earlier this year, the NAACP of Atlanta called for a boycott of the NFL if Kaepernick was not signed by an NFL team to play this season. (He was not.) A new survey that was first shared with Yahoo Finance today, found that a third of NFL fans boycotted watching the league this year.