Antifa Names and Mugshots Published by California Police in 'Disturbing' Move
Police in Berkeley, California, face a backlash after the department posted the photos and names of more than a dozen anti-fascist activists on Twitter following their arrest at a chaotic "far-right" rally.
The Berkeley Police Department said it had arrested 20 people on Sunday at the rally, which had been billed as a "No to Marxism" demonstration, booking many for "possession of a banned weapon" or for "working with others to commit a crime."
In the hours after the rally, police had published a list of the names of protesters online, while sharing the photos, names and residential areas of individual protesters in separate tweets.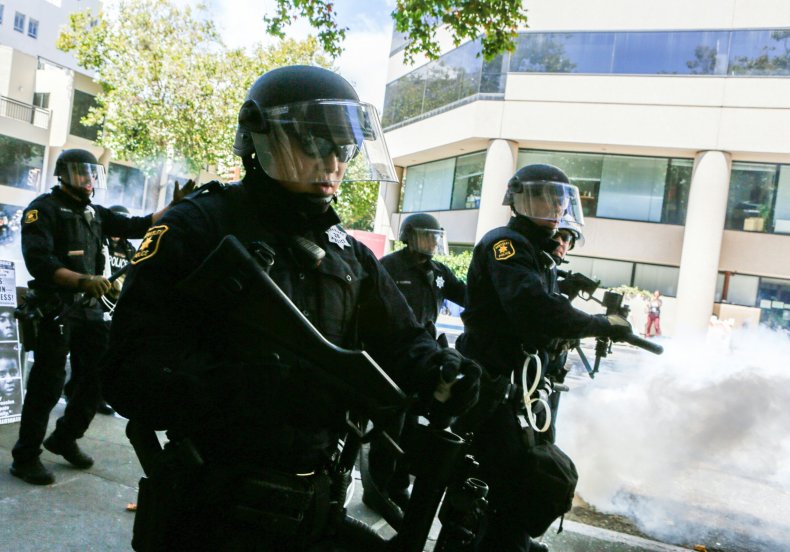 Lawyers and activists working with demonstrators told The Guardian newspaper that most, if not all, of the protesters arrested were Antifa counterprotesters, rallying against the alt-right event.
"This is very disturbing," Veena Dubal, a University of California law professor who previously worked as a Berkeley police review commissioner, told the newspaper.
"It seems like a public-shaming exercise, which is not the role of the police department," Dubal said.
The law professor also warned that the police department could be risking the safety of protesters by sharing their identities on social media.
"They are making it really accessible for folks who might wish these people harm to locate them," Dubal said.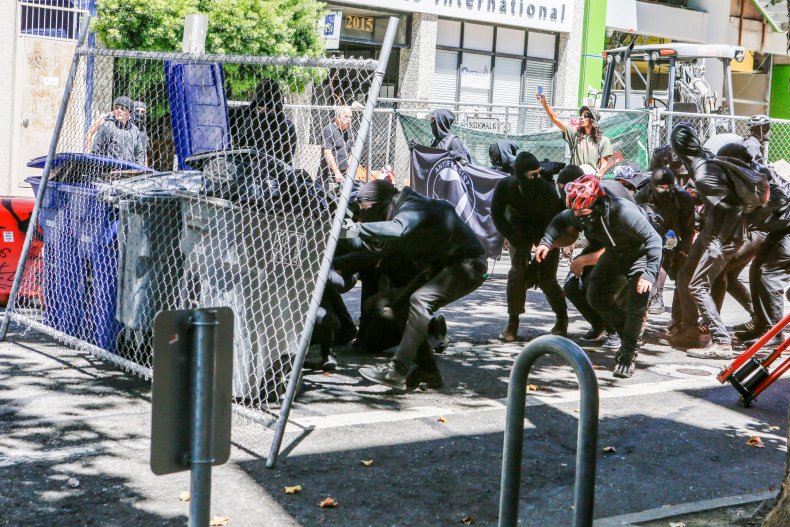 Scores of Twitter users have expressed similar sentiments with many questioning the Berkeley Police Department's decision to identify individual protesters on social media.
"Obviously you're aware of and complicit in the harassment these people will now be subjected to," one critic wrote in response to one of the police department's posts.
"Is BPD content with mobilizing this private harassment as a deterrent for further counter-protests? Is that the goal here?"
The Berkeley Police Department has refused to remove the tweets that reveal the names and identities of counterprotesters, writing in a statement published online that the list was only a "partial" one as "some arrestees names have not yet been confirmed."
The police department said it "used de-escalation strategies throughout the day," including the "separation of rival groups, confiscating weapons and arresting those carrying weapons in prohibited areas."
It said most were arrested for "possession of banned weapons in parks, and on streets and sidewalks," adding that "dozens of weapons were confiscated."
The city of Berkeley had issued a statement ahead of the planned rally, reminding protesters that "weapons" were prohibited in the area, including "anything…that can be used for a 'riot.'"
Officials also barred protesters from covering their faces, including wearing masks and bandanas, which Antifa protesters are known to do to protect their identities.
Despite the warning, the Berkeley Police Department said many of the "hundreds of people" who showed up to the rally "came armed and hostile."
The police department said protesters, whom it called "extremists," threw "explosives" at Berkeley police officers, as well as at Alameda County Sheriff's Office mutual aid officers policing the event.
The Berkeley Police Department said that while there were no "significant injuries" to members of the public or city staff, "siginifcant damage" had been made to city property, with one "extremist element…smashing 21 city vehicles and slashing city vehicle tires, and setting one city vehicle on fire."
The department added that three "minor dumpster fires also had to be extinguished."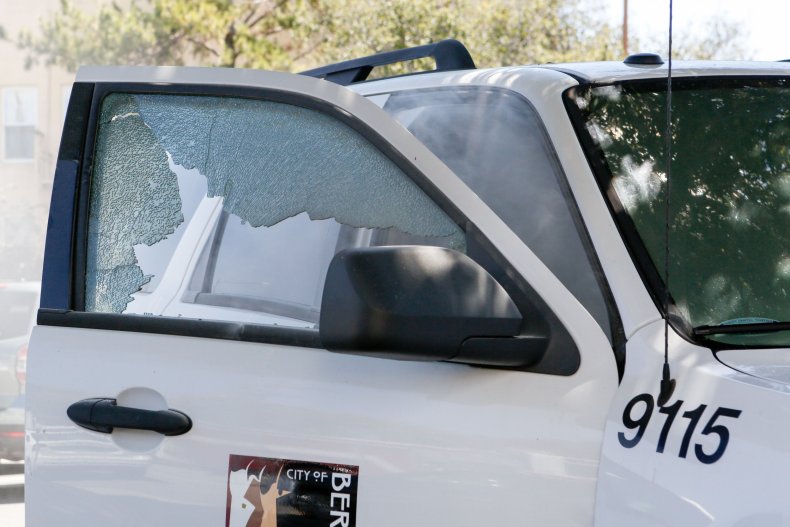 Images of the rally and counterprotest portray a chaotic scene, with one photo showing alleged Antifa members physically attacking a man suspected of being a right-wing supporter and others showing smashed vehicles belonging to city officials, with captions identifying Antifa members as the culprits.
The Berkeley Police Department asked that any members of the public with videos or photos of the incident come forward, adding that its investigation into "any crimes" committed at the rally will be ongoing.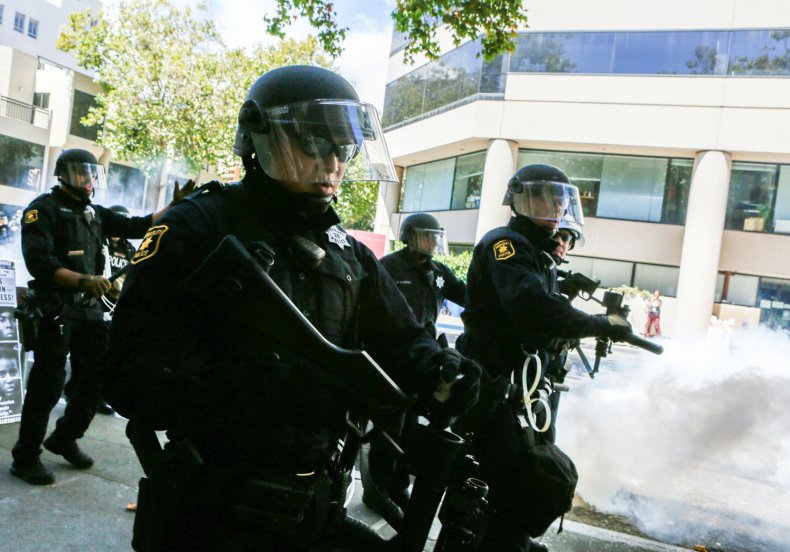 The incident comes as the Portland Police Bureau faces accusations from the American Civil Liberties Union of using excessive force and targeting Antifa protesters "based on [their] political beliefs" in their handling of protests in downtown Portland, Oregon, on Saturday.
Officers arrested at least four people in the protests, which saw Antifa counterprotesters face off with participants of a "far-right" rally led by Joey Gibson, who heads the far-right group Patriot Prayer.
Read more: Portland Police investigate use of force against counterprotesters during far-right rally
Video of the Portland protests showed officers in riot gear pushing protesters and photographers, who were there to document the rally and counterprotests, with batons.
Poetland Police Bureau Chief Danielle Outlaw said in a written statement on Sunday that she took "all force applications by members seriously" and had directed the Professional Standards Division to "begin the intake process regarding these allegations to determine if force was used and if so, was within our policy and training guidelines."
The ACLU rejected Outlaw's response, calling the police department's actions "completely unacceptable in a free society. The repeated use of excessive force, and the targeting of demonstrators based on political beliefs are a danger to the First Amendment rights of all people," the civil liberties union said.