Portland Police said they are investigating their officers' use of force at a far-right rally in the city over the weekend, following accusations they targeted counter-protesters more severely.
Police Chief Danielle Outlaw said they have received allegations of civilian injuries while the force tried to disperse crowds demonstrating against the rally organized by Patriot Prayer and attended by other far-right and white nationalist groups.
Police in riot gear were deployed to keep the two opposing sides apart as right-wing militants wearing protective gear clashed with counter-demonstrators, including antifa groups dressed in black covering their faces.
"This morning I learned of allegations of injury as a result of law enforcement action. I take all force applications by members seriously and I have directed the Professional Standards Division to begin the intake process regarding these allegations to determine if force was used and if so, was within our policy and training guidelines," Outlaw said.
"The protests that took place on August 4, as with all other Portland demonstrations, were widely filmed by media and members of the community," the force added in a statement.
"Portland Police officers are aware of the continuous filming and as an organization, the Portland Police Bureau welcomes the filming as a way to further increase transparency."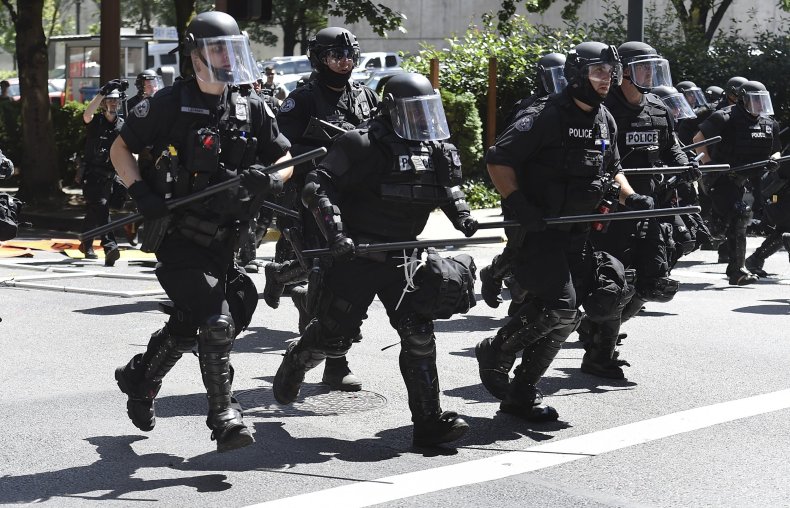 Civil rights groups accused officers of targeting the counter-demonstrators after police declared the rally a civil disturbance, following bottles and other projectiles being thrown into the crowd during the disorder. Police used a variation of flash-bang grenades and other crowd-control munitions before charging at counter-protesters with batons, reports Oregon Live.
The Oregon chapter of the Council on American-Islamic Relations and the Portland chapter of the Democratic Socialists of America also accused officers of targeting Portland residents "peacefully counter-protesting against racist far-right groups, including white supremacists, white nationalists, and neo-Nazi gangs," in a joint statement, reports the Associated Press.
The Oregon branch of the American Civil Liberties Union also criticized how Portland Police Bureau attempted to control the rally.
"The Portland Police Bureau's response to protest is completely unacceptable in a free society," a spokesperson said.
"The repeated use of excessive force, and the targeting of demonstrators based on political beliefs, are a danger to the First Amendment rights of all people. We call on the Portland Police Bureau, Mayor [Ted] Wheeler, and Chief Outlaw to immediately end the use of weapons, munitions, and explosives against protesters."
Police arrested four people in connection with the disorder at the rally as well as seizing multiple weapons throughout the day. The department said it was made aware that riot control agents and less lethal impact munitions were used at the rally "in response to the violent and assaultive behavior of the crowd and after the crowd failed to disperse in response to police orders."
"The Portland Police Bureau is, and will always be, committed to providing a safe environment for all individuals to exercise their First Amendments rights in a peaceful manner," said Outlaw.
"Unfortunately, today, some people chose to commit illegal acts of violence, which required members of the Police Bureau to take action in order to keep all participants and non-participants safe. This was a dangerous situation for all those involved, including officers, and I am disheartened that this kind of illegal behavior occurred in our beautiful city."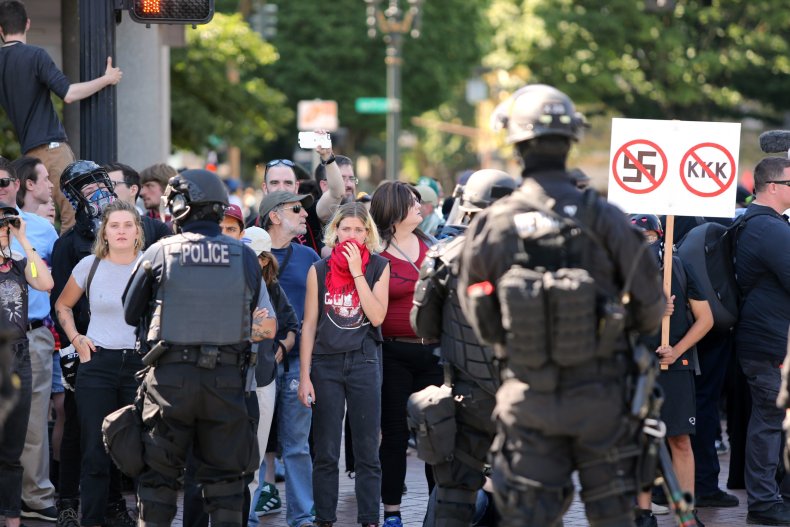 This is the third time that a rally organized by Patriot Prayer and its leader Joey Gibson has been held in Portland in recent months. Each time, the rallies have erupted into violence after being met with counter-demonstrations.
Gibson, who is running as a Republican candidate for U.S. Senate in Washington State, denies that Patriot Prayer is a hate group.
"We're here to promote freedom and God. That's it," he told KGW. "Our country is getting soft."