'Antifa' Not Guilty: First of J20 Protesters Acquitted Nearly One Year After Trump's Inauguration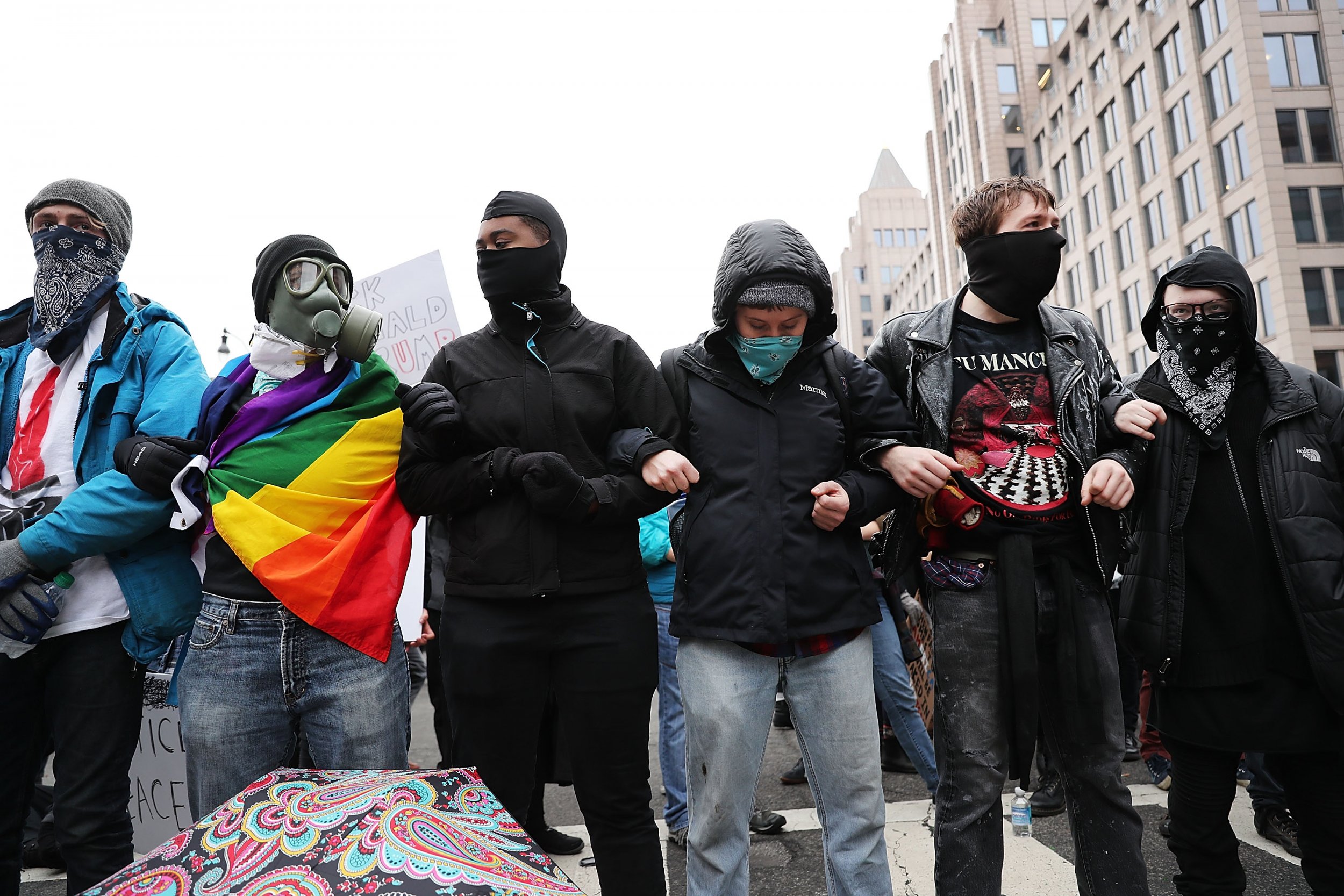 Members of the "antifa" movement were cleared Thursday of felony rioting charges stemming from their alleged participation in the so-called #J20 protests at President Donald Trump's inauguration almost a year ago.
The first six of roughly 190 anti-Trump protesters facing felony charges were acquitted by a federal jury, and some experts believe other cases could end up being dropped—which amounts to a large win for the antifascist movement.
"For the first time since January, the activists were happy and smiling and laughing," Jude Ortiz, a representative for Defend #J20, a civil rights group supporting the protesters, including the six who were cleared, Jennifer Armento, Oliver Harris, Brittne Lawson, Michelle Macchio, Christina Simmons and Alexei Wood.
"Everyone is ecstatic and thankful. It was an incredible victory," Ortiz added.
Activists had said earlier that the trial, which followed skirmishes between some protesters and police, was an attempt to crack down on dissent. Many of the demonstrations were peaceful, witnesses said, and press coverage from January 20, 2017, confirm. But more than 200 people were arrested en masse by DC Metro Police that day.
The trial of the protesters itself was controversial. Federal prosecutors employed video evidence captured by Project Veritas, a controversial group that runs right-wing video stings and even tried to trick The Washington Post into publishing a fake news story about Alabama Republican U.S. Senate candidate Roy Moore.
Activists also accused DC police of political bias against them. Officers who testified against the protesters struggled to tell one suspect from another while testifying against them. A spokesperson for It's Going Down, an antifascist website and news network that supports the protesters, told Newsweek, "None of the people were charged with doing anything but just being there."
"Antifa" is more of a protesting tactic than the name of a movement. Still, it has been blamed for a growing number of bizarre and demonstrably false conspiracies by right wing pundits in recent months, including the mass shooting in Las Vegas, a fake civil war plot covered by Alex Jones's Info Wars, and even the Amtrak train derailment in Washington earlier this week. Antifascist organizers told Newsweek that they worried that these voices were demonizing protesters, making them vulnerable to a crackdown by the state.
FBI Director Christopher Wray suggested recently that his organization was investigating men and women who were inspired by "kind of an antifa ideology," which, in addition to the so-called #J20 trials, heightened the concerns of activists.
"While we're not investigating antifa as antifa—that's an ideology and we don't investigate ideologies—we are investigating a number of what we would call anarchist-extremist [groups], where we have properly predicated subjects of people who are motivated to commit violent criminal activity on kind of an antifa ideology," Wray told members of the House Homeland Security Committee in November.