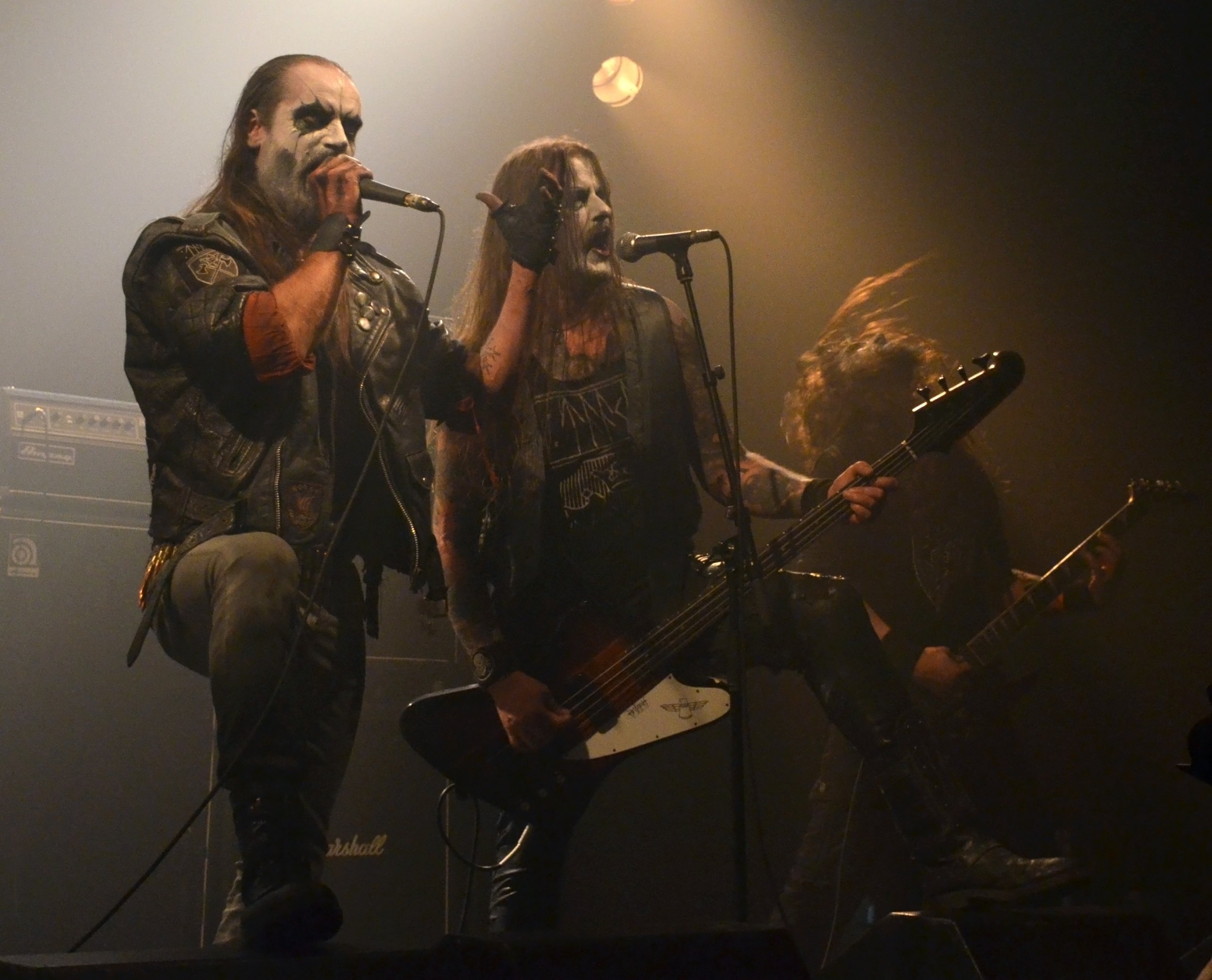 Norwegian black metal, known for its screeching vocals and percussion that sounds like 50 drum kits being thrown down a flight of stairs, has become less controversial than it was in the early 1990s, when the scene was linked to a wave of church burnings and a pair of Satanic, cult-related murders.
An exception may be Taake, a black metal band with roots dating back to those early years when more agile versions of Emperor and Mayhem would take the stage covered in corpse paint to howl about wizards. But the latest controversy surrounding Taake has nothing to do with Satanic worship or murder. The band is caught up in a distinctly Trump-era crisis: Taake has been accused of anti-Muslim lyrics and Nazi sympathies, accusations that partly stem from a 2007 incident in which singer Hoest appeared onstage with a swastika painted on his chest.
The band has disavowed the image, saying it was a one-time lapse in judgment, and denies that its lyrics reflect any racist sentiments. "Many of these claims are just ludicrous," the band's manager, Bjørnar Erevik Nilsen, told Newsweek. "They are not into that kind of stuff at all."
Regarding the swastika, Nilsen said: "It was a provocation. Not any kind of call for right-wing ideology… The band has also played concerts in Israel, which would be completely ludicrous if it were a Nazi band."
But in an era when women, people of color and other minorities are speaking out against the growth of white supremacy, the band is being greeted with disdain from left-leaning metalheads on their 2018 American tour.
Antifascists—or "antifa"—are waging protests against Taake, which has already led to at least one show cancellation and headaches for venue owners across the country. Tours are a crucial source of income for most bands in the digital era, and Taake's flirtations with far-right politics and Nazi imagery have complicated the band's plans to bring their distinctly evil metal to U.S. clubs.
The Manhattan venue (Le) Poisson Rouge has already canceled a March 24 performance by Taake.
"After announcing the show, we received feedback from our patrons expressing concerns, and we take that feedback very seriously," (Le) Poisson Rouge (LPR) said in a statement provided to Newsweek.
"Upon further reflection and discussion of our concerns with the artist's representative, our community and our staff, we were not convinced that this show would have aligned with [our] values or created a safe space for everyone in our community." (Although Antifa members have been lobbying venues to cancel shows, LPR said this wasn't the driving force in their decision.)
A spokesperson for LPR declined to discuss the cancellation further.
Tom Gaffey, the manager of the Phoenix Theater in Petaluma, California, where Taake is due to perform on April 8, said he was having concerns about the show. He worried that resulting protests could get unruly.
"My fear now is that violence might occur," said Gaffey. "It's not about whether or not I want to see a band. I'm concerned about whether or not the show will be safe for customers."
On Monday, the rapper Talib Kweli tweeted about the controversy and suggested that Taake is a "Nazi band":
The band's scheduled tour also includes stops in Chicago, Kansas City and Pittsburgh, among other cities. It is not clear if any of those shows have been canceled. Newsweek has reached out to the venues for comment.
Taake formed in 1993, but the present controversy dates back about a decade.
In March of 2007, the band's singer, Hoest, performed shirtless in Essen, Germany, with a swastika painted on his chest. The band apologized and canceled additional shows in Germany. At the time, Hoest responded to the incident with a statement on the band's website. Taake does not endorse Nazism, he wrote, but "everyone should know by now that our whole concept is built upon provocation and anything evil."
In a new statement provided to Newsweek, Hoest denied that Taake supports Nazi views. "I have clearly explained many times that me wearing a swastika once at a German concert was not at all meant to show support for the Nazi ideology," Hoest wrote. "It was all about doing something extreme for the sake of it, which certainly backfired…Once and for all, Taake is not a racist band."
Five years after that incident, Taake courted further controversy with lyrics widely interpreted as anti-Islamic. The song "Orkan" includes a lyric that translates into "To hell with Muhammad and the Muhammadans / Unforgivable customs."
"The band is a black metal band, so by nature it is anti-religious," Nilsen, the band's manager, told Newsweek. "There are also similar lines in the same song regarding the church and Christianity."
For antifascists, the desire to disrupt Taake's tour stems from a consistent political philosophy, one that has been effective in derailing recruitment for America's anti-Semitic, anti-immigrant "alt-right" movement in recent months: They seek to shut down the platform of anything tied to promoting fascist sentiments. Mollie, an antifascist organizer in New York, who did not give her last name to protect her identity, told Newsweek in a December conversation about the growth of their movement that their tactics are meant to send a broader message to the culture at large.
"Antifascist organizing makes it hard for them to gather in public where they can hurt people, and imposes consequences—like getting fired—which keeps them from recruiting people into their circles," she said of figures on the far-right.
New York–area antifascists have long paid attention to the city's influential music scene, and have waged similar protests against the English neo-folk band Death in June, which has applied Nazi-related themes to their music. The activists note that campaigning against a band has less do with the quality of the music and more to do with the kind of politics they perceive them to promote.
"Nestor," a spokesman for Antifascist Action Nebraska who does not reveal his real name to protect his identity from white supremacists, is among the antifascists drawing attention to the controversy surrounding Taake's music. Nestor loves black metal and said that he recognizes Taake is a talented band, but has no patience for what he perceives to be their intolerance towards Muslims.
"Being an anti-fascist black metal fan requires incredible attention to detail other genres don't generally ask of their fan bases," Nestor told Newsweek. "Lyrics in black metal often take a backseat to the music and with Taake, it's twice as difficult when they sing in Norwegian about damning Muslims to Christian hell."
Controversies over racism in Scandinavian-area black metal don't exactly appear in a vacuum, and the scene has always been associated with acts that have flirted with fascistic imagery, both in jest and in apparent seriousness. The most infamous example is Varg Vikernes, an iconic figure in the genre's history, who founded the group Burzum, and served 16 years in jail after murdering Mayhem's guitarist and burning three churches. Varg, as he's known to metalheads, would be considered proto-"alt-right" by today's standards. He gives voice to white supremacist views.
The Swedish black metal band Marduk has also been plagued with accusations of supporting Nazism, in part because of a series of fascism-friendly album titles like Panzer Division Marduk, which refers to WWII-era German tanks. Bay Area antifascists managed to shut down one of Marduk's performances in Oakland, California, in February of 2017.
Taake's manager compared the ongoing campaign against the band to McCarthyism.
It's "complete bullshit," he said, referring to allegations that Taake is a white-power band. "From the guys in the band, I don't think they vote for anything that's on the right side of the center of Norwegian politics."