Video: Portland Antifa Beats Bernie Sanders Voter for Carrying an American Flag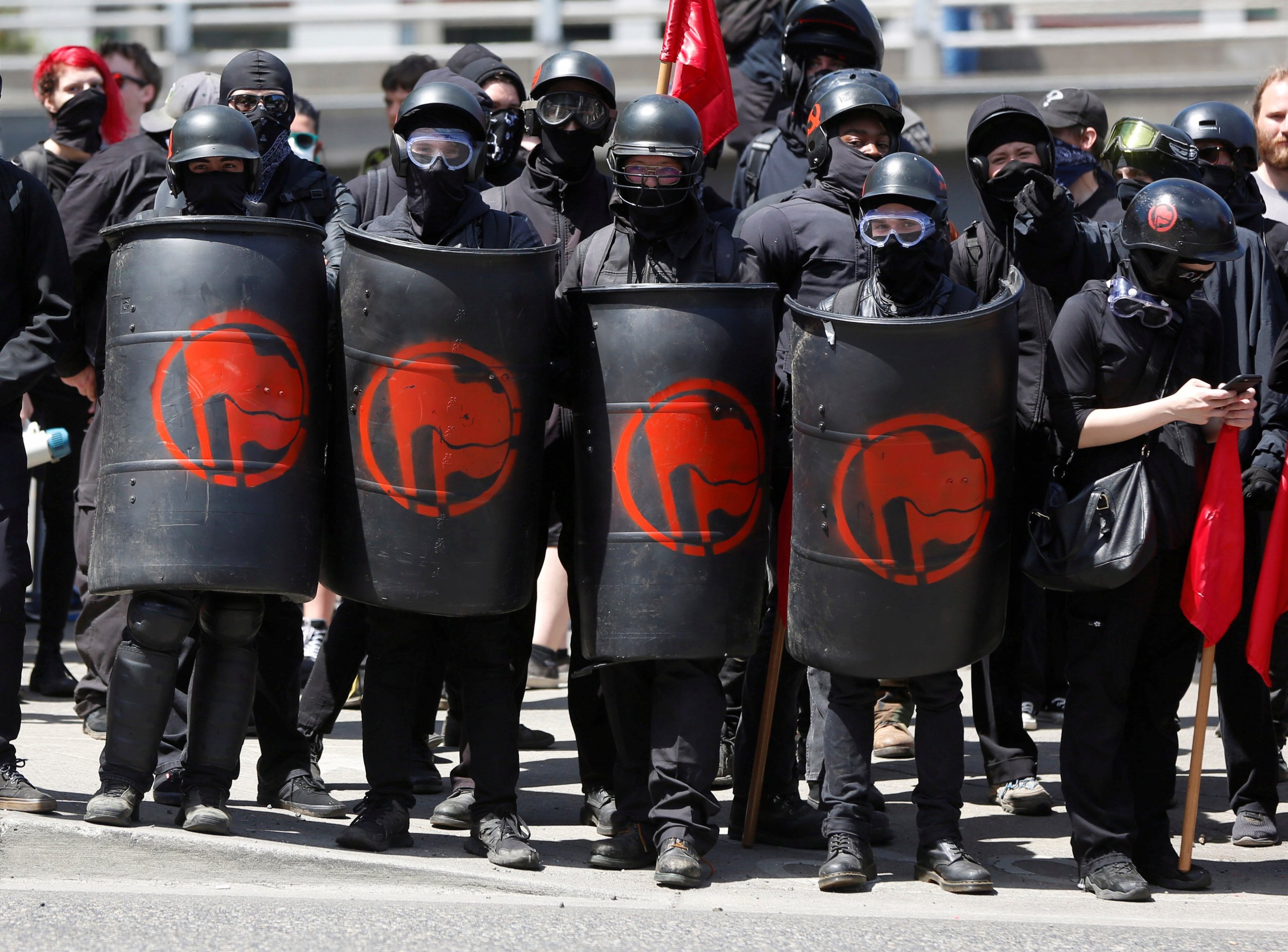 A man assaulted by Antifa supporters in a video that went viral following a demonstration against a far-right rally in Portland, Oregon, says he is not a fascist but a Bernie Sanders-supporting progressive and registered Democrat.
On August 4, Portland-based far-right group Patriot Prayer rallied at the city's Tom McCall Waterfront Park. But it was opposed by a larger number of counter-demonstrators from various left-wing and liberal groups in the city.
Footage shows Paul Welch, 38, wrestling with masked anti-fascists for possession of the American flag he brought to the counter-demo. They demanded he let go of the flag, calling it a "fascist symbol," reported The Oregonian.
"The right and certainly a lot of smaller groups like Patriot Prayer might rush to things like the flag and try to take it up as, 'This is our symbol exclusively,'" Welch, a protest regular, told The Oregonian. "Part of my thinking was to take it back."
One of the men in the video beats Welch on the legs with a club-like object before striking him on the head with it. Welch is left bleeding on the floor, holding his head, as his assailants calmly walk off.
He feared he would be beaten to death but was taken to hospital by onlookers and his head gash stapled back together by doctors. Welch, who said he voted for socialist Sanders in the 2016 Democratic primary, was also concussed.
Portland police are investigating the incident, which was captured on camera by the journalist Mike Bivins and posted to Twitter.
The city's police department is also investigating its own use of force against counter-demonstrators at the far-right rally.
Police Chief Danielle Outlaw said they have received allegations of civilian injuries while the force tried to disperse the demonstrating crowds. Officers in riot gear and armed with batons charged the crowds, and also fired stun grenades and used pepper spray.
"The Portland Police Bureau's response to protest is completely unacceptable in a free society," said David Rogers, executive director of the American Civil Liberties Union of Oregon, in a statement after the protests.
"The repeated use of excessive force, and the targeting of demonstrators based on political beliefs are a danger to the First Amendment rights of all people. We call on the Portland Police Bureau, Mayor Wheeler, and Chief Outlaw to immediately end the use of weapons, munitions, and explosives against protesters."
But police said they were dealing with violent protestors armed with weapons.
"Unfortunately, today, some people chose to commit illegal acts of violence, which required members of the Police Bureau to take action in order to keep all participants and non-participants safe," Chief Outlaw said.
"This was a dangerous situation for all those involved, including officers, and I am disheartened that this kind of illegal behavior occurred in our beautiful city."
Rose City Antifa, the anti-fascist group in Portland, did not immediately respond to a request for comment.