Antony Blinken Picks Up Mike Pompeo's Mantle as He Tackles China Head-On
Recent pronouncements by Secretary of State Antony Blinken have signaled his intention to tackle China head-on as he rejected Beijing's maritime claims in the South China Sea and also spoke up for Taiwan in the days following President Joe Biden's inauguration.
Asia watchers expressed feelings of relief after learning of Biden's foreign policy picks, among them Blinken at the State Department and Jake Sullivan as national security adviser. But key personnel such as Director of National Intelligence Avril Haines and China experts Kurt Campbell and Ely Ratner are also expected to help the president make consistent decisions at home and abroad.
Crucially, when it comes to the U.S. approach to China, analysts in Beijing appear to have realized that the Biden administration will maintain many of the same policies as former President Donald Trump. However, there appears to be little reflection so far as to why.
Long-time observers of U.S.-China relations say it is due to the emergence of a bipartisan view in Congress that China poses the most urgent threat to American security interests. China is a nuclear power, has the world's second-largest economy and its president, Xi Jinping, aims to build a "world-class" military to rival that of the United States over two decades.
Beijing argues that characterizing it as a strategic competitor is wrong; it seeks neither superpower status nor hegemony. Its foreign ministry has on many occasions accused the Trump administration of leading lawmakers down a path of mistruths about China and its policies, whether it be in Xinjiang and Hong Kong, or the far-reaching ambitions of its Belt and Road Initiative.
Trump and former Secretary of State Mike Pompeo were described as "radicals" by Chinese state media commentators. President Biden, they predicted, would be more rational and ease tensions with Beijing.
"Chinese scholars may say U.S. policies toward Beijing are based on misconceptions about China, but it seems China also has misconceptions about the U.S.," said Shu Hsiao-huang, a researcher at Taiwan's government-funded think tank, the Institute for National Defense and Security Research (INDSR).
Shu told Newsweek Beijing "doesn't understand the reasons" behind Washington's China policies, especially as China sees itself as non-aggressive and unassertive.
"But what we see is assertion," he said. "Since Xi Jinping came to power, he's been quite clear in his intention to catch up to or overtake the United States, so that's the impression they give, one of competition. The trade war, technological competition, influence activities and cyberattacks—U.S.-China relations aren't just about great-power competition, and they weren't only about Trump."
He added: "A lot of America's responses are of China's own making. There is an adversarial feeling in the U.S. government and among the political elite and the public."
Even before Biden's inauguration, there were already early signs that his Democratic cabinet choices would ensure a continued resolute stance against Chinese practices deemed to be in contradiction of acceptable rules and norms.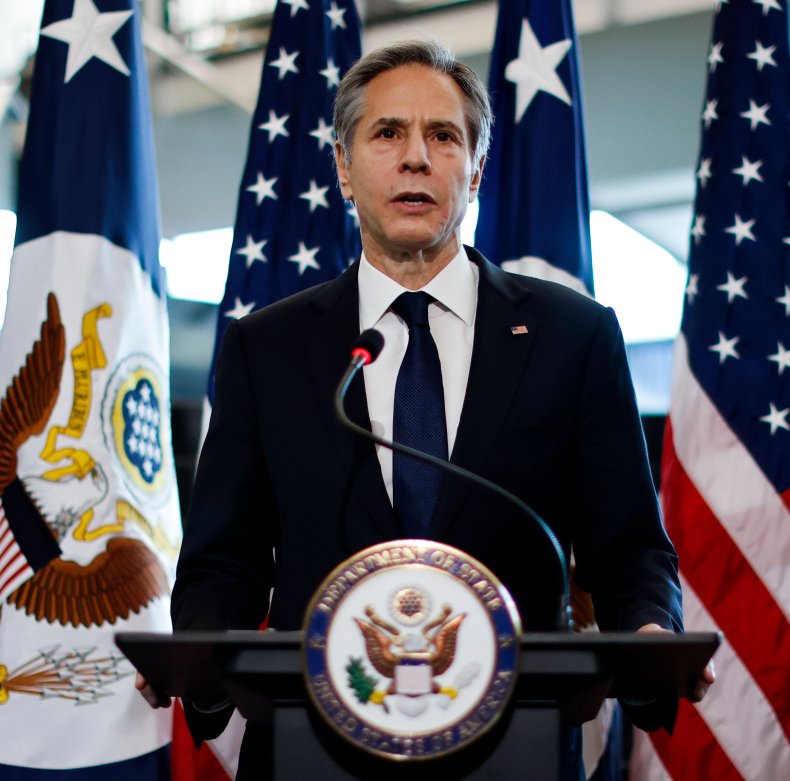 During his confirmation hearing, Blinken appeared to surprise Senator Lindsey Graham when the Republican from South Carolina ran through a list of Trump-era grievances against China and he agreed with many, including Pompeo's declaration of widely reported human rights abuses against Uighur Muslims as "genocide."
Blinken said Trump was right to take a "tougher approach to China," although he disagreed with his methods. The secretary said he had "no doubt" that Beijing posed the greatest challenge to U.S. interests.
On Saturday, the Biden administration made headlines in China and appeared to frustrate the Chinese leadership when the USS Theodore Roosevelt sailed into the contested waters of the South China Sea. It was the first time a U.S. aircraft carrier had been deployed to the region in six months, drawing accusations from Beijing of American "muscle flexing."
The People's Liberation Army responded over the weekend by flying large sorties of fighter jets and heavy bombers toward Taiwan, leading to a call from Blinken's State Department for China to cease military pressure on Taipei and engage in meaningful dialog instead.
In a series of diplomatic calls to allies and foreign counterparts on Wednesday, Blinken, for the first time since his appointment, voiced America's clear rejection of Chinese maritime claims in the South China Sea—a position also adopted by Pompeo, who called Beijing's vast nine-dash-line claims to almost all of the energy-rich sea "unlawful."
In a call with Philippine foreign secretary Teodoro Locsin Jr., Blinken said the U.S. would defend Manila against attacks in the Pacific and South China Sea, adding that he would "stand with Southeast Asian claimants" in the face of Chinese pressure.
He also underscored the importance of a "free and open Indo-Pacific," a strategy formalized under the Trump administration, and which Chinese commentators said Biden, who they did not consider among Washington's so-called "China hawks," would have no choice but to adopt.
Chinese military analyst Ye Hailin, appearing on Chinese state broadcaster CCTV on Tuesday, said Biden had "accepted Trump's Indo-Pacific strategy."
"In this regard, there is no difference between him and Trump," said Ye. "But unlike Trump, he won't fight alone," he added, noting Blinken's swift calls to regional allies.
The Trump administration's strategy to contain China would not change under Biden, added Ye's co-commentator Teng Jianqun, who also said the U.S. would continue to use Taiwan as a "pawn" to restrain Beijing.
A similar conclusion was drawn by Communist Party newspaper Global Times, which wrote: "[T]he Biden administration's view and characterization of China is virtually identical to those of the Trump administration."
The state-owned tabloid had published optimistic op-eds about Biden's cabinet picks, including Blinken and Defense Secretary Lloyd Austin, who it predicted would help reset U.S.-China relations to pre-Trump days.
Speaking to the press on Wednesday, Blinken insisted there was room to cooperate with China on areas of common interest such as climate. However, he said there were still "many issues of concern with China."
Shu, of Taipei-based INDSR, said it was "completely wrong" for Beijing to expect a return to Obama-era China policies.
"His cabinet may not have any obvious China hardliners, but the posture already exists in government, and that includes its defense posture in the Pentagon," he added.
"It awaits to be seen how the Biden administration handles cooperation with China while dealing with the issue of human rights, which Democrats arguably care even more about than Republicans," the researcher said.
Shu said President Biden inherits a country that is "moving as one" on the issue of Chinese competition and America's response to it. "China's behavior has only legitimized stronger actions by the United States," he added.
Shu said he expected the Biden administration to announce its own detailed Indo-Pacific strategy and National Security Strategy, which should see a focus on bolstering partnerships with U.S. allies in the Asia-Pacific.
He also hoped for more cooperation between Taipei and Washington, whose joint efforts can counter China's effective "grey-zone" tactics in the region.