Blinken Says 'High Likelihood' of Another Kabul Airport Attack Before Withdrawal Deadline
Secretary of State Antony Blinken warned that there is a "high likelihood" of another attack targeting the U.S. military and those evacuating from Afghanistan before the August 31 withdrawal deadline.
On Thursday, the extremist militant group ISIS-K claimed responsibility for an attack at the Kabul airport that left 13 U.S. service members dead and over 170 dead in total. President Joe Biden said Saturday that another attack was "highly likely" before the full U.S. withdrawal from the country after two decades of war is completed on Tuesday.
Blinken was asked about the threat during an interview broadcast Sunday morning by ABC News' This Week.
"When it comes to the risk going forward the next couple of days, the president's exactly right. This is very high risk. And as he said, there is a high likelihood of additional attacks between now and the 31st," the secretary of state warned.
Blinken said that he knows military leaders are taking "every possible precaution to keep our men and women safe."
"But this is the most dangerous time in an already extraordinarily dangerous mission," he said. "These last couple of days."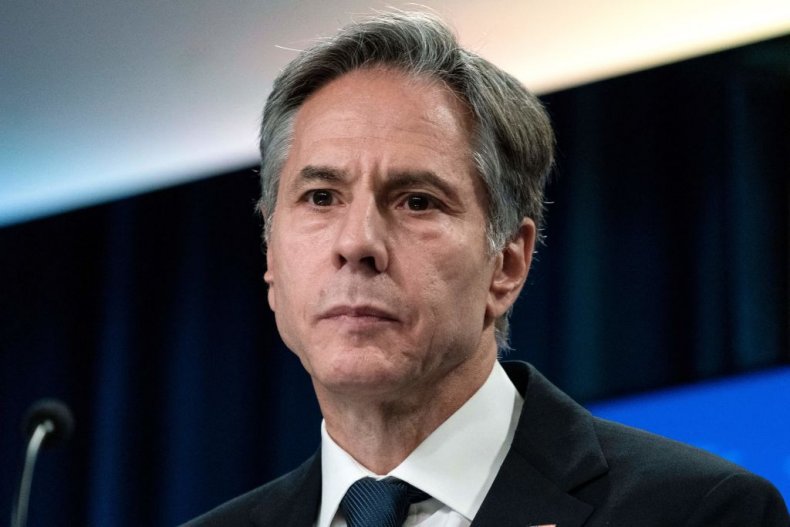 The ISIS-K attack last week came as the U.S. military worked rapidly to evacuate tens of thousands of Americans, allies and Afghan refugees in the wake of the Taliban's swift takeover of Afghanistan earlier this month. The extremist militant group is opposed to the Taliban as well as to the U.S.
Following the Thursday attack, Biden promised retaliation against ISIS-K. "We will hunt you down and make you pay," the president threatened.
The Pentagon later carried out a drone strike in retaliation against ISIS-K.
"I can confirm, as more information has come in, that two high-profile ISIS targets were killed, and one was wounded. And we know of zero civilian casualties," Major General Hank Taylor, deputy director of the Joint Staff For Regional Operations, said in a news conference on Saturday. "Without specifying any future plans, I will say that we will continue to have the ability to defend ourselves and to leverage over-the-horizon capability to conduct counterterrorism operations as needed."
During an interview with NBC News' Meet the Press, Blinken addressed the ISIS-K attack, saying all Americans are "grieving the loss of our men and women in uniform in that heinous terrorist attack against our forces who were evacuating innocent men, women and children from Kabul." He described the attack as "a punch to the gut."
The administration of former President Donald Trump signed the peace deal with the Taliban in February 2020. That initial agreement called for the full withdrawal of U.S. forces by May 1 of this year. After he took office, Biden extended the deadline to September 11 before moving it forward to August 31. But the Taliban regained near-total control of Afghanistan two weeks ahead of that date on August 15.
The U.S. military has maintained control of the Kabul airport as it quickly works to evacuate Americans, allies and Afghan refugees still within the country. Approximately 113,500 people have been evacuated from Afghanistan since August 14, according to the White House.
Newsweek reached out to the Pentagon for comment, but did not immediately receive a response.