Former Representative Tulsi Gabbard, a Hawaii Democrat, condemned the American "elite" for the failures in Afghanistan, saying that U.S. troops should have been withdrawn from the country long ago following the deadly Kabul attack this week.
Gabbard, who ran for the Democratic Party's 2020 presidential nomination but dropped out and endorsed President Joe Biden in March 2020, has long been critical of America's "forever" or "endless" wars. Withdrawing U.S. troops from foreign conflicts was a key campaign issue for the congresswoman—who is also a veteran of the Iraq War—during her presidential campaign.
"After Al-Qaeda terrorists attacked us on 9/11, our brave warriors, special forces, they quickly deployed to defeat Al-Qaeda in Afghanistan. They accomplished their mission, rapidly and effectively, and that is when they should have returned home," Gabbard said in a video message uploaded to her official Twitter account on Saturday.
She then slammed America's "elite" for attempting to nation-build in the country after Al-Qaeda was suppressed.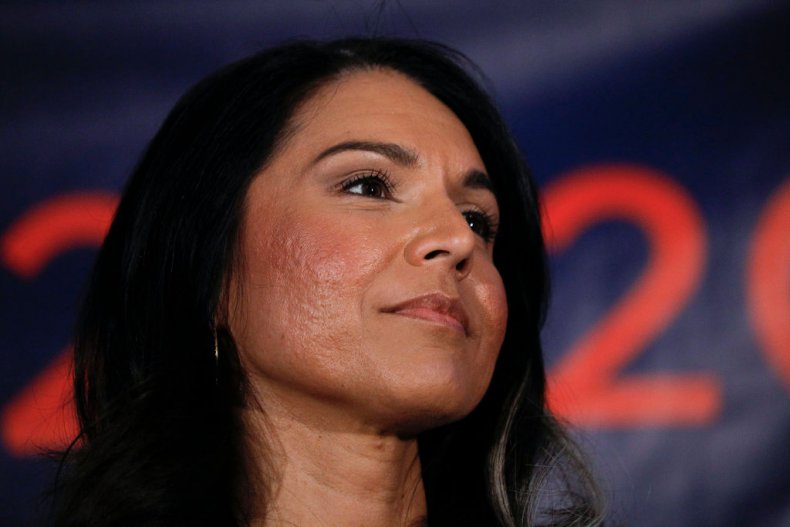 "But the elite, they wanted to nation-build, getting us into a 20-year war with no clear mission or strategy, causing massive suffering and wasting trillions of taxpayer dollars," the former congresswoman said.
She then asked whether Americans would hold the "elite" accountable for their actions, suggesting that it is "unlikely" they will face any repercussions.
Gabbard reiterated that the war in Afghanistan cost more than $1 trillion dollars and cost "countless lives" in a completely failed effort to "build democracy."
"Will we blindly allow the elite to drag us into new, even more costly military adventures in the name of spreading or protecting democracy?" she asked.
"Probably," Gabbard said, answering her own question.
The former congresswoman said, "we weep for the suffering that the elite have already caused." She asserted that "we must stop them from causing even more."
The U.S. has been rapidly evacuating Americans, allies and Afghan refugees from the Kabul international airport in the wake of the Taliban's swift takeover of the country amid the military's withdrawal. On Thursday, the extremist militant group ISIS-K—which is opposed ot the U.S. and the Taliban—took advantage of the chaos and carried out suicide bombings that left dozens of people dead, including 13 U.S. servicemembers.
Former President Donald Trump's administration signed a peace deal with the Taliban in February 2020 that would have withdrawn all U.S. forces from Afghanistan by May 2021. After Biden took office, he pushed back the withdrawal deadline to September 11 and then moved it forward to August 31. But the Taliban regained near total control of the country as of August 15, two weeks before that date.
However, the U.S. military has maintained control of the Kabul airport, and the Taliban has largely allowed the evacuation of Americans and their allies to move forward with relatively little interference. Since August 14, the U.S. military has managed to evacuate about 111,000 people.
Newsweek reached out to Gabbard for further comment, but did not immediately receive a response.