Antony Blinken Warns China Taiwan Attack Would Be 'Serious Mistake' as Military Tensions Mount
Secretary of State Antony Blinken strongly criticized China on Sunday, taking aim at the East Asian nation's early response to the COVID-19 pandemic, its treatment of Uighurs, and the threat that the rival superpower poses to Taiwan.
China officially claims Taiwan as part of its territory, but the smaller Asian country has long operated independently with the backing of the U.S. and other Western nations. In recent years, analysts have grown increasingly concerned about the possibility that China could take military action to reassert its dominance over Taiwan and the South China Sea. Blinken warned that any such action from Beijing would be a red line for the administration of President Joe Biden.
The Quote
"What we've seen, and what is of real concern to us, is increasingly aggressive actions by the government in Beijing directed at Taiwan, raising tensions in the Straits. And we have a commitment to Taiwan under the Taiwan Relations Act, a bipartisan commitment that's existed for many, many years, to make sure that Taiwan has the ability to defend itself, and to make sure that we're sustaining peace and security in the Western Pacific. We stand behind those commitments. And all I can tell you is it would be a serious mistake for anyone to try to change the existing status quo by force," Blinken said Sunday during an interview with NBC News' Meet the Press.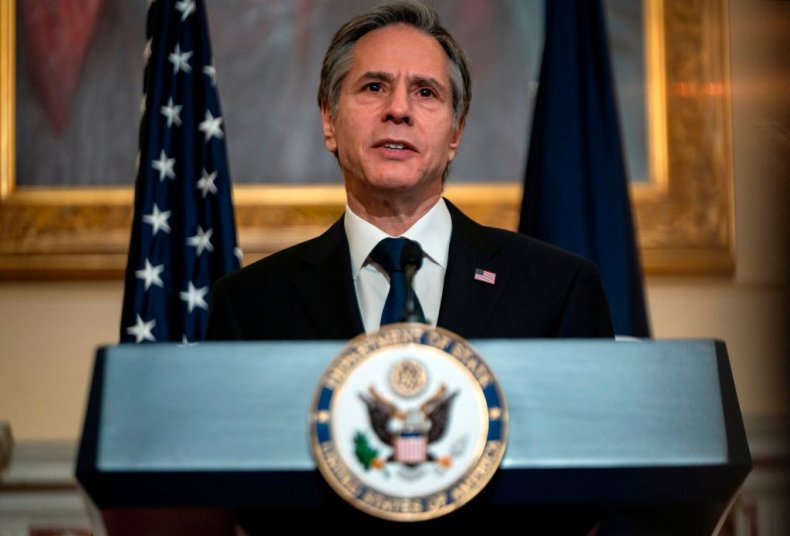 Although Blinken said he wouldn't get into "hypotheticals" of how the U.S. would respond to Chinese military action against Taiwan, he asserted that "we have a serious commitment to Taiwan being able to defend itself. We have a serious commitment to peace and security in the Western Pacific."
Why It Matters
Last week, Chinese, American and Taiwanese warplanes were circling the area surrounding Taiwan, as Beijing has launched near daily flyovers in recent months, Hong Kong-based South China Morning Post reported. The addition of U.S. aircraft to bolster Taiwan's defenses, while not unprecedented, demonstrated the Biden administration's continued support for the smaller Asian nation.
Former President Donald Trump repeatedly claimed that Biden would be weak on China, and Republicans have continued to push the new president to maintain a tough posture against the East Asian nation's growing influence in Asia and around the world. Although Biden's tone and tactics to push back against China have changed slightly, the overall rhetoric and posture of the U.S. towards its rival appears largely consistent with that of the previous administration.
Opposing View
China has dismissed criticism from the Biden administration and blamed the U.S. for heightened military tensions. Chinese foreign ministry spokesman Zhao Lijian said last week that U.S. warships passing through the South China Sea and around Taiwan "provoke and stir up trouble, sending gravely wrong signals." Zhao asserted that "China won't be found lacking in either will or capacity to defend its sovereignty and territorial integrity."
Newsweek reached out to the Chinese embassy in Washington, D.C. for comment, but did not immediately receive a response.