Donald Trump's China Tariffs Saved US Jobs, Says Biden's Commerce Secretary
U.S. Secretary of Commerce Gina Raimondo asserted that tariffs previously applied to metal goods produced abroad "helped save American jobs" in certain related industries on Wednesday, as federal officials determine their next steps amid ongoing trade tensions with China.
"I would say, here's my broad view. And I don't want to get into details on any particular company," said Raimondo, who assumed her role as chief of the Commerce Department under President Joe Biden's administration last month, in remarks delivered during a White House press briefing.
"My broad view is, what we do on offense is more important than what we do on defense. To compete with China, we need to rebuild America in all the ways we're talking about today. And, by the way, do that with our allies," the cabinet head continued. "You know, we have to work with our allies and find common ground where we can."
Regarding the heightened taxes on Chinese exports, as well as those imposed on some goods produced in other nations during Donald Trump's presidency, Raimondo acknowledged the ways in which they have positively contributed to the U.S. economy.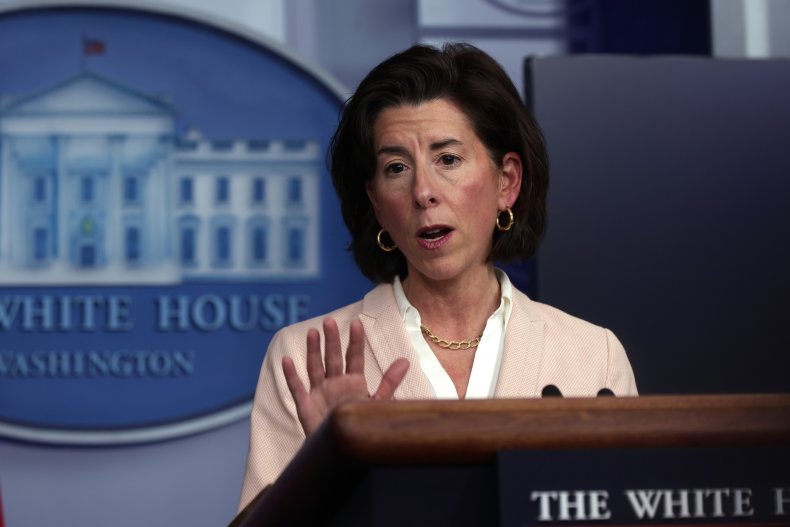 "With respect for tariffs, there is a place for tariffs," she said. "You know, the 232 tariffs on steel and aluminum have, in fact, helped save American jobs in steel and aluminum industries."
Trump initiated a controversial trade conflict with China in 2018, when the former president ordered then-Commerce Secretary Wilbur Ross to launch an investigation to the country's unfair business practices. At the time, his administration exacted tariffs on steel and aluminum exports, totaling 25 percent and 10 percent, respectively, from an extended list of nations. Trump subsequently established a broader and more individualized set of tariffs for Chinese goods that increased throughout his term in the White House.
Tariffs on Chinese exports have remained in place during Biden's presidency. Prior to taking office, Biden told The New York Times that he did not intend to remove the taxes imposed by his predecessor right away.
"I'm not going to make any immediate moves, and the same applies to the tariffs," Biden said during his December interview with the newspaper, additionally highlighting goals to better coordinate with allied countries. The president noted that "leverage" was necessary to approach further relations with China, adding, "in my view, we don't have it yet."
Raimondo pointed to benefits of Trump-era tariffs on Chinese goods shortly after she was sworn in as commerce secretary in early March, describing them as "effective" during an MSNBC appearance.
"First, we have to be honest which is to say China's behavior is anti-competitive, coercive, their human rights abuses are horrific. And they need to be held to account for that," she said, before addressing the effects of Trump's tariffs directly.
"Let me say, those tariffs have been effective," Raimondo explained. "The data show that those tariffs have been effective, and I think what President Biden has said is we're going to have a whole of government review of all of these policies and decide what it makes sense to maintain."
Newsweek reached out to the White House for further comment but did not receive a reply in time for publication.