AOC Asks Why Abolishing ICE Is 'Controversial' as Democrats Demand Hysterectomy Investigation
Rep. Alexandria Ocasio-Cortez (D-NY) questioned why "abolishing ICE is controversial" as calls mount for an investigation into whistleblower claims about the number of hysterectomies at one of the agency's facilities.
Dawn Wooten, a nurse in Georgia, flagged concerns about the treatment of detained immigrants at the Irwin County Detention Center.
Through advocacy group Project South, she submitted a complaint to the Office of the Inspector General (OIG) at the Department of Homeland Security (DHS).
She highlighted the rate of hysterectomies performed by a local gynecologist on women held at the ICE facility. Wooten also alleged that some of those who underwent the procedure told her they did not know why it had been carried out.
Ocasio-Cortez previously raised concerns over the allegations, joining several other lawmakers in calling for a full investigation into what went on.
In further comments, the congresswoman wrote on Twitter: "It's astounding that after a massive family separation operation, mass sexual assault of detainees, trapping immigrants in COVID-infected detention centers, and now reports of mass hysterectomies (which the US has done before), abolishing ICE is controversial.
"Where's the line?"
A statement from the leadership of the Democratic Women's Caucus called for the "horrific" allegations to be looked into.
"The allegations of mass hysterectomies being forced on immigrant women are reprehensible and reveal gross human rights violations," they said, calling for the OIG and DHS to investigate.
Ocasio-Cortez has previously called for ICE to be abolished on multiple occasions.
House Speaker Nancy Pelosi (D-CA) was also among those to comment on the whistleblower complaint.
"If true, the appalling conditions described in the whistleblower complaint–including allegations of mass hysterectomies being performed on vulnerable immigrant women–are a staggering abuse of human rights," Pelosi said.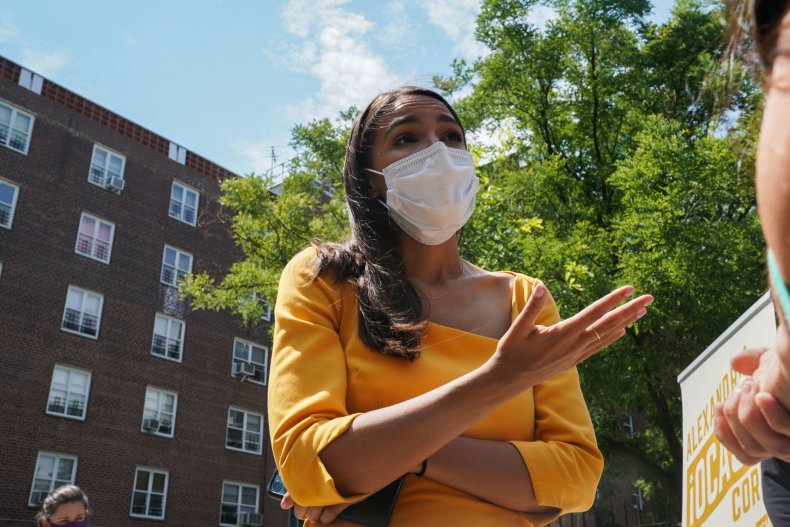 Furthering calls for investigation, she added: "The DHS Inspector General must immediately investigate the allegations detailed in this complaint.
"Congress and the American people need to know why and under what conditions so many women, reportedly without their informed consent, were pushed to undergo this extremely invasive and life-altering procedure."
In a statement to Newsweek, Rep. Mark Pocan (D-WI) said: "These allegations are horrifying and must be investigated by Congress immediately.
"For too long, ICE has been the United States' agency for committing human rights abuses against immigrants, and these new allegations are nothing short of eugenics."
Members of the House Committee on Oversight and Reform also called for an investigation into the allegations.
Dr. Ada Rivera, medical director of the ICE health service corps, said in a statement: "The accusations will be fully investigated by an independent office, however, ICE vehemently disputes the implication that detainees are used for experimental medical procedures.
"ICE's mission is to protect the homeland and to swiftly and quickly remove people from the country; the health, welfare and safety of ICE detainees is one of the agency's highest priorities, any assertion or claim to the contrary is false and intentionally misleading."
Rivera said that since 2018, according to ICE data, only two individuals at Irwin County Detention Center had been referred to "certified, credentialed medical professionals at gynecological and obstetrical health care facilities for hysterectomies in compliance with National Commission on Correctional Health Care (NCCHC) standards."
"To be clear, medical care decisions concerning detainees are made by medical personnel, not by law enforcement personnel," Rivera said.
"Detainees are afforded informed consent, and a medical procedure like a hysterectomy would never be performed against a detainee's will.
"All medical professionals certainly have a duty to report any issues of concern through appropriate channels, such as making a report to the DHS OIG; however, it is unfortunate that those involved in this report have chosen to first go to the media with their allegations, without allowing the government to examine or take appropriate action."
Newsweek has contacted the DHS OIG and Ocasio-Cortez for comment.