AOC Calls Out Senate Democrats for 'Blocking Crucial Items' in the Party's Agenda
Representative Alexandria Ocasio-Cortez, a New York Democrat, called out moderate Senate Democrats who she and other progressives view as "blocking crucial items" in the Democratic Party's agenda.
The progressive lawmaker made the remarks during a Sunday interview with CNN's State of the Union, suggesting that moderates in her party are allowing Republican lawmakers to define Democrats' policy by pushing for compromise.
Although Ocasio-Cortez did not mention specific senators by name, Democratic Senators Joe Manchin of West Virginia and Kyrsten Sinema of Arizona have been the most vocal about seeking bipartisan compromise, opposing progressive calls to end the Senate's legislative filibuster.
"I do think that we need to talk about the elephant in the room, which is Senate Democrats which are blocking crucial items in a Democratic agenda for very, I think, for reasons that I don't think hold a lot of water," Ocasio-Cortez told CNN.
The New York congresswoman questioned the viability of bipartisan compromise, arguing that it's unlikely 10 GOP senators will sign on to Democrats' key legislative priorities.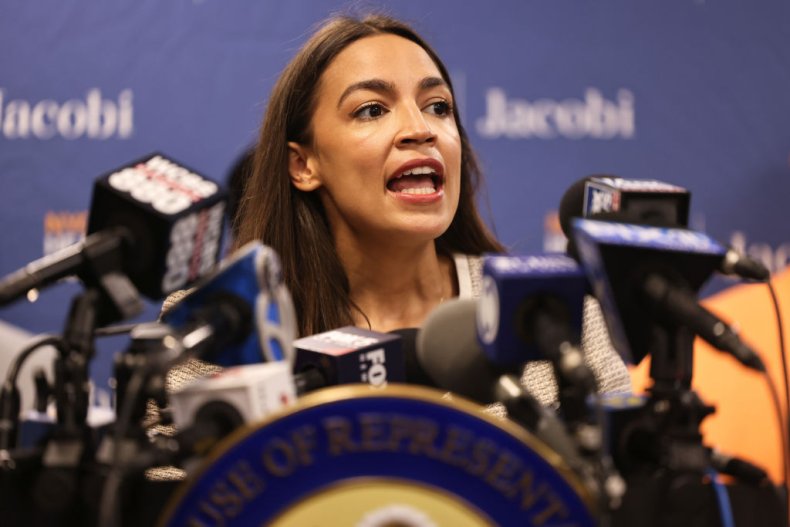 Due to the Senate's filibuster rule, 60 senators are generally needed to pass major legislation. Currently, the Senate is evenly split, with 50 Republicans and 50 members of the chamber's Democratic caucus. Many Democrats—and particularly progressives—have called for doing away with the filibuster, which would allow Democrats to pass legislation with a slim majority instead of 60 votes. When legislation is tied, Vice President Kamala Harris—as the Senate President—can cast the deciding vote.
"I think the argument we need to make here is it's worth going it alone if we can do more for working people in this country," Ocasio-Cortez said.
The congresswoman questioned why Democrats should seek bipartisan compromise to get 60 Senate votes "where we do very, very little and the scope of that is defined by a Republican minority that has not been elected to lead."
Moderate Democrats—and particularly Manchin and Sinema—have repeatedly stressed their goal of seeking bipartisan compromises with Republican lawmakers. They argue this approach to legislating is better to unite the country, particularly when politics has become so divisive.
Manchin last Sunday published an article saying he would oppose any efforts to end the filibuster, drawing further frustration from progressives.
"I will not vote to weaken or eliminate the filibuster. For as long as I have the privilege of being your U.S. senator, I will fight to represent the people of West Virginia, to seek bipartisan compromise no matter how difficult and to develop the political bonds that end divisions and help unite the country we love," Manchin wrote in the article published by West Virginia's Charleston Gazette-Mail.
At the beginning of June, Sinema also reiterated her opposition to ending the filibuster in comments to reporters, arguing it "protects the democracy of our nation."
"To those who say that we must make a choice between the filibuster and 'X,' I say, this is a false choice," the Arizona senator argued.
Newsweek reached out to Manchin's and Sinema's press representatives for comment on Ocasio-Cortez's remarks, but did not immediately receive a response.