Fox News' Chris Wallace Confronts Joe Manchin Over 'Being Naive' About Bipartisan Cooperation
Fox News anchor Chris Wallace confronted Senator Joe Manchin, a West Virginia Democrat, asking him whether he was "being naive" about the possibility of bipartisan cooperation given the current partisan divisions.
Since President Joe Biden took office and Democrats narrowly won control of the Senate, Manchin has emerged as one of the most powerful people in Washington, D.C. The moderate Democrat has repeatedly emphasized the need for bipartisanship and opposed ending the Senate's legislative filibuster—putting him at odds with many Democratic colleagues. With an evenly split Senate, Manchin's support or opposition to Democrats' legislative priorities has become a key factor in determining whether they move forward or not.
Wallace questioned Manchin over his views on bipartisanship during an interview on Fox News Sunday this weekend.
"If you were to keep the idea that maybe you would vote to kill the filibuster, wouldn't that give Republicans an incentive to actually negotiate? Because 'Old Joe Manchin's out there and who knows what he's gonna do.' By taking it off the table, haven't you empowered Republicans to be obstructionists?" the Fox News host asked.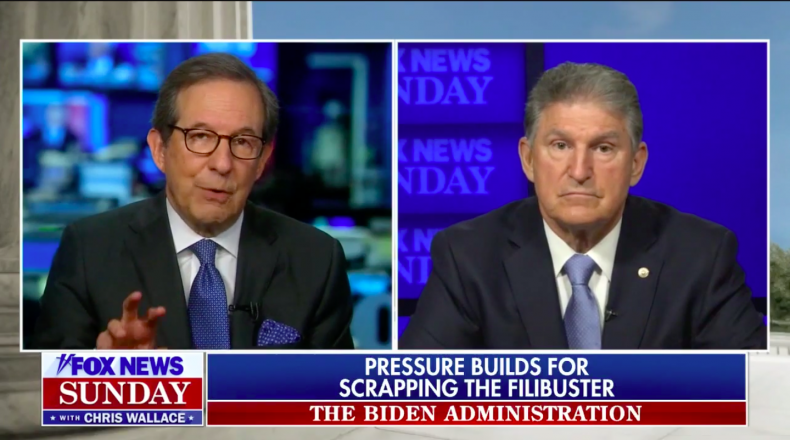 Manchin responded by saying he doesn't "think so." The Democratic senator argued that there are still a number of Republican senators who vote for "what they know is right, the facts as they see them—not worrying about the political consequences."
"I believe there's a lot more of my Republican colleagues and friends that feel the same way," Manchin said. "I'm just hoping they are able to rise to the occasion and to defend our country and support our country and make sure that we have a democracy for this republic of all the people."
Manchin said he was "hopeful" and that lawmakers just needed "time" to reach compromises.
"But let me ask you the final question, sir," Wallace interjected. "Let's just take the idea of creating a 9/11 [style] commission to investigate the January 6 insurrection at the Capitol. Republicans blocked that. [Senate Minority Leader] Senator McConnell [of Kentucky], the head of the Republicans in the Senate, says that he's 100 percent focused on blocking the Biden agenda. Question: aren't you being naive about this continuing talk about bipartisan cooperation?"
Manchin pushed back, saying he wasn't "being naive."
"I think [McConnell's] 100 percent wrong in trying to block all the good things that we're trying to do for America. It would be a lot better if we had participation and we're getting participation. When it comes time to final vote—I disagree with Leader McConnell on this—the Minority Leader on this issue, that he puts politics before the policies that I think we need for our country," the senator said.
Manchin asserted that he will "continue to keep working with my bipartisan friends and hopefully we can get more of them."
In an opinion article published Sunday with Charleston Gazette-Mail, Manchin doubled down on his staunch support for bipartisan compromise. The senator wrote that he would oppose the For the People Act—a major Democratic-backed voting rights bill—and would continue to oppose removing the Senate's legislative filibuster. His opposition to the For the People Act and ending the filibuster all but guarantees that the legislation will not move forward given the current makeup of the Senate.
"I believe that partisan voting legislation will destroy the already weakening binds of our democracy, and for that reason, I will vote against the For the People Act. Furthermore, I will not vote to weaken or eliminate the filibuster. For as long as I have the privilege of being your U.S. senator, I will fight to represent the people of West Virginia, to seek bipartisan compromise no matter how difficult and to develop the political bonds that end divisions and help unite the country we love," the West Virginia lawmaker wrote.
President Joe Biden took aim at Manchin and fellow moderate Democratic Senator Kyrsten Sinema of Arizona during remarks last Tuesday. He blamed the two senators for holding up key parts of his agenda.
"I hear all the folks on TV saying, 'Why doesn't Biden get this done?'" Biden said
"Well, because Biden only has a majority of effectively four votes in the House, and a tie in the Senate," the president continued, "with two members of the Senate who vote more with my Republican friends."
Newsweek reached out to the White House and Senate Majority Leader Chuck Schumer for comment on Manchin's views, but did not immediately receive a response.