AOC Calls Senator Sinema, Other Moderates 'Destructive' for Demanding Infrastructure Vote
U.S. Representative Alexandria Ocasio-Cortez, a Democrat from New York, slammed moderate Democrats who have demanded a vote on a $1.2 trillion infrastructure bill by next Monday, calling them a "small destructive group of members," CNN reported.
Ocasio-Cortez told CNN reporter Manu Raju she would vote against the package if the House and Senate have not approved a larger, Democratic-backed infrastructure plan, Raju tweeted. She said there are about 45 progressive House democrats who may also vote against the smaller bill.
"I will not vote for an infrastructure bill unless we have reconciliation ready to go," she said.
The $1.2 trillion plan contains funding for "hard" infrastructure including roads and bridges, high-speed internet, rail and transit, drinking water upgrades and other priorities meant to shore up the nation's crumbling infrastructure. The bill passed the Senate in August with some bipartisan support.
The $3.5 trillion bill contains funding for what has been called "human" infrastructure. Funding to tackle climate change, expanding medicare, free-year community college are among the policies in the sweeping bill.
While the smaller bill received some support from Senate Republicans, the larger bill faces a steeper challenge in the Senate. Because Democrats hold 50 seats—in addition to Vice President Kamala Harris as the tie-breaking vote—they would need every Democrat to vote for the bill.
Some moderate Democrats have raised concerns about the bill.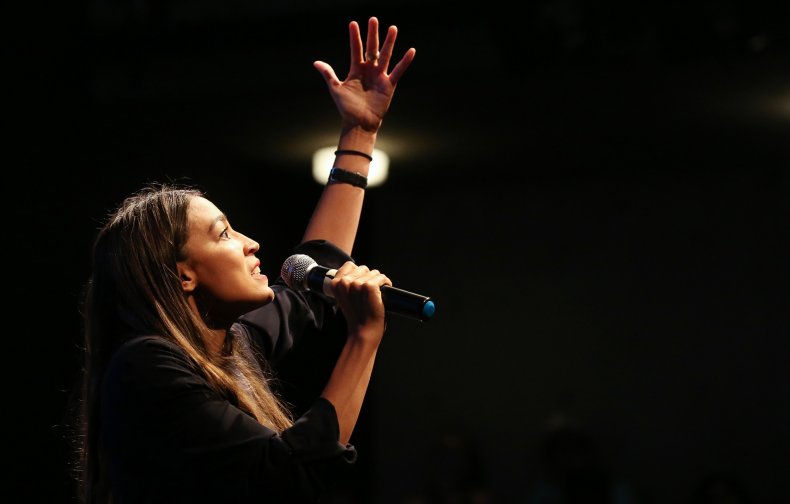 Senators Joe Manchin, of West Virginia, and Kyrsten Sinema, of Arizona, have both said that the spending in the larger package is too high.
Sinema told the White House she objects to the drug pricing reforms in both bills, Politico reported on Sunday. She also does not support another plan backed by centrist House Democrats that would limit the drugs subject to Medicare negotiation.
President Joe Biden told reporters Thursday he's "confident Congress will deliver to my desk both the bipartisan physical infrastructure plan and the Build Back Better plan that I have proposed."
He has been meeting privately with House Speaker Nancy Pelosi and Senate Majority Leader Chuck Schumer, as well as Manchin and Sinema. Biden called for universal pre-kindergarten, free community college for two years, a new paid leave program for new parents and measures to address climate change, among other proposals.
Representatives Jim Clyburn and John Yarmuth, two senior House Democrats, said Sunday that Congress may miss the September 27 deadline. Both lawmakers indicated that Democrats may lower the price tag attached to the larger reconciliation package. They also echoed the White House in urging critics to focus on the programs that need to be delivered, rather than the price tag.
"I would say we're probably going to slip past the September 27 date, some time into early October would be my best guess," Yarmuth, the House budget chair, said on Fox News Sunday.
Newsweek reached out to Ocasio-Cortez's office for comment but did not hear back by publication.