AOC Suggests Unemployment, Rent as Reasons for Uptick in NYC Crime Amid Calls for Defunding Police
New York City's recent uptick in crime reports could be partly due to economic consequences caused by the pandemic, Rep. Alexandria Ocasio-Cortez suggested during a recent Zoom conference with constituents.
The conference, which The Hill shared online via its YouTube channel on Sunday, saw Ocasio-Cortez address a handful of issues related to law enforcement and police reform. Her comments came amid a nationwide push for policies that increase transparency about law enforcement practices, hold officers accountable for conduct violations, and decrease funding to departments.
Addressing a constituent's question about elevated crime statistics, the New York congresswoman pointed to skyrocketing unemployment rates and consequent financial challenges.
"Why is this uptick in crime happening? Well, let's think about it. Do we think this has to with the fact that there's record unemployment in the United States right now?" asked Ocasio-Cortez.
"Maybe this has to do with the fact that people aren't paying their rent and are scared to pay their rent," she continued. "They need to feed their child and they don't have money, so...they're put in a position where they feel like they either need to shoplift some bread or go hungry that night."
The congresswoman and criminal justice reform advocate challenged claims that a correlation exists between increased crime rates and budget cuts to the New York City Police Department (NYPD). Two weeks ago, city officials voted to reallocate $1 billion in budget funds away from the police department during the 2020-21 fiscal year. Ocasio-Cortez explained that those budget cuts have not yet been fully implemented on Sunday, meaning the NYPD's $6 billion operating budget remained in effect as crime incidence increased.
"Keep in mind that this uptick in crime that's happening right now, is with a $6 billion New York City Police Department budget," she said. "We have shoved more, and more, and more money every single year into the NYPD. Six billion dollars. It has not prevented this uptick in crime."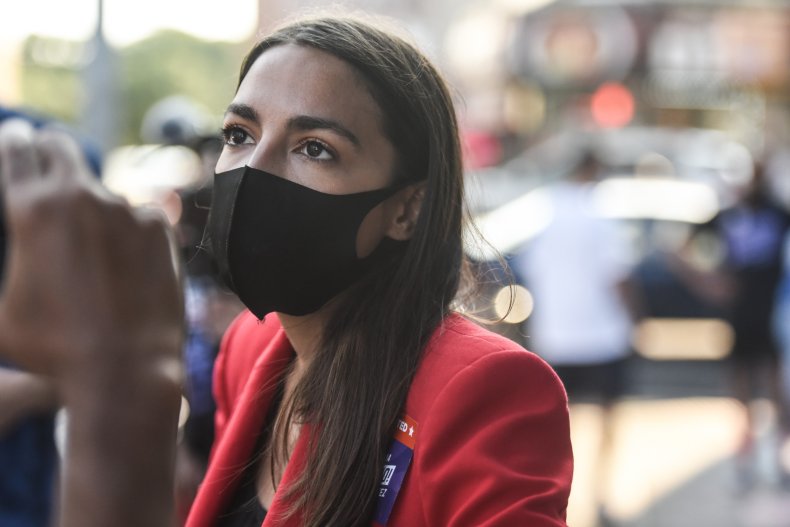 The latest data published by the NYPD, accounting for crimes committed during the week preceding July 5, shows elevated crime rates across a number of areas compared to that week in 2019. The report shows more murders, shootings and burglaries were carried out this year compared to 2019, with the spike in shootings being the most significant. According to ABC 7, the police department reported 48 shootings took place on July 5, representing more than a 550 percent increase from those reported on July 5 of last year.
Newsweek reached out to Ocasio-Cortez and the NYPD for comments, but did not receive replies in time for publication.
Updated 9:14 PM ET, with a revised headline.