New York City has agreed to shift $1 billion out of the NYPD budget, despite crime statistics showing a surge in murders and shootings.
Mayor Bill de Blasio said the city's $88.19 billion budget "prioritizes our communities most in need while keeping New Yorker safe," following agreement on the plans for the 2021 fiscal year.
The budget marks the first time de Blasio has cut the police budget during his time as mayor.
This shift comes amid growing calls for police reform and the prominence of the "defund the police" movement amid protests, following protests after the killing of George Floyd in Minneapolis.
Some of the money taken from the police budget has been reallocated into summer youth programming, education, and family and social services.
Amid the move, the latest monthly citywide crime statistics for New York showed an increase in shootings and murders.
For the month of May, shooting incidents were up year on year by 64 percent, with 100 this year compared to 61 last.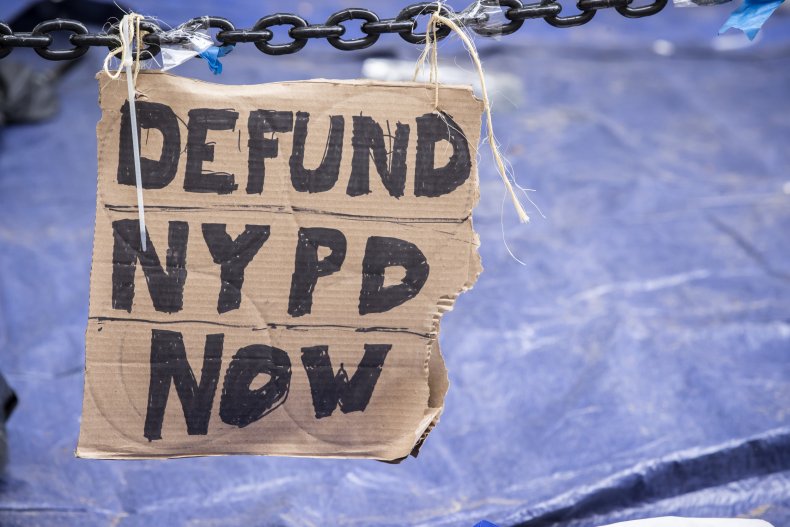 There was also a 79 percent increase in murders, with 34 in May 2020 compared to 19 in May 2019.
Murder rates for the first five months of 2020 are up on the whole, with an 18.8 percent rise, with 139 up to the end of May this year compared with 117 last.
The city has seen an overall decrease in crimes of -2.5 percent for the first five months of 2020, though the force said this was driven by decreases in the number of robberies, assaults and grand larcenies amid the COVID-19 pandemic and lockdown.
Co-chairman of the Council's Black, Latino and Asian Caucus, Councilman I. Daneek Miller, was quoted by The New York Times as being opposed to reducing the police department's size.
He voted for budget but was against downsizing NYPD and said: "Black folks want to be safe like everyone else, we just want to be respected.
"We can't allow folks from outside our community to lecture us about Black lives and what we need in our communities."
The move to shift police budget has received backlash from advocates for defunding, stating it has not gone far enough.
There have also been questions around the $1 billion cut, with New York City Council expanding on the details of this in a release.
A statement from the council said the budget "includes $837 million in cuts and transfers to the New York Police Department (NYPD) expense budget. When combined with associated costs, these cuts remove $1 billion from the NYPD's spending."
House Speaker Corey Johnson also said he wanted the cuts to "go deeper."
Congresswoman Alexandria Ocasio-Cortez (D-NY) also said the budget did not go far enough, suggesting it included "funny math."
Vocal-NY, which has run a protest encampment at City Hall, criticized a "lack of transparency" in the cuts.
"We are outraged by the Mayor and City Council's passage of a budget that fails to reduce the NYPD's budget by at least one billion dollars. We are appalled by our leaders' deceptive decisions, the lack of transparency in government, and stonewalling in the face of a national reckoning of racial injustice and police violence," said its director of organizing, Jawanza Williams.
Newsweek has contacted Mayor de Blasio's office, NYPD and New York City Council for comment.