Representative Alexandria Ocasio-Cortez slammed Senator Joe Manchin after an Axios report said he was pressuring his Democratic colleagues to trim down President Joe Biden's proposed policies for working families in his massive social spending package, from three to one.
"Ah yes, the Conservative Dem position: 'You can either feed your kid, recover from your c-section, or have childcare so you can go to work - but not all three. All 3 makes you entitled and lazy.' But fossil fuel $, keeping Rx prices high, & not taxing Wall St are 'non-negotiable,'" Ocasio-Cortez, a New York Democrat, tweeted on Thursday.
Progressives have been pushing to include an expanded child tax credit, paid family medical leave and subsidies for child care in President Joe Biden's proposed social spending package. They have even agreed to fund the programs for a shorter period in order to retain all three under a lower price tag.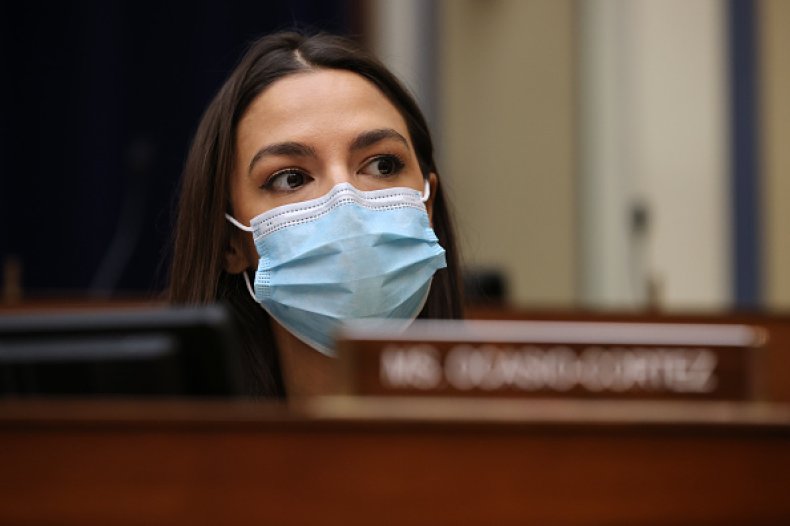 Ocasio-Cortez isn't the only member of the Congressional Progressive Caucus to directly call out Manchin, a West Virginia Democrat.
Senator Bernie Sanders has told reporters that only Manchin and Senator Kyrsten Sinema opposed the bill's original $3.5 trillion price tag. On Monday, Biden scaled back his top-line number to $2.2 trillion.
"Two people do not have a right to sabotage what 48 [senators] want," Sanders said.
"The time is long overdue for [Manchin] to tell us with specificity—not generalities, we're beyond generalities—with specificity what he wants and what he does not want, and to explain that to the people of West Virginia and America," the Vermont senator added.
The three family programs on the table could have a tremendous impact on Manchin's home state. HuffPost found that West Virginia's countywide poverty rate is about 38 percent higher than the national average and that the state's median income is about 39 percent lower.
Manchin reiterated on Wednesday that $1.5 trillion is the price tag he is willing to accept for the spending package. The senator has recently come under fire for saying he does "believe that we should turn our society into an entitlement society."
During a press conference Wednesday, Sanders said he was "not exactly sure what [Manchin] means by that."
"Is protecting working families and cutting childhood poverty an entitlement? Does Senator Manchin think we should once again have one of the highest levels of child poverty of any country on earth?" Sanders said.
Manchin responded by saying, "Respectfully, Senator Sanders and I share very different policy and political beliefs. As he and I have discussed, Senator Sanders believes America should be moving towards an entitlement society, while I believe we should have a compassionate and rewarding society."