AOC Moves Stimulus Check Goalposts As Joe Biden Punts for Top-Up to $2,000
Representative Alexandria Ocasio-Cortez moved the stimulus check goalposts on Thursday night after President-elect Joe Biden said he wanted to provide a round of $1,400 direct relief payments to top-up the $600 checks Congress provided in December.
The New York Democrat told The Washington Post that the $1,400 checks proposed by Biden were not enough, and pushed for a round of $2,000 payments, meaning many Americans would receive $2,600 overall.
Speaking to the Post, Ocasio-Cortez said: "$2,000 means $2,000. $2,000 does not mean $1,400." However, less than a month ago the congresswoman was supporting an almost identical measure.
In a proposed amendment to the COVID relief bill tabled over the Christmas period, Rashida Tlaib and Ocasio-Cortez called for the $600 sum to be struck and replaced with $2,000—the same $1,400 increase offered in Biden's relief bill.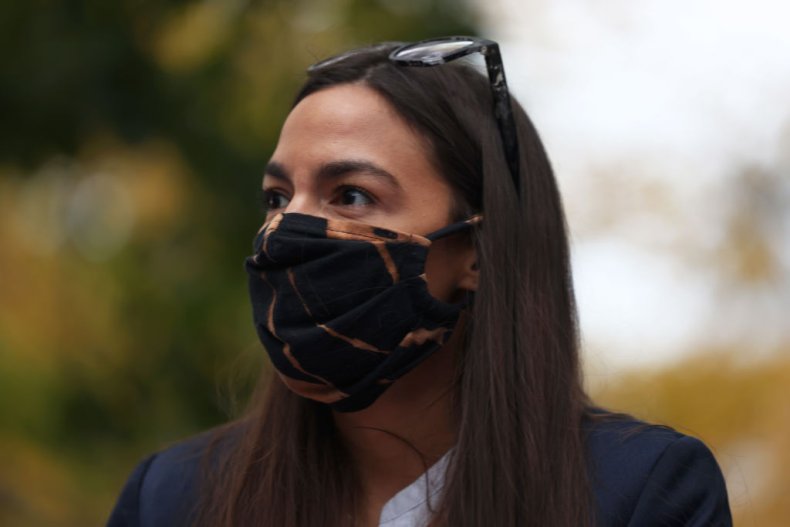 Newsweek has contacted Rep. Ocasio-Cortez's office for comment. This article will be updated with any response.
President-elect Biden unveiled his $1.9 trillion plan to rebuild the U.S. economy and improve the nation's vaccine rollout as the COVID-19 pandemic continued to hit employment, businesses and public health.
On top of providing immediate $1,400 checks under the plan, the incoming commander-in-chief is also proposing additional relief for renters, state and local government funding to combat cuts, and $400 billion toward the national vaccination program and other essentials in the battle against COVID-19.
The federal minimum wage will also be increased to $15 an hour, transferring more wealth to working families in the wake of mass unemployment and nationwide economic shutdowns over the past year.
"There is real pain overwhelming the real economy," Biden said on Thursday night. "On where people rely on paychecks, not their investments, to pay for their bills, and their meals, and their children's needs."
The president-elect added that there was a "growing divide" between people at the top of the U.S. economy, who were "doing quite well" from investments amid the pandemic, and the rest of America.
"The return on these investments in jobs, racial equity, will prevent long-term economic damage," Biden said of his plan. "And the benefits will far surpass the cost."
It is unclear whether Biden's plan will be passed by the Senate. Following the Georgia runoff elections, the upper chamber is split 50-50, meaning Democrats have an effective majority with Vice President-elect Kamala Harris' tiebreaker vote.
However, a rebellion from conservative Democrats such as Sen. Joe Manchin (D-WV) could reverse that effective majority, and force the party to work with Republicans, potentially leading to the original plan being compromised.