Alexandria Ocasio-Cortez: 'One of the Biggest Myths About Congress Is That it's an Easy Job...I See Members on the Brink of Tears'
Representative Alexandria Ocasio-Cortez opened up in an Instagram Story about the demands of working in Congress, saying she often sees other members close to tears because of the job's pressures.
The 29-year-old New York Democrat is the youngest woman ever elected to Congress. Known as a tireless campaigner, Ocasio-Cortez has wasted no time so far in pushing her democratic socialist agenda, including the Green New Deal, on Capitol Hill.
She sits on two influential House committees—the Committee on Financial Services and the Committee on Oversight and Government Reform—and has made headlines with her probing of witnesses, including President Donald Trump's former fixer Michael Cohen.
"I think one of the biggest myths about Congress is that it's an easy job; or that the hours are light and that members don't really work hard. It's a really easy myth to believe, especially with Congressional approval ratings at an all-time low," Ocasio-Cortez posted to her Instagram.
"But if you're really here trying to get stuff done—no matter your politics—it's an extremely demanding job. It's only 'easy' if you're not showing up for your community, if you don't do town halls, if you're not trying to advocate or build coalitions or introduce and pass cutting-edge legislation.
"Even members I completely disagree with who are advancing corporate interests still work overtime because it takes a ton of work to pass an agenda, no matter what it is."
Ocasio-Cortez said talking about the workload is not something congresspeople are supposed to do because critics can accuse you of complaining or point out that you signed up for the pressure by seeking election.
"But I do see members on the brink of tears quite often because of the time they're missing from their kids, or the lack of sleep, or the unfair attacks and relentless pressure," she wrote.
"It means the world when people look out for you as a human, give you space or permission to rest, because it's nearly impossible due to public scrutiny for members to be honest about the pressures of the job.
"And I share it not to complain, but to show you what it's like because I want people watching this to someday try to have this job themselves + know what it's like."
Shortly after taking office, Ocasio-Cortez announced that all her staff will make at least $52,000 a year in their salary.
"Leadership starts with our choices. That's why I decided that no one on my staff will make less than $52k/year," the freshman congresswoman tweeted at the time. "It's likely one of the highest entry-level salaries on the Hill. We pinch pennies elsewhere, but it's worth every dime to pay a living wage."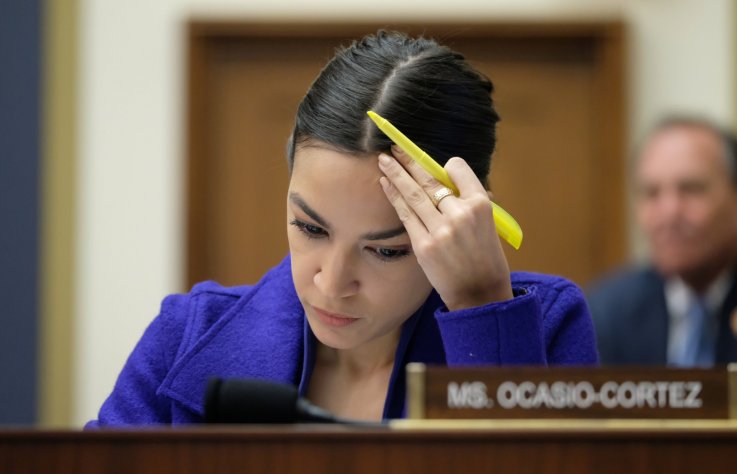 Alexandria Ocasio-Cortez: 'One of the Biggest Myths About Congress Is That it's an Easy Job...I See Members on the Brink of Tears' | U.S.