The Democratic congresswoman Alexandria Ocasio-Cortez praised progressive activists on Wednesday night after President Joe Biden put forth his record and future plans in a speech to a joint session of Congress.
Posting on social media, the New York Democrat said activists were not receiving enough credit for their "relentless work" in pushing progressive causes—such as universal childcare, improvements to labor rights and hikes in low-level wages across the country.
She also told activists they "cannot stop" until their goals were "done," and urged them to "keep going" after President Biden's speech marking his first 100 days in office.
Rep. Ocasio-Cortez tweeted: "Not enough credit is given to the countless activists, organizers, and advocates whose relentless work is why we are even hearing anything about universal childcare, white supremacy as terrorism, labor, and living wages tonight. Yet we cannot stop until it's done. Keep going."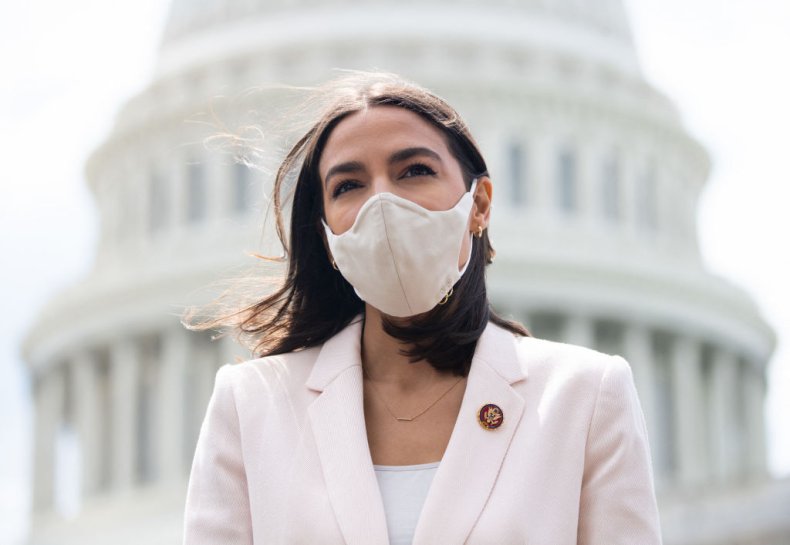 The progressive lawmaker praised activists after President Biden used his speech to call for a "once-in-a-generation investment" in America, and he touted his $2.25 trillion American Jobs Plan.
The plan would include massive investments in infrastructure, increased wages for home care workers and the retrofitting of millions of homes to improve energy efficiency and resilience.
"The American Jobs Plan will create millions of good-paying jobs, jobs Americans can raise their families on," Biden said on Wednesday. "And all the investments in the American Jobs Plan will be guided by one principle: Buy American."
He also pitched the jobs plan as an important factor in the country's influence on the world stage, warning that, if the U.S. wanted to "win the 21st century," it would need to invest heavily in families and children today. The commander-in-chief further used the speech to rattle off the rest of his agenda, including action on climate change and immigration reform.
"I stand here tonight before you in a new and vital hour in the life of our democracy and our nation," the president said. "And I can say with absolute confidence: I have never been more confident or more optimistic about America."
Republicans reacted to the speech by arguing that Biden had only inherited the accomplishments of his predecessor, former President Donald Trump.
Sen. Tim Scott of South Carolina, the GOP lawmaker charged with delivering the party's rebuttal, also argued that the president had reneged on his promise of unity earlier this year, and had spearheaded a divisive platform.