Billionaires' Pandemic Profits Alone Could Cover 70% of Biden's American Jobs Plan
The profits earned by American billionaires during the coronavirus pandemic alone could cover the bulk of President Joe Biden's $2.25 trillion American Jobs Plan, according to a new analysis.
Americans for Tax Fairness and the Institute for Policy Studies released on Thursday a new report that shows billionaires in the U.S. increased their collective net worths by some $1.62 trillion between March 18, 2020, and April 12. Before last March, billionaires' combined net worth stood at $2.95 trillion, whereas it has now risen to $4.56 trillion. The analysis, which drew on data compiled by Forbes, pointed out that this amount could cover nearly 70 percent of Biden's proposed infrastructure plan.
The report shows that there are six billionaires in the U.S. with net worths of at least $100 billion: Jeff Bezos, founder and CEO of Amazon; Elon Musk, CEO of Tesla and SpaceX; Bill Gates, co-founder of Microsoft; Mark Zuckerberg, CEO and co-founder of Facebook; Warren Buffett, CEO of Berkshire Hathaway; and Larry Ellison, co-founder and executive chairman of Oracle. Before March 2020, only Bezos had a net worth above $100 billion.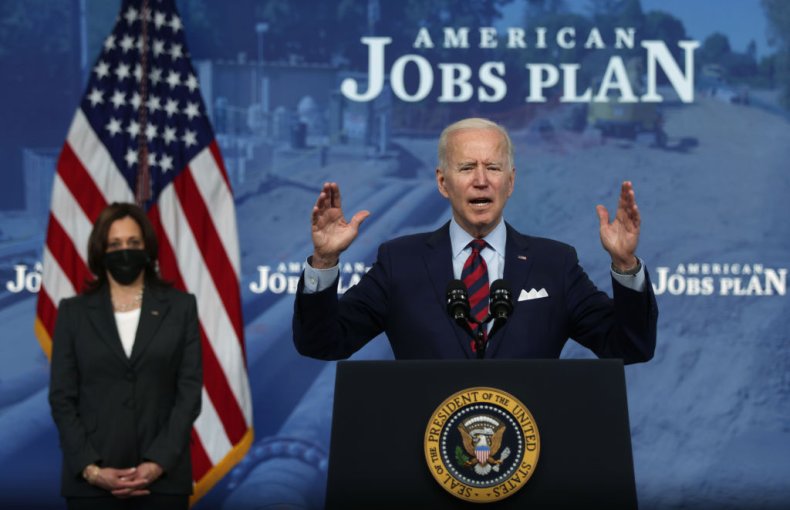 "This pandemic billionaire wealth surge is a grotesque milestone after three decades of wealth steadily flowing to the top," Chuck Collins, director of the Program on Inequality at the Institute for Policy Studies, told Newsweek in a statement."Congress should act to restore taxes on the wealthy and limit further democracy-distorting concentrations of wealth and power."
Frank Clemente, executive director of Americans for Tax Fairness, said in a statement that the government should work to reverse the trend of billionaires' immense wealth growth "by making sure the wealthy, and the corporations they own, start paying their fair share of taxes."
"President Biden is proposing to do just that so we can finally build an economy that works for working families," Clemente added.
Biden's proposed American Jobs Plan aims to rebuild America's crumbling infrastructure and invest heavily in the "care economy." In addition to providing funding for broadband internet, roads, bridges and public transportation, the plan would invest in care for the elderly, good-paying caregiver jobs and in ensuring access to paid family and medical leave. Biden has proposed raising the corporate tax rate from 21 to 28 percent to cover the cost. Before former President Donald Trump's 2017 tax cuts, the top corporate rate was 35 percent.
While some Republicans have voiced a willingness to work on a bipartisan infrastructure plan, many have dismissed the president's proposal as a package of left-wing priorities. GOP lawmakers have also come out strongly against raising the corporate tax rate, raising concerns that it could hamper economic growth.
"This can be the moment that America wins the future — but it's going to take all of us to make it happen," Biden wrote in a Tuesday tweet, sharing a video promoting the American Jobs Plan. "Let's do big things, together."