Majority of Republicans Back Non-Infrastructure Portions of Biden's American Jobs Plan
A substantial majority of Republican voters support portions of President Joe Biden's proposed $2 trillion infrastructure bill that GOP lawmakers have criticized for not being related to what is traditionally viewed as infrastructure, new polling shows.
Biden unveiled the infrastructure proposal—dubbed the American Jobs Plan—last Wednesday. But Republican lawmakers quickly attacked the package, complaining that only a small portion of the funding goes toward roads, bridges and transportation. They have taken issue with billions of dollars going to other priorities, such as creating more good-paying caregiver jobs and ensuring access to paid family and medical leave.
But new survey results suggest that GOP voters largely support these proposals. Overall, the polling results from Data for Progress and Invest in America showed that 71 percent of voters strongly or somewhat support these "care infrastructure" proposals. That includes 58 percent of Republicans, 64 percent of independents and 58 percent of Democrats. Just 19 percent of GOP voters said they strongly or somewhat oppose those portions of the plan.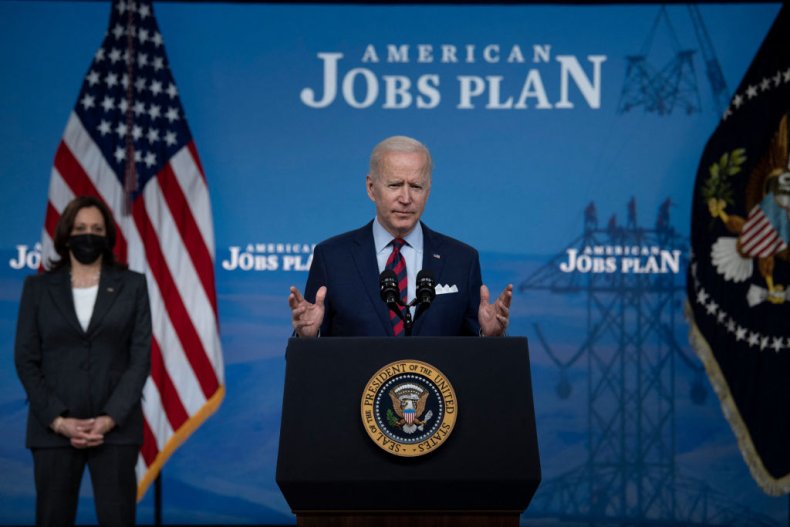 When it comes to providing affordable care for aging people and individuals with disabilities, 79 percent of voters said they strongly or somewhat support the proposals included in the Biden plan. Furthermore, 74 percent backed providing living wages to care workers, while 75 percent approved of ensuring that workers have paid family and medical leave. Affordable child care was supported by 73 percent of voters, and creating millions of well-paid caregiver jobs was backed by 71 percent.
In a Thursday morning press release, the White House touted the polling results, saying, "By a 50+ point margin, Americans of both parties support investment in care infrastructure."
The release went on, "President Biden's American Jobs Plan will invest $400 billion in the caregiving economy, starting by creating new and better jobs for caregiving workers. The American Jobs Plan will expand access to quality, affordable home- or community-based care for aging relatives and people with disabilities.
"These investments will help hundreds of thousands of Americans finally obtain the long-term services and support they need, while creating new jobs and offering caregiving workers a long-overdue raise, stronger benefits, and an opportunity to organize or join a union and collectively bargain," the White House said. "Once again, the data proves that the American Jobs Plan is both what the country needs, and what the American people—of both parties—want."
Republicans have voiced substantial opposition to the legislation, with Senate Minority Leader Mitch McConnell, a Kentucky Republican, suggesting late last month that it was a "Trojan horse" for non-infrastructure-related Democratic priorities.
"We're hearing the next few months might bring a so-called infrastructure proposal that may actually be a Trojan horse for massive tax hikes and other job-killing left-wing policies," McConnell said.
Senator Shelley Moore Capito, a West Virginia Republican, had similar criticism.
"They're terming it social infrastructure. Never heard that before," Capito said. "I think we need to talk to the American people and say, 'Is this what you envision with infrastructure?'"