As President Joe Biden's $2 trillion infrastructure bill faces criticism from Republicans over its high price tag, progressive Democrats are urging the White House to "go big" and push through a "substantially larger" package—with some proposing $10 trillion in spending.
Biden on Wednesday unveiled the broad overview of his American Jobs Plan, saying the legislation would be "the largest American jobs investment since World War II." The bill would include hundreds of billions of dollars to rebuild crumbling U.S. infrastructure, while it would additionally aim to shore up manufacturing and housing infrastructure, among other proposals.
But the White House package has been met with less than a warm reception among progressive lawmakers. On Monday—ahead of Biden's announcement—a group of progressive Democrats, led by Senator Ed Markey of Massachusetts, put forward the Transform, Heal and Renew by Investing in a Vibrant Economy (THRIVE) Act. That infrastructure proposal, which focuses on green infrastructure, would cost about $10 trillion. Meanwhile, the Congressional Progressive Caucus urged Biden to think bigger on Wednesday.
"We believe that our country is ready for an even bolder, more comprehensive and integrated plan that demonstrates the size, scope, and speed required to aggressively slash carbon pollution and avoid climate catastrophe; create millions of good, family-sustaining, union jobs; improve Americans' health and safety; reduce racial and gender disparities; and curb income inequality by making the wealthy and large corporations finally pay their fair share in taxes," Progressive Caucus Chair Representative Pramila Jayapal, a Washington Democrat, said in a Wednesday statement.
Jayapal said Congress and the White House should make "all the economic and social investments that we need—with or without Republican votes—and before Congress leaves for August recess. We must act urgently to develop and pass a package that rises to the unprecedented challenges we face as a country."
"Now is the time to go BIG." the congresswoman tweeted, sharing her statement about the infrastructure proposal.
Representative Alexandria Ocasio-Cortez, a prominent progressive Democrat from New York, raised similar concerns.
"If we're looking at ideals and what we think is the actual investment that can create tens of millions of good union jobs in this country, that can shore up our healthcare, our infrastructure, our housing—and doing it in a way that draws down our carbon emissions, to help us get in line with the IPCC standards—we're talking about realistically $10 trillion over 10 years," Ocasio-Cortez told MSNBC in a Wednesday evening interview.
Prior to that, the New York progressive tweeted criticism of the package.
"This is not nearly enough. The important context here is that it's $2.25T spread out over 10 years. For context, the COVID package was $1.9T for this year *alone,* with some provisions lasting 2 years," Ocasio-Cortez tweeted on Tuesday. "Needs to be way bigger."
Although progressives want Biden to be bolder and move forward with or without Republican support, the White House is working to get GOP backing for an infrastructure package. Historically, infrastructure has been an area where Democrats and Republicans have been able to compromise, but a number of GOP lawmakers have already come out swinging in response to the president's proposal.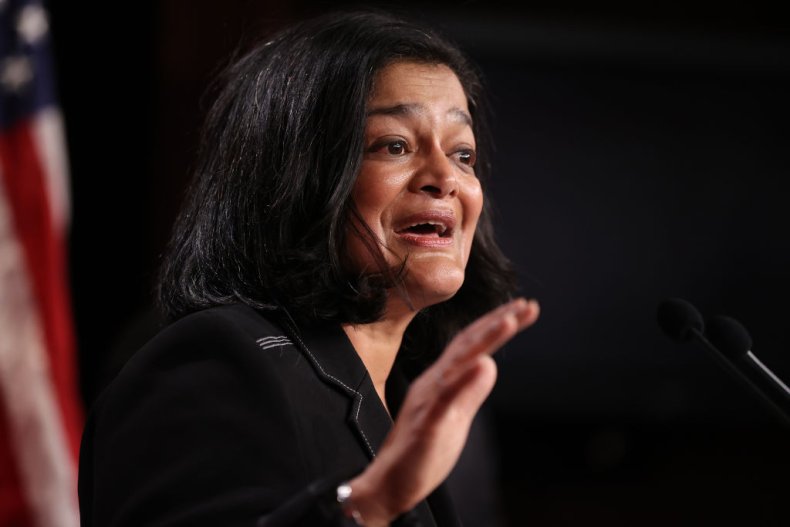 "We are—in my opinion—really entering an uncharted territory here with this level of spending. If you look at just the $2 trillion the president proposed yesterday, that will be four times what the country spent to build the entire interstate highway system. That's—that, I think, should concern anyone," Representative Jason Smith, a Missouri Republican, told CNBC's Squawk Box on Thursday morning.
Representative Andy Biggs, an Arizona Republican who chairs the conservative House Freedom Caucus, sent a letter to Biden on Wednesday objecting to the proposal. Biggs wrote that the White House proposal "ignores our nation's most critical transportation needs, is dominated by costly distractions, and will add trillions of dollars more to the already catastrophic national debt."
Newsweek reached out to the White House for comment but did not immediately receive a response.