The total wealth of America's billionaires has grown by $1.06 trillion since the COVID-19 pandemic started, a figure that's $152 billion more than the leading $908 billion bipartisan stimulus proposal, which some Republicans believe is still too costly.
The collective net worth of the country's 651 billionaires leaped from $2.95 trillion on March 18 to $4.01 trillion as of December 7, according to data collected by Americans for Tax Fairness, published Tuesday. Their wealth increase represents a 36 percent rise, based on Forbes billionaires.
The top 10 U.S. billionaires—Jeff Bezos, Elon Musk, Bill Gates, Mark Zuckerberg, Warren Buffett, Larry Ellison, Larry Page, Sergey Brin, Steve Ballmer and Alice Walton—currently have a combined net worth of more than $1 trillion. By comparison, the bottom half of the population, or 165 million Americans, hold $2.1 trillion in total.
Meanwhile, it's been nearly nine months since President Donald Trump signed the CARES Act, and negotiations over another stimulus package have been deadlocked for over five months.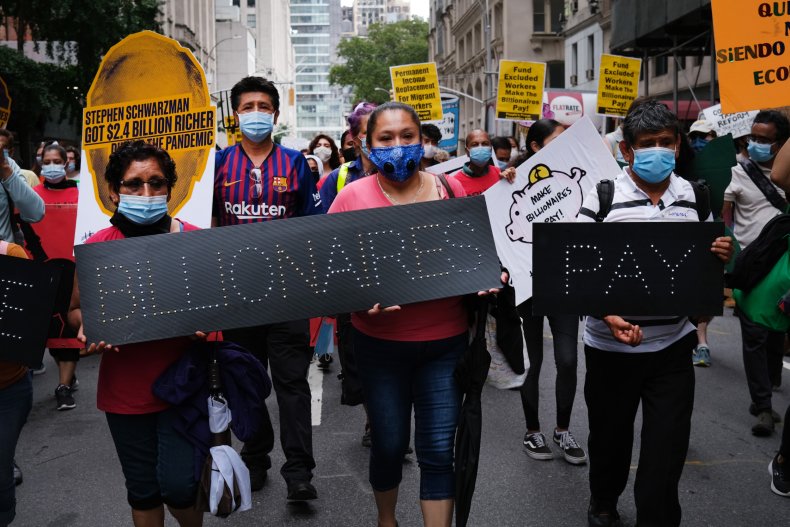 As Americans grew increasingly frustrated with the stalemate, a group of bipartisan senators unveiled a $908 billion compromise measure earlier this month in an effort to deliver quick relief to unemployed and low-income citizens, as well as struggling small businesses.
The price tag represents an amount that's less than half of the Democrats' latest $2.2 trillion offer and almost double the $550 billion proposed in McConnell's "targeted" Republican plan. An initial draft framework of the proposal included an extra $300 per week in unemployment benefits; $160 billion for state and local governments; and nearly $290 billion in aid for small businesses.
But legislators are still ironing out the details of the bill. Senate Majority Leader Mitch McConnell has stood firm in opposing any measure that does not have COVID liability protections for businesses, and Democrats are unwilling to budge on aid to state and local governments. Senator Joe Manchin on Wednesday said that lawmakers still need to figure out those two provisions before finalizing a deal.
Some progressives, led by Senator Bernie Sanders, have also demanded that another round of $1,200 stimulus checks be included. However, Democrats gave up direct payments in favor of federal unemployment benefits in trying to keep the price tag low for fiscally conservative Republicans.
"To say that we only have X amount of dollars and I'm going to send checks to people that still have a job, still have a paycheck coming in—but I'm going to ignore and not help the people who are still unemployed or becoming more unemployed because this pandemic is ravaging—I don't think that makes any sense to anybody," said Manchin, who was among the lawmakers that introduced the bipartisan plan.
Americans for Tax Fairness noted that the $1 trillion gain among billionaires amounted to more than the cost of sending $3,000 stimulus checks to every person in the country.
Newsweek reached out to Senate Majority Leader Mitch McConnell and House Speaker Nancy Pelosi for comment.