Bernie Sanders, Dem Senators Demand Stimulus Checks, Oppose $908B Relief Proposal
Senator Bernie Sanders of Vermont, an independent, and five progressive Democrats in the upper chamber are opposing the framework of the $908 billion bipartisan stimulus plan for being insufficient in addressing the economic fallout of the pandemic and excluding a second round of stimulus checks.
In a letter—signed by Sanders and Democratic Sens. Kirsten Gillibrand of New York, Elizabeth Warren and Edward Markey of Massachusetts, and Jeffrey Merkley and Ron Wyden of Oregon—the lawmakers in the Senate Democratic Caucus said the leading stimulus proposal "does not go anywhere near far enough."
Sanders circulated the letter among Senate Democrats on Monday.
"Please join us in demanding that any new COVID-relief proposal includes a $1,200 direct payment to adults and $500 to their children. Further, please work with us to make certain that there is no language in this bill to give a liability shield to corporations who threaten the health and safety of workers and customers," the letter read.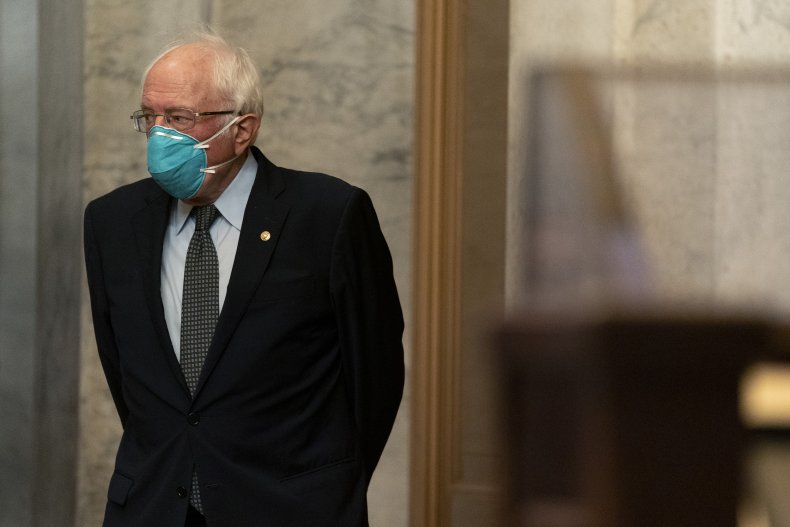 The six senators criticized the current bipartisan framework for allocating "$300 supplements for unemployed workers rather than $600 a week," doing "nothing to address the health care crisis impacting millions of Americans who cannot afford medical care," and potentially providing legal immunity to corporations "whose irresponsibility has led to the deaths of hundreds of workers."
Democratic Congresswoman Alexandria Ocasio-Cortez and Republican Senator Josh Hawley, although not signatories on the letter, have also joined the progressive push for further stimulus checks.
Hawley called President Donald Trump on Saturday and urged him to veto any legislation that doesn't include direct payments.
"I said, 'I think it's vital that any relief include direct payments, and I'm not gonna vote for it if it doesn't,'" the senator said in an interview on Monday. "And I also urged him to veto any bill that did not have direct payments in it."
The senator said that the president seemed receptive to his suggestion.
Ocasio-Cortez has also said she wouldn't support the $908 billion plan unless it included a second stimulus check. "COVID relief needs to directly help everyday people. People need stimulus checks & UI," she tweeted Thursday.
The $908 bipartisan measure, introduced by a group of Republican and Democratic senators as a middle-of-the-road compromise, includes funding for state and local governments, expanded unemployment benefits and funding for small businesses. House Speaker Nancy Pelosi, Senate Minority Leader Chuck Schumer and President-elect Joe Biden have backed the plan that's less than half of their latest $2.2 trillion bill proposal. But Senate Majority Leader Mitch McConnell initially rejected the measure and negotiations are still ongoing.
McConnell, who previously opposed sending out more direct payments, is reportedly warming to the idea of including another check to further coronavirus relief, Politico reported on Tuesday.
Newsweek reached out to Pelosi's office for comment.
Correction 12/9/20, 4 a.m. ET: The headline of this article was updated to state "$908 billion."