Republican Senator Josh Hawley of Missouri, unhappy with the absence of stimulus checks in the leading proposal, called President Donald Trump on Saturday and urged him to veto any bill that doesn't include direct payments.
In an interview on Monday, Hawley discussed his conversation with the president that took place as he traveled on Air Force One from Georgia.
"I said, 'I think it's vital that any relief include direct payments, and I'm not gonna vote for it if it doesn't,'" the senator said. "And I also urged him to veto any bill that did not have direct payments in it."
Hawley believed that Trump was receptive to his suggestion.
"We had a good conversation about it. And, you know, a pretty thorough conversation," he recounted. "He asked a number of questions about the state of play of the different proposals. And I think it's fair to say that he was surprised at the direction that some of these were headed."
A White House spokesperson said, "President Trump understands that Americans are hurting and need relief, which is why the White House continues to engage with those in congressional leadership who are serious about moving quickly to approve billions in aid."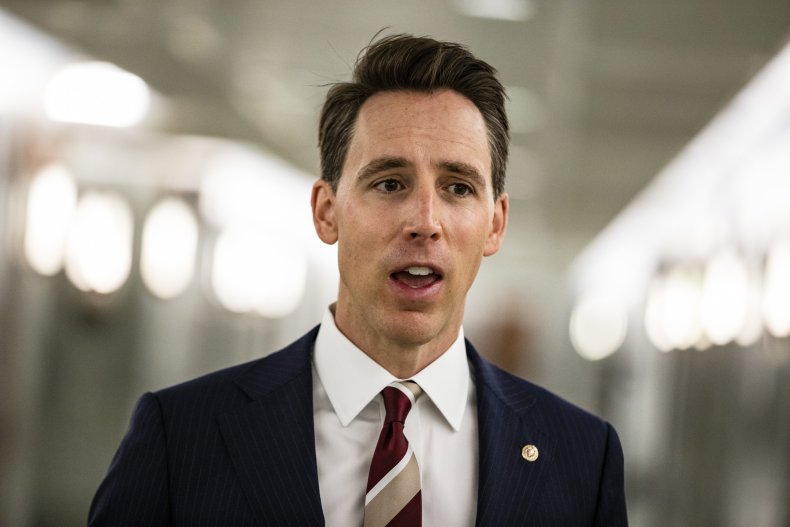 The leading stimulus proposal is a $908 billion bipartisan measure, introduced by a group of Republican and Democratic senators as a middle-of-the-road compromise. Democratic leaders, including House Speaker Nancy Pelosi, Senate Minority Leader Chuck Schumer and President-elect Joe Biden, have supported the plan that's less than half of their latest $2.2 trillion offer. Senate Majority Leader Mitch McConnell initially rejected the measure, pushing instead for a slightly tweaked $550 billion version of his previous GOP proposal.
However, on Sunday, Democrat Senator Mark Warner of Virginia and Republican Senator Bill Cassidy of Louisiana revealed that Congress was close to a deal and another stimulus bill will come in the next few days. "I think we have got the top line numbers done. We are working right now on language so that we can have—as early as [Monday]—a piece of legislation," Warner said, confirming that the four-month plan will total around $908 billion.
The plan "will give targeted relief for the unemployed; for people in food insecurity; rental assistance; small businesses that have run out of their [Paycheck Protection Program] funds and additional funds to those minority businesses that have been extraordinarily hit hard," he explained.
Neither of the two competing proposals includes a second round of stimulus checks. Over the past five months of negotiations, both sides of the political aisle have supported more checks, but not every commonality will make it onto the next deal if Congress decides to go with a piecemeal approach to break the deadlock.
Biden said last week that he believes it "would be better if they have the $1,200 and I understand that may be still in play," but he also assured Americans that the bipartisan proposal would merely be a "down payment" that will be followed by additional stimulus in the near future.
Schumer on Sunday also called the upcoming compromise deal a stopgap measure to address the economic fallout of the pandemic before a "much bigger bill" is passed after Biden's January inauguration.