AOC, Progressives Slam Moderate Dems' Concerns About $3.5T Bill: 'Bipartisan Doesn't Mean It's Good'
Representative Alexandria Ocasio-Cortez, a New York Democrat, and fellow progressive lawmakers pushed back against moderate Democrats' concerns over a proposed $3.5 trillion "human infrastructure" package that President Joe Biden and Democratic leaders aim to pass in tandem with a bipartisan $1 trillion infrastructure deal.
Moderate Democrats wrote a letter addressed to Speaker of the House Nancy Pelosi, a California Democrat, urging her to swiftly bring the bipartisan roughly $1 trillion infrastructure deal, which is nearing passage in the Senate, for a vote in the House, CNN reported on Saturday evening. They also raised concerns about the cost of the larger $3.5 trillion proposal that Democrats hope to pass through the budget reconciliation process without the need for any Republican votes.
Progressive Democrats quickly responded, dismissing the concerns of their moderate colleagues.
"If mods want to blow up the infra deal, that's on them. I know this is tough for some to understand, but the US is more than a handful of suburbs- communities outside them aren't disposable," Ocasio-Cortez wrote, retweeting a copy of the letter to Pelosi. "And just bc something is 'bipartisan' doesn't mean it's good. Look at Wall St bailouts," she added.
In a follow-up tweet, Ocasio-Cortez pointed out that "War was bipartisan. Tax cuts for the rich were bipartisan. Wall St bailouts were bipartisan. Fossil fuel giveaways were/are bipartisan."
Representative Ilhan Omar, a Minnesota Democrat who serves as the whip for the Congressional Progressive Caucus, pushed back against the moderates' position as well.
"Reconciliation bill needs to be tied to the infrastructure bill if moderates are serious about passing the bill. If they want to tank the Democratic agenda it's on them," Omar tweeted. "Dems across the country want investments in the care economy & campaign promises fulfilled. It's time to act."
Representative Mondaire Jones, a New York Democrat, retweeted the letter with a simple and straightforward response: "No."
In a separate post, Jones wrote: "Wondering how many Americans will know which infrastructure bill was 'bipartisan' versus the number who will know whether Medicare was expanded, child care became affordable, and the planet was saved."
"The American people gave us the power of the gavel, which means we get to use leverage- the reconciliation package contains life saving measures for our most vulnerable. Without a care & climate infrastructure, there will be no one left to travel on the physical infrastructure," Representative Grace Meng, a New York Democrat, wrote in a Twitter post.
Representative Rashida Tlaib, a Michigan Democrat, asserted that the bipartisan $1 trillion package should not pass without the larger reconciliation proposal.
"Not without reconciliation too. Too many of our schools are without clean drinking water. We need to be bolder," Tlaib tweeted.
The Senate voted on Saturday to invoke cloture to move the bipartisan infrastructure package closer to passage. Senate Minority Leader Mitch McConnell, a Kentucky Republican, and 17 other GOP senators voted with their Demcoratic colleagues in a significant showing of bipartisan support for the bill, the details of which have been negotiated between Democrats, Republicans and the White House for months. Biden has described the bipartisan legislation as a "historic investment" in the nation's roads, bridges, public transportation, broadband internet and water infrastructure.
The larger budget reconciliation legislation would include funding for universal prekindergarten, two years of free community college, and clean energy requirements for utilities, and would work to lower prescription drug prices. Green cards would be offered to some undocumented immigrants and medicare benefits would be expanded through the bill as well.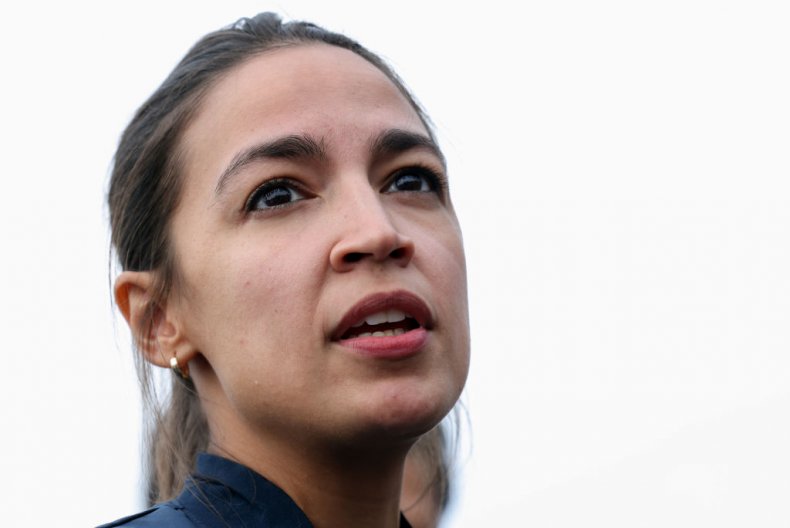 However, even though the legislation looks close to passage in the Senate—it faces an uncertain future in the House. Although House Democrats are largely willing to approve the bill, progressives have maintained that they will not vote for the bill without the $3.5 trillion reconciliation package being approved in tandem.
Pelosi has sided with progressives, saying the House will not take up the $1 trillion bill before the Senate approves the larger proposal as well. Meanwhile, moderate Democrats in the Senate continue to express concerns about the $3.5 trillion package, as do moderates in the House.
Newsweek reached out to Pelosi's press secretary for comment, but did not immediately receive a response.