Joe Manchin Questions $3.5Tn Price Tag of Dem Budget Reconciliation Bill
Senator Joe Manchin, a West Virginia Democrat, questioned the high $3.5 trillion proposed price tag of President Joe Biden's and Democratic leaders' "human infrastructure" proposal, doubling down on his concerns with the budget reconciliation legislation.
Biden and Senate Majority Leader Chuck Schumer rolled out the $3.5 trillion proposal in mid-July. The bill is part of the White House's two-track strategy, with a smaller roughly $1 trillion bipartisan traditional infrastructure bill moving forward in the Senate. Republican lawmakers balked at the "care economy" proposals Biden wanted to include, leading Democrats to put forward a separate and larger budget reconciliation package in hopes of passing it without any GOP support.
Moderate Democrats, such as Manchin, have expressed concerns about the larger package. Meanwhile, progressive Democrats have pushed back against any substantial compromises. The West Virginia lawmaker reiterated his qualms about the reconciliation package during a Sunday interview with CBS News' Face the Nation.
"You get to the point like you do in your own private life, what can you afford to pay for?" Manchin said. The senator says that he has explained his views to Schumer and spoke favorably of their conversations. However, he noted that he was still saying "look and see" on the package.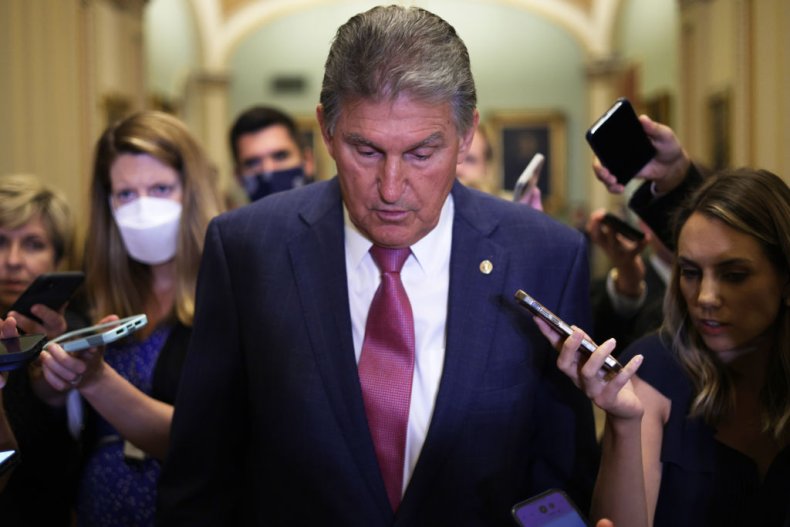 "You want to make adjustments to the tax code. Are we still going to be competitive? Can we compete in a global market?" Manchin asked. He went on to raise concerns about the possibility of inflation. Manchin also suggested that some of the environmental provisions in the legislation would be harmful to the U.S. economy. The senator said that climate change should be addressed through "innovation."
Arizona Senator Kyrsten Sinema, another moderate Democrat, has also questioned the price tag of the $3.5 trillion bill. "I do not support a bill that costs $3.5 trillion—and in the coming months, I will work in good faith to develop this legislation with my colleagues and the administration to strengthen Arizona's economy and help Arizona's everyday families get ahead," she said last week.
New York Representative Alexandria Ocasio-Cortez, a prominent progressive, slammed Sinema over her expressed opposition to the bill. "Good luck tanking your own party's investment on childcare, climate action, and infrastructure while presuming you'll survive a 3 vote House margin," Ocasio-Cortez tweeted.
Sinema has been one of the key Democratic negotiators in talks with Republicans to push forward the $1 trillion traditional infrastructure package. But House Democrats have signaled that they do not plan to pass the bipartisan Senate package unless they are also able to simultaneously approve the larger human infrastructure bill. Speaker of the House Nancy Pelosi has aligned herself with progressives in the clash with moderate senators.
The budget reconciliation package would include two years of free community college, clean energy requirements for utilities, universal prekindergarten, and would lower prescription drug prices. Green cards would be offered to some undocumented immigrants and medicare benefits would be expanded as well.
Newsweek reached out to the White House for comment on Manchin's concerns but did not receive a response before publication time.