AOC Proposes Impeachment for Supreme Court Justices Who 'Lied Under Oath'
Representative Alexandria Ocasio-Cortez suggested Sunday that Supreme Court justices should face impeachment if they lied about their stance on Roe v. Wade during their confirmation hearings.
After the Supreme Court overturned the landmark case on Friday that guaranteed women the right to an abortion, attention turned to the conservative justices' remarks during their confirmation hearings, as many of them suggested they believed the case to be settled law—only to go on to rule it unconstitutional.
During their confirmation hearings, Justices Neil Gorsuch and Brett Kavanaugh called the case an "important precedent," which led some senators to believe they would uphold the case, and voted them through.
Ocasio-Cortez, a New York Democrat, accused the justices of lying under oath, warning that not impeaching them would send a "blaring signal" to future Supreme Court nominees that they can lie to secure their confirmation during an appearance on NBC News' Meet the Press.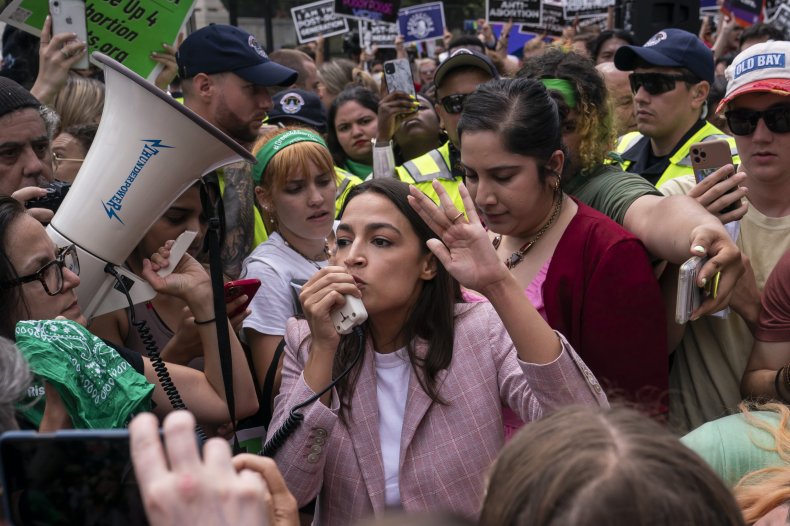 "If we allow Supreme Court nominees to lie under oath and secure lifetime appointments to the highest court of the land, and then issue without basis—if you read these opinions, issue without basis—rulings that deeply undermine human and civil rights of the majority of Americans, we must see that through," she said.
She argued that there needs to be "consequences" for the "deeply destabilizing action and hostile takeover of Democratic institutions."
On Twitter, the lawmaker added that Congress has "a responsibility to protect our democracy" by "holding those in power who violate the law accountable." She added: "Without it, rule of law can slip through our hands like sand through loose fingers."
However, neither the House nor Senate judiciary committees have commented publicly on the possibility of impeachment. Newsweek reached out to the House Judiciary Committee, and Senate Judiciary Committee chairman Dick Durbin, an Illinois Democrat, for comment.
During his 2017 confirmation hearing, Gorsuch said: "I would tell you that Roe v. Wade, decided in 1973, is a precedent of the United States Supreme Court. It has been reaffirmed. A good judge will consider it as precedent of the U.S. Supreme Court worthy as treatment of precedent like any other."
Kavanaugh, in his 2018 hearing, said: "It is settled as a precedent of the Supreme Court, entitled the respect under principles of stare decisis. The Supreme Court has recognized the right to abortion since the 1973 Roe v. Wade case. It has reaffirmed it many times."
Senators Susan Collins, a Maine Republican, and Joe Manchin, a West Virginia Democrat, voted for both nominees, but have expressed they felt misled by their statements about whether Roe v. Wade was precedent.
"I trusted Justice Gorsuch and Justice Kavanaugh when they testified under oath that they also believed Roe v. Wade was settled legal precedent and I am alarmed they chose to reject the stability the ruling has provided for two generations of Americans," Manchin said in a statement on Friday.
Meanwhile, Collins also said on Friday: "This decision is inconsistent with what Justices Gorsuch and Kavanaugh said in their testimony and their meetings with me, where they both were insistent on the importance of supporting long-standing precedents that the country has relied upon."
Newsweek has also reached out to Representative Ocasio-Cortez's office for comment.