AOC Questions Manchin's Stance on $15 Wage, Says 'Majority' of West Virginia Supports It
New York Rep. Alexandria Ocasio-Cortez questioned Senator Joe Manchin's opposition to increasing the federal minimum wage to $15, stating that a "majority" of West Virginia supports it.
While speaking to reporters on Friday, Ocasio-Cortez said "look at Joe Manchin -- his own constituents, West Virginians want a $15 minimum wage."
"So I don't even see what kind of leg he's standing on here where the majority of his own state doesn't agree with him," Ocasio-Cortez added.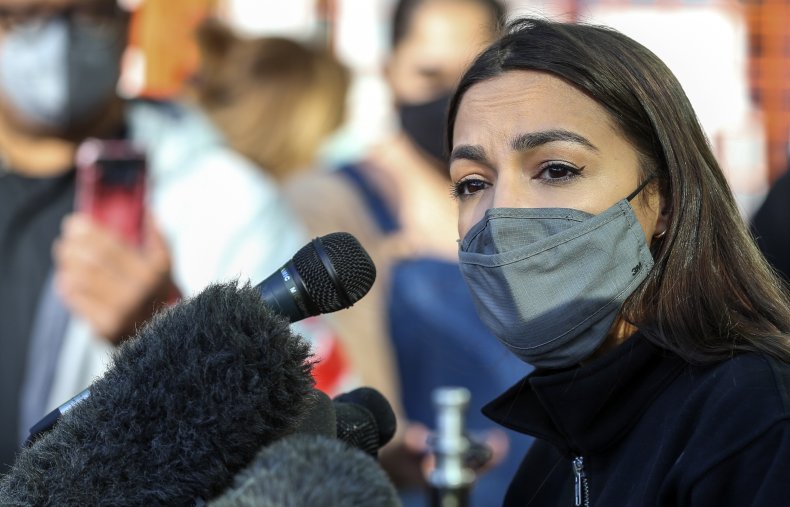 The comments from the New York congresswoman come shortly after the Senate parliamentarian Elizabeth MacDonough ruled against including the $15 federal minimum wage increase in President Joe Biden's $1.9 trillion stimulus bill. The decision sparked anger among progressive Democrats who have continued to push for the minimum wage increase to be included in the bill.
Manchin, a moderate Democratic senator, has previously expressed his opposition to the $15 minimum wage increase but noted that he was open to a smaller increase.
Several progressives also called for the White House to overrule MacDonough's ruling, which Manchin previously said he disagreed with.
"My only vote is to protect the Byrd Rule: hell or high water," Manchin said in an interview with CNN last week. "Everybody knows that. I'm fighting to defend the Byrd Rule. The president knows that."
Despite Manchin's opposition to the $15 minimum wage increase, a recent poll found results supporting Ocasio-Cortez's claims.
The poll, which was conducted by GBAO research, found 63 percent of West Virginia residents saying they support the $15 federal minimum wage increase.
Another poll conducted by Reuters/Ipsos, found 59 percent of Americans supporting the federal minimum wage increase.
In West Virginia, the minimum wage is currently $7.25, and has not been raised since 2009.
In addition to the recent poll finding, Manchin faced backlash from some West Virginia residents last week in regard to his opposition to the federal minimum wage increase.
"We're going to help you be a better senator than you think you're capable of being. That COVID relief package includes that $15 minimum wage and of course by now you know the truth. You know that in West Virginia the minimum wage needs to be $23 in order for people to live, not wonder where their next meal is coming from," Jean Evansmore, of the West Virginia activist group, Poor People's Campaign said during a virtual event with Manchin last week.
Newsweek reached out to Ocasio-Cortez and Manchin for comments but did not receive a response in time for publication.