Sen. Joe Manchin (D-W. Va.) is under fire from West Virginia residents for opposing raising the federal minimum wage to $15 per hour despite representing one of the poorest states in the nation.
West Virginians associated with the Poor People's Campaign, an activist group that has been pressuring Manchin over the issue, urged the senator to reverse his stance during a virtual "Moral Monday" event. Manchin is one of two moderate Senate Democrats that do not support the current effort to raise the minimum wage, which other Democrats hope to pass as part of President Joe Biden's $1.9 trillion COVID-19 relief package.
"I'm speaking to you, Senator Manchin," said Jean Evansmore of the West Virginia Poor People's Campaign."We're going to help you be a better senator than you think you're capable of being. That COVID relief package includes that $15 minimum wage and of course by now you know the truth. You know that in West Virginia the minimum wage needs to be $23 in order for people to live, not wonder where their next meal is coming from."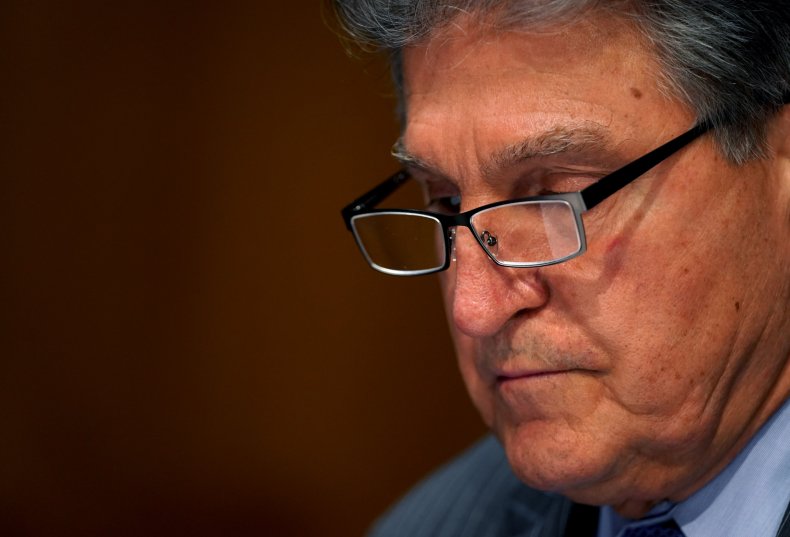 Manchin told The Hill that he does not support the minimum wage increase on February 2, while adding that he would be "supportive of basically having something that's responsible and reasonable."
Manchin previously balked at the proposal regarding $1,400 COVID-19 relief checks, arguing that they should be given on a more strictly "targeted" basis, although he is believed to generally support the payments.
Evansmore was joined by other campaigners from the West Virginia chapter of the Poor People's Campaign, including Pam Garrison, who urged workers to "say enough is enough" because "we're tired of putting the filthy rich in silk beds and us sleeping on straws."
A number of West Virginia workers offered their personal pleas for Manchin to support the wage increase during the event.
"We're overwhelmed with stress, we can't make ends meet, we're worried about whether we're going to catch COVID-19 and take it home to our loved ones," said Brianna Griffith, a tipped service worker. "$15 an hour, including tips on top for tipped workers, is so overdue and it would make a life-saving difference in our state especially when our state is haemorrhaging young people because we can't find jobs and we can't afford to live here."
"Do the right thing by your people, Senator Manchin, and for the nation," she added.
The current proposal would raise the federal minimum wage from the current rate of $7.25 per hour, where it has remained for nearly 12 years, to $15 per hour by 2025. In West Virginia, a "living wage" would require $13.93 per hour for a single person without children, or $28.70 per hour for a single person with one child, according to MIT. The current state minimum wage is $8.75 per hour, with the minimum for tipped workers being $2.62 per hour.
"We cannot heal this nation without full COVID relief of the minimum wage of $15," said Rev. Dr. William J. Barber II, co-chair of the Poor People's Campaign. "There is no way we can go through the pain and poverty prior and since COVID and not make this a major part of our economic recovery and economic future... we need you to stop preying on poor and low-wealth folks and start paying poor and low-wealth folk so that they can live and have the fruit of their labor."
The Poor People's Campaign had been planning to hold a protest outside Manchin's Charleston office on the same day that the virtual event took place but was forced to cancel the protest due to poor weather. The group said on Monday that Manchin asked for an in-person meeting, although it is unclear when the meeting might take place.
West Virginia is the second poorest state in the country based on mean household income, trailing only Mississippi, according to World Population Review. Although the state minimum wage is higher than the national rate, it still falls well behind the $24 per hour rate that would be expected if the wage had not stalled but continued to grow in step with both inflation and productivity since 1968, according to the Center for Economic and Policy Research.
In addition to Manchin, Sen. Kyrsten Sinema (D-Ariz.) has also indicated that she does not support increasing the minimum wage to $15, reasoning that it is not directly related to the COVID-19 relief effort. Sinema has specifically argued that the wage hike should not be included as part of the budget reconciliation process, which Democrats are using in hopes of passing elements of the package with a simple majority, avoiding the need for GOP votes that would be required to meet a filibuster-proof majority of 60.
Newsweek reached out to Manchin's office for comment.