AOC Raises $2 Million for Texas As Ted Cruz Asks Biden for Federal Aid After Cancun Fallout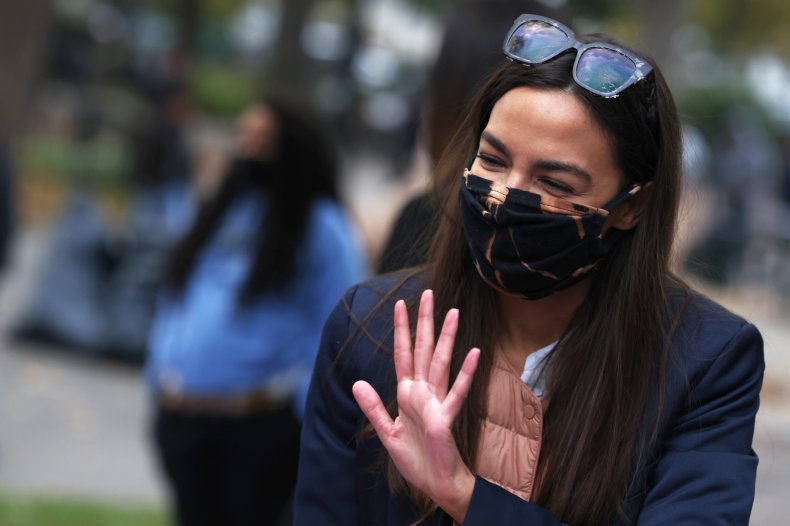 Sen. Ted Cruz (R-Texas) urged President Joe Biden to send federal aid to Texas as the state continued to grapple with disaster, while Rep. Alexandria Ocasio-Cortez (D-N.Y.) had raised at least $2 million to aid Texans on Friday.
Cruz is continuing to face heated criticism for taking an aborted trip to Cancun, Mexico, on Wednesday while many Texans were left without power in freezing cold temperatures. One day after returning from the resort destination, he joined with Sen. John Cornyn (R-Texas) to write Biden a letter in support of Republican Governor Greg Abbott's request for aid and a formal disaster declaration, telling the president that assistance is required despite "swift action" from Abbott.
"The Governor and local officials have informed us that the severity and magnitude of the storm is beyond the response capabilities of the state and local government," the senators wrote. "Freezing temperatures severely affected the State's electric generation and distribution capabilities, leading to regional outages. Emergency resource distribution has been delayed by treacherous road, rail, and air travel conditions, leaving many Texans stranded in their own homes without heat, food, or water."
"Thousands of Texans have had their homes and apartments flooded as frozen pipes begin to thaw," they added. "As a result of these breaks, Texans will continue to see water quality issues while repairs to infrastructure are made. Despite the Governor's swift action to mobilize state, local, and non-profit resources, Federal action is necessary to protect the lives of Texans now and in the weeks to come."
Biden told acting FEMA Administrator Bob Fenton that he "intends to sign Texas's request for a Major Disaster Declaration as soon as FEMA sends over the formal request from Governor Abbott later today" during a Friday phone call, according to a White House readout of the call.
On the same day, Ocasio-Cortez continued to promote a Texas disaster aid fundraising campaign on Twitter, while announcing that she was traveling to Texas to meet with Rep. Sylvia Garcia (D-Texas) to help distribute supplies and boost the relief effort.
"Charity isn't a replacement for good governance, but we won't turn away from helping people in need when things hit the fan," Ocasio-Cortez tweeted. "People understand that now is the time for collective action and doing what we can w/ whatever we've got."
Ocasio-Cortez blasted Cruz for his Cancun trip on Thursday, urging Texans to "continue to demand his resignation" while tweeting that Cruz "could've taken his vacation in peace" if he had resigned "after helping gin up a violent insurrection that killed several people" at the U.S. Capitol riot on January 6.
Cruz told reporters that his trip to Mexico was a "mistake" after returning to Houston on Thursday. The senator explained that he was "trying to be a dad" by fulfilling a request from his daughters to escape from the state's frigid temperatures, before immediately "second-guessing that decision."
Although both lawmakers hope to aid Texas during the current disaster, Ocasio-Cortez and Cruz have frequently sparred on social media. A rare moment of agreement over criticism of retail stock trading app Robinhood ended late last month when Ocasio-Cortez responded to an agreeable tweet from Cruz by claiming that the senator had "almost had me murdered" during the Capitol riot.
Newsweek reached out to the offices of Ocasio-Cortez and Cruz for comment.