AOC Rebukes McConnell, GOP Senators for Stalled Stimulus Talks: 'People Are Starving'
Representative Alexandria Ocasio-Cortez chided Senate Majority Leader Mitch McConnell (R-KY) and GOP lawmakers in the upper chamber on Thursday night as talks over another stimulus package continued to stall.
The Democratic congresswoman accused Republicans of sitting on the $3.4 trillion HEROES Act passed in the House earlier this year as babies slept "on car floors" and others starved amid the economic damage caused by the coronavirus pandemic.
She also questioned whether Republican lawmakers were chasing a further bailout fund with "the needed urgency" to help some American households.
The Quote
"Mass evictions could be prevented if Congress prioritized struggling people 1/2 as much as it prioritizes Wall St. bailouts.
"It's never too late to help people with: rent + mortgage relief, 2nd stim check, UI extension, emergency state & local funding, expand Medicare & more.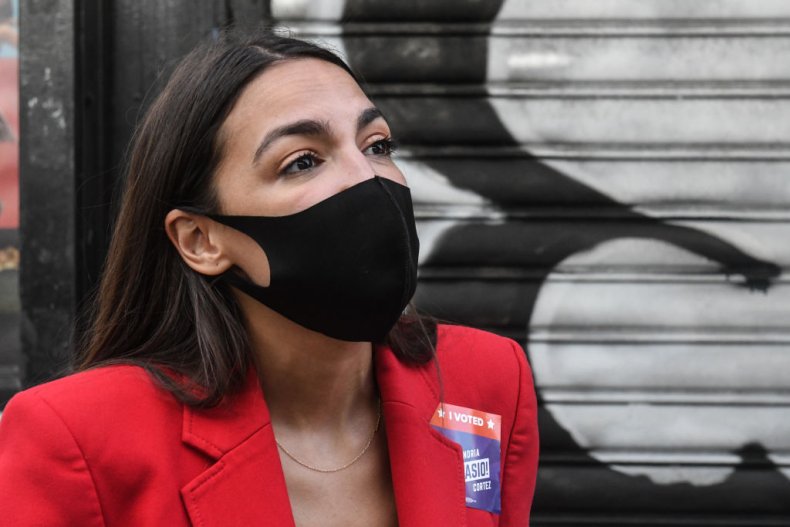 "The HEROES Act the House passed months ago covers several (but not all) of these points. GOP Senators, pledging allegiance to Mitch McConnell, have intentionally sat on this bill & did nothing.
"People are starving. Babies are sleeping on car floors. Where is the needed urgency?"
Why it Matters
Talks over the details of another stimulus bill have made little headway over the past month as Democrats, the Trump administration and Republican lawmakers have failed to see eye-to-eye on the size of the fund.
After a call with Treasury Secretary Steven Mnuchin earlier this week, House Speaker Nancy Pelosi (D-Calif.) said "serious differences" over the scale of the economic problem facing America still split the two sides.
Democrats have rallied around the $3 trillion HEROES Act passed by the House in May, but Republicans favor a $500 billion bill—putting some $2.5 trillion of disagreement between the parties.
As the back-and-forth continues in Washington, D.C., Bureau of Labor Statistic figures show unemployment standing at 10.2 percent, a roughly 7-point increase on the start of 2020.
The U.S. economy also recorded a 32.9 percent annualized contraction in the second quarter of this year as the economic impact of the coronavirus pandemic and related shutdowns continued to hit demand and consumer spending power.
Fears over the prospect of mass evictions prompted the Trump administration to issue an executive order protecting renters from being turfed out on the street until the end of this year.
The Counterpoint
Sen. McConnell blamed the slow pace of stimulus check talks on strong partisan feelings rising in build up to the November 3 presidential and congressional elections.
"We haven't reached an agreement, and I don't know if that's going to be possible with all of the partisan juices flowing like they are some two months from the election," he said.
But he also argued that another stimulus package would need to be injected into the U.S. economy to bring it back up to pace again.