McConnell, Who Called for Stimulus Pause, Blames Relief Delay on Election
Senate Majority Leader Mitch McConnell (R-KY) has questioned whether a stimulus package can be agreed upon, due to exacerbated partisan divides as the election nears.
The Republican lawmaker suggested the will to work across party lines had lessened as November 3 approaches, in remarks made during an outing in Hopkinsville, Kentucky.
"We haven't reached an agreement, and I don't know if that's going to be possible with all of the partisan juices flowing like they are some two months from the election," he said.
Despite voicing this reservation as to whether a bipartisan plan could be agreed upon, he said further relief measures are needed.
While McConnell has backed such action of late, he previously led calls for a pause when Democrats pushed for their HEROES Act to be moved through Congress earlier this year.
The act passed the House of Representatives in May but McConnell pushed against it in the Senate, with it being labeled dead on arrival as it moved to the upper chamber.
At the time, he called for a pause to allow analysis of the impact of previously taken measures, such as those in the CARES Act, before moving on with further relief.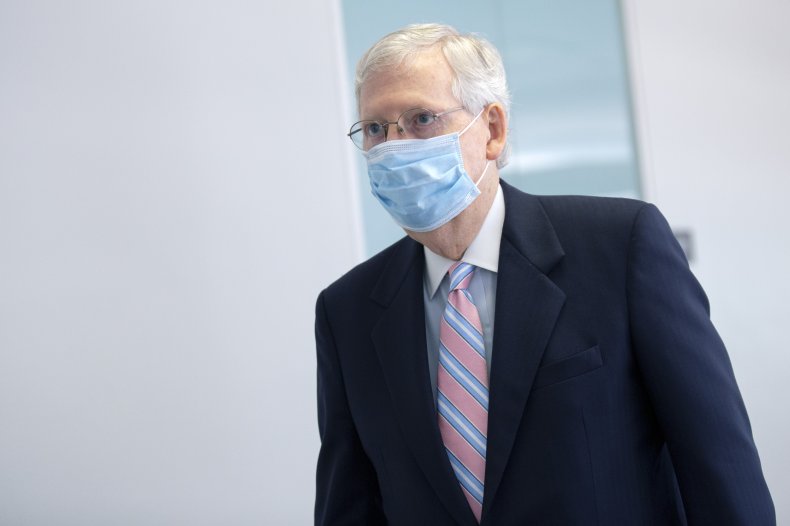 In May, he suggested "we need to take a pause here," as he referred to the amount spent by the CARES Act.
House Speaker Nancy Pelosi (D-CA) criticized this call at the time and brought it up again in recent comments, amid stalling talks between Democratic figureheads and the White House.
Referring to COVID-19 case numbers and related deaths since the HEROES Act was passed, Pelosi said: "Thank you for your pause, Mitch McConnell — too bad you didn't tell the virus to pause."
McConnell's comments came as recent calls with Pelosi by Treasury Secretary Steve Mnuchin and White House Chief of Staff Mark Meadows failed to reach a breakthrough, after previous talks also ended in a stalemate.
Mnuchin expressed hopes for a bipartisan agreement at a meeting of the House select subcommittee on the coronavirus crisis earlier this week, though a subsequent discussion with Pelosi failed to find solution to the impasse.
The HEROES Act proposed by Democrats suggested around $3.4 trillion in stimulus spending, while Republicans have looked to cap spending at $1 trillion.
Other points such as funds for testing and local and state governments have been aspects of disagreement.
There have also been discrepancies on subjects such as the level of enhanced unemployment benefits to be paid out.
Newsweek has contacted McConnell, Pelosi and the White House for comment.
The block on a stimulus comes as COVID-19 cases continue to rise across the U.S., with more than 6 million confirmed across the nation.
There have been more than 25 million worldwide, with the graphic below from Statista highlighting the figures relating to cases across the globe.