Pelosi and Mnuchin Push for Stimulus Deal, As Meadows Is Blamed for Delay
House Speaker Nancy Pelosi (D-CA) and Treasury Secretary Steve Mnuchin continue to express their desire for a bipartisan deal on stimulus, but the Democratic figurehead said talks continue to expose differences between the two sides.
The pair spoke over the phone Tuesday in a bid to bridge their differences over what action to take, after a previous call between Pelosi and White House Chief of Staff Mark Meadows failed to breach the impasse.
Mnuchin expressed his hopes for a bipartisan agreement at a meeting of the House select subcommittee on the coronavirus crisis, insisting he was willing to negotiate the matter "with no conditions whatsoever any time."
"The president and I want to move forward," he said.
Making this point, he reiterated the suggestion of moving ahead in a piecemeal fashion on aspects each side agrees upon, then considering other issues down the line.
Later in the day, Mnuchin had a call with Pelosi in which she questioned the White House's hesitance to spend the amounts pitched by Democrats and the prospect of delaying action by taking it incrementally.
"Sadly, this phone call made clear that Democrats and the White House continue to have serious differences understanding the gravity of the situation that America's working families are facing," she said in a statement following the discussion.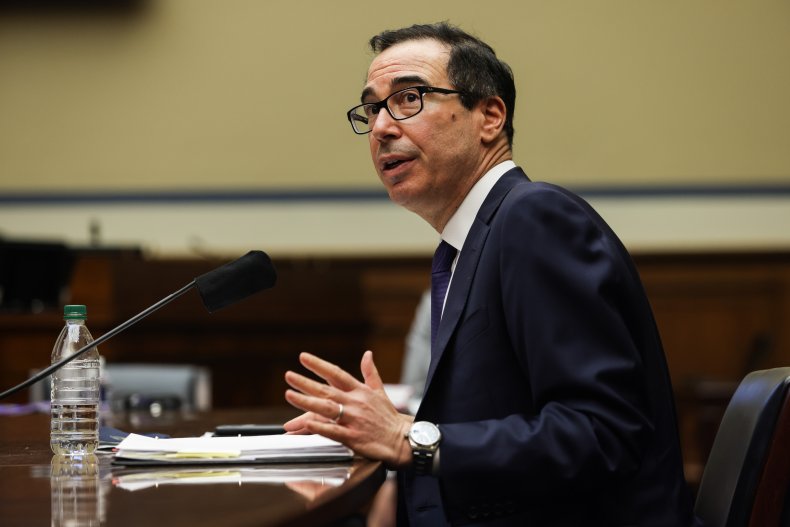 "House and Senate Democrats have repeatedly offered to compromise. Over a month ago, we said that we would be willing to cut a trillion dollars from the Heroes Act if the White House would add one trillion to the Senate bill. Last week, we said we would be willing to go down to $2.2 trillion.
"In our conversation, I reiterated the hope that Republicans will come to the table and work with Democrats to save the lives and livelihoods of the American people."
While each side expressed their openness to securing a deal, assigning responsibility for the impasse up on the other, Meadows in particular faced direct criticism from Rep. Bill Foster (D-IL), who was on the subcommittee which Mnuchin addressed Tuesday.
He said "the difficulty" in the talks is Meadows.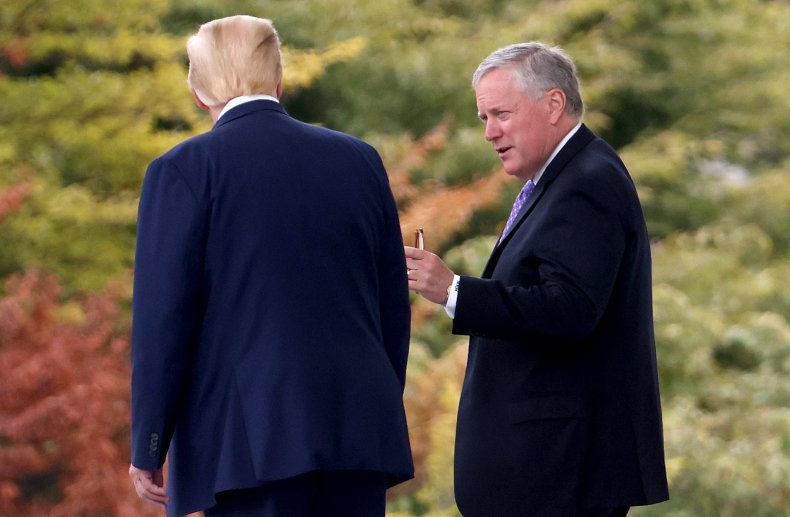 "I served with him for many years in the U.S. House and he was a thorn in the side of Paul Ryan and just everyone who tried to deal with him. He refused to negotiate as a matter of ideological principle," he said in an interview with MSNBC.
"I'm not personally surprised that we were able to come up with a compromise when it was Speaker Pelosi and Mnuchin, but I'm not surprised at all that we've failed when you add Mark Meadows into the mix.
"The president is not being served well by using him [Meadows] as an interface to Congress."
Meadows criticized Pelosi over the weekend when asked about the block in talks, again questioning the level of spending proposed by Democrats.
The HEROES Act, proposed by Democrats and passed by the House in May, suggested around $3.4 trillion in stimulus spending, while Republican leadership in the Senate—along with the White House—have looked to cap spending at $1 trillion.
Pelosi has said she could consider a compromise somewhere in the middle at $2.2 trillion, though the White House negotiators have pushed back against this—with Meadows saying he was unclear what it would encompass.
"I had a conversation with Speaker Pelosi and even on her $2.2 trillion counteroffer, she can't tell the American people, nor me, what is in that," Meadows told NBC's Meet the Press.
Newsweek has contacted both the White House and Pelosi for comment.
The stalemate in talks comes as Trump again considers wading in with executive powers, this time to look at a nationwide eviction moratorium, in a bid to bypass the delay. Meanwhile, Senate Republicans are eyeing up pushing a skinny coronavirus relief bill through the upper chamber of Congress sometime next week.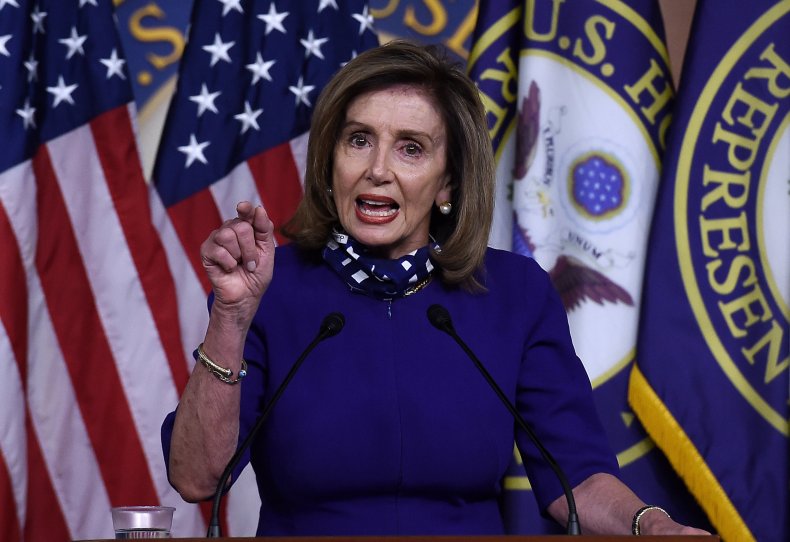 Pelosi and Mnuchin Push for Stimulus Deal, As Meadows Is Blamed for Delay | U.S.