Nancy Pelosi Criticizes Mitch McConnell's Call to Delay Second Stimulus: 'Tell That to the Virus'
House Speaker Nancy Pelosi (D-CA) has criticized calls from Senate Majority Leader Mitch McConnell (R-KY) for a pause before another coronavirus relief bill asking him to "tell that to the virus."
The Democrat-dominated House of Representatives has already passed the HEROES Act, a $3 trillion dollar relief package, but the bill has stalled in the Senate.
Republican's have spoken against it, with McConnell branding the bill a left-wing wish-list, while the White House suggested President Donald Trump could veto it even if it passed through Congress.
McConnell has said another stimulus package is likely to arrive at some point, though not in the form of the HEROES Act. He has called for a pause to analyze the impact of previously measures, such as those included in the CARES Act.
Pelosi has pushed urgently for new measures, reiterating her stance in a press conference on Thursday.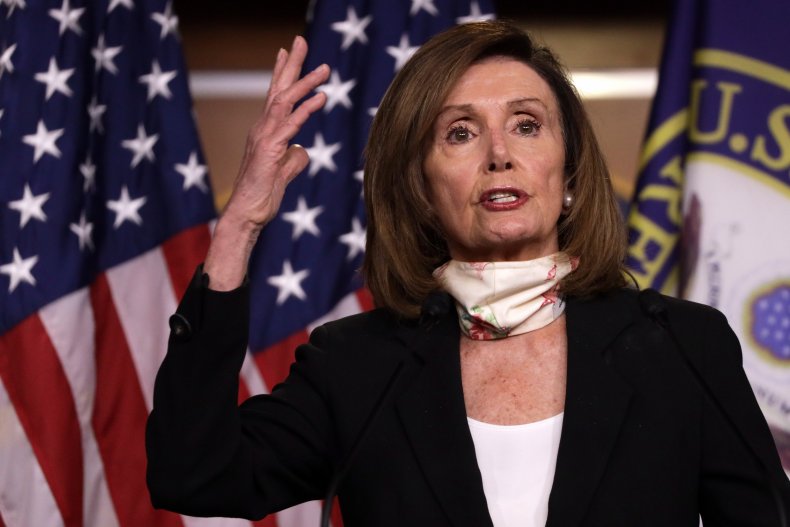 "With all of this, with all these deaths, and the need for us to pass so that as law more specific prescribed direction to the administration, who should have done this on their own, Mitch McConnell says no, we need a pause," she said. "We need a pause? Tell that to the virus. Is the virus taking a pause? Is hunger in America taking a pause?"
She added: "The HEROES Act is an answer. It has a strategy."
The Senate GOP has said there is no chance of the HEROES Act being passed while the chamber is on recess. Any legislation will not be discussed until the session resumes Monday.
However, McConnell has said another relief package could come "in the next month or so." Senate Republicans also previously hinted another bill was inevitable. This would likely be a smaller in financial support than the HEROES Act, a bill which House Democrats wrote. McConnell has suggested an alternative worth around $1 trillion.
He also spoke of a reluctance for more money to be borrowed, adding at an event in his home state earlier this week: "We can't keep doing this. The way to get back to normal is to get back to normal."
Details of exactly what would be included in a further GOP-backed relief package are unclear. Polling suggests Americans would like to see another round of direct stimulus payments made to people across the U.S., which the HEROES Act accounts for, though it it is not clear if these would be included in alternative proposals.
A recent survey by OnePoll which asked 2,000 Americans from April 28 to 30 found 82 percent felt a one-off payment was not enough. They expressed their desire for people to receive money each month amid the coronavirus outbreak.
The economy continues to suffer due to the coronavirus outbreak, with lockdown measures impacting businesses across the nation and more than 40 million jobless claims now filed as a result of the pandemic.
Newsweek has contacted Pelosi and McConnell for comment.
Coronavirus cases in the U.S. continue to rise, with more than 1.7 million confirmed since the start of the outbreak, according to Johns Hopkins University figures.
The graphic below, from Statista, shows the states with the most confirmed cases as of May 28.