Nancy Pelosi Says Stimulus Negotiations Are Stuck on Two Key Points
House Speaker Nancy Pelosi (D-CA) has flagged two key points blocking a bipartisan agreement on a further stimulus package being agreed with the White House.
Pelosi has been part of the Democrat contingent locked in talks with White House Chief of Staff Mark Meadows and Treasury Secretary Steve Mnuchin, which have thus far proved incapable of sealing a deal likely to pass both chambers of Congress.
The Democrats put forward their plans in the form of the HEROES Act, which passed the House in May but was then roundly rejected by GOP leadership in the Senate and branded "dead on arrival" in the upper chamber.
Cost has been one major sticking point, with the HEROES Act looking to spend around $3.4 trillion whereas the Republicans have looked to stick to a cap of $1 trillion in their proposals.
Pelosi, commenting on the state of discussions with the White House, said that an expanded testing strategy as well as funding for state and local governments were key issues the Democrats wanted to see addressed--insisting that decisions must be based on "the science."
Speaking on MSNBC, she referred to advice that the U.S. should be doing three million tests each day and said: "That's what we have in the Heroes Act. But they just won't do it, they won't take up a strategic plan to do that. They won't do state and local government, which is so essential to our heroes, hence called the Heroes Act for health care and first responders and sanitation, transportation, teachers, teachers, teachers, flood suppliers and the rest."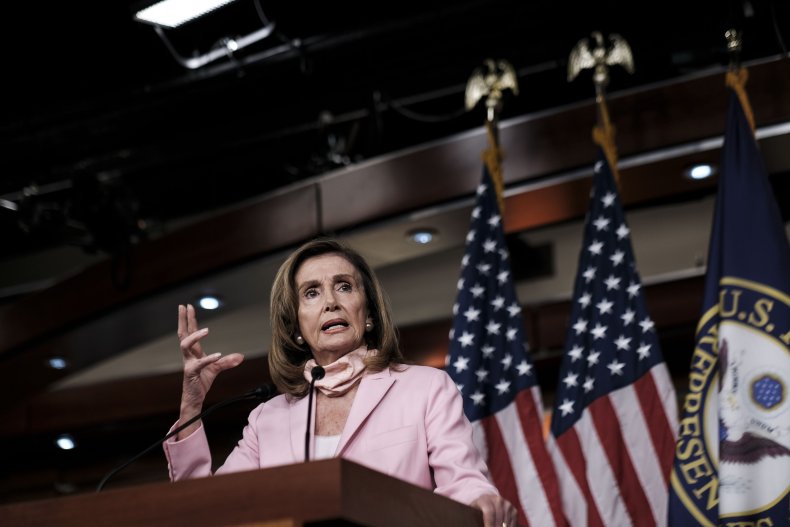 In order to "succeed in negotiations, we have to look to the science," she said, before later adding: "So, we have a real problem here because they will not—they do not understand the gravity of the problem. They refuse to accept the science and what science is advising."
Despite highlighting the issues with securing a deal, she said Dems "very much want to have an agreement."
Pelosi has previously suggested the Republicans are not willing to spend enough to "meet the needs of American workers and families." She and the Democrats have said they could compromise at a $2.2 trillion limit, while the White House has indicated support for going up to $1.3 trillion.
Meadows said that Pelosi "can't tell the American people, nor me" what would be included in her $2.2 trillion counter offer and said she would rather people "have nothing than to give way on what her fantasy objection might be," in an interview with NBC's Meet the Press over the weekend.
Mnuchin on Monday said the Democrats do not want to "negotiate in good faith."
"We've reached an agreement on many, many issues, but they've said unless we come out with a top line, they won't even give us details as to what they're interested, so, and again I think it's bad faith," he told Fox Business.
He said President Donald Trump wants "to help with more money for kids and jobs," he said if the money proposed by the Republicans was not enough "we could always come back and do more" at a later point.
While there have been points of agreement, for example both sides have been supportive of another round of stimulus checks, the Democrats have pushed back against moving forward in a piecemeal fashion.
The White House previously suggested pushing on with points of agreement and then moving on to contentious issues.
Points of disagreement aside from overall spend have included the level of enhanced unemployment benefits, with Democrats pushing for this to continue at a $600 weekly boost as had been provided by the CARES Act while Republicans have wanted to cut this to $200 weekly before then moving on to a scheme of paying people a boost based upon 70 percent of their previous wage. Liability protections have also been a red line that Senate GOP leadership has said it would not budge on but Dems have been skeptical of.
Newsweek has contacted the White House and Pelosi for comment.