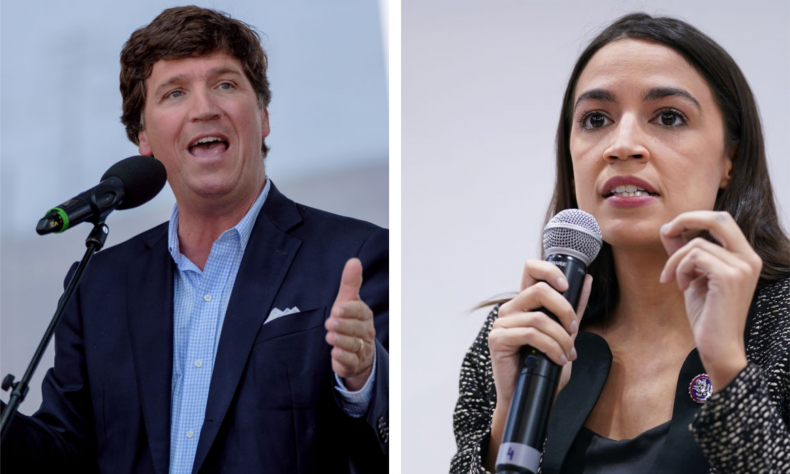 Representative Alexandria Ocasio-Cortez (D-N.Y.) has referred to Fox News host Tucker Carlson as a "creep" after he falsely claimed that she was not a person of color but instead a "rich, entitled white lady."
Carlson insisted that Ocasio-Cortez was white despite her "shade" while discussing the upcoming book Take Up Space: The Unprecedented AOC during the Friday night edition of his Tucker Carlson Tonight program. Carlson took exception to the book's authors writing that the congresswoman lived "fully out loud while female," asking whether they were referring to "a trans thing" before arguing that "no one has done more personally to degrade American womanhood."
After playing a video clip of Ocasio-Cortez applying makeup while describing difficulties of being taken serious as a young woman of color, Carlson called her "dumb" and baselessly asserted that it was "absurd" that the Hispanic congresswoman considered herself a person of color.
"No one ever dares to challenge that description, but every honest person knows it is hilariously absurd," said Carlson. "There is no place on Earth outside of American colleges and newsrooms where Sandy Cortez would be recognized as a 'woman of color,' because she's not!"
"She's a rich, entitled white lady," he continued. "She's the pampered obnoxious ski bunny in the matching snowsuit who tells you to pull up your mask while you're standing in the lift line at Jackson Hole. They're all the same, it doesn't matter what shade they are."
Ocasio-Cortez responded by sharing a clip of Carlson making the claim to Twitter alongside the caption, "This is the type of stuff you say when your name starts with a P and ends with dejo," referring to the Spanish-language term of derision "pendejo."
Carlson's lengthy segment on the book, authored by writers from New York magazine, also focused on an excerpt that featured Ocasio-Cortez describing herself as exhausted and "alone" while making a social media video of her assembling IKEA furniture. The Fox News host claimed that there was a sexual element to the excerpt and suggested that Ocasio-Cortez was making a "booty call."
"By the way, the person who wrote this didn't even perceive how creepy it was," said Carlson. "'I'm alone today, Ocasio-Cortez says pointedly at the camera' – Is it just us, or does that sound like an invitation to a booty call? Maybe one step from 'what are you wearing?' Either way, it's a little strange, it's definitely oversharing."
Ocasio-Cortez shared a clip of Carlson's comments while saying that he and other conservatives had a "meltdown" the last time she accused them of having "obsessive impulses" about young women. Ocasio-Cortez then called Carlson a "creep" and warned that he was not a "safe person" to be around women.
"Remember when the right wing had a meltdown when I suggested they exhibit obsessive impulses around young women?" the congresswoman tweeted. "Well now Tucker Carlson is wishing for ... this on national TV. You're a creep bro. If you're this easy w/ sexual harassment on air, how are you treating your staff?"
"Any man that talks like this will treat any woman like this," she added. "Doesn't matter if you're Republican, Democrat, or neither, this is clearly not a safe person to leave alone w/ women. Once again, the existence of a wife or daughters doesn't make a man good. And this one is basura [trash]."
Newsweek reached out to Fox News and the office of Ocasio-Cortez for comment.