AOC Stumps for 'Squad' Hopeful Nina Turner in Ohio, Says It's About 'People vs. Big Money'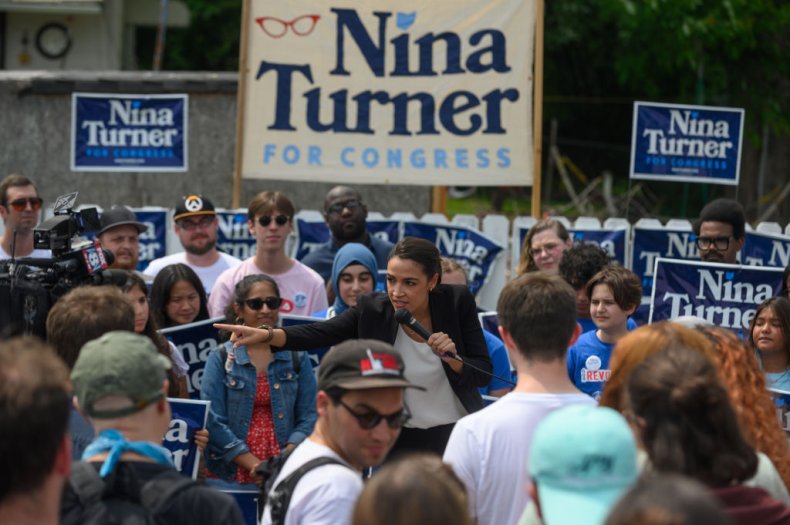 Representative Alexandria Ocasio-Cortez hit the campaign trail in Cleveland on Saturday to stump for former Ohio state Senator Nina Turner, who is seeking represent Ohio's 11th Congressional District.
Turner, who has also served as a top campaign aide to Vermont Senator Bernie Sanders, is competing in a 13-way Democratic primary for the seat, which was previously held by Marcia Fudge. President Joe Biden tapped Fudge as U.S. housing secretary earlier this year.
While there are many candidates in the race, the leading contenders appear to be Turner and Cuyahoga County Councilwoman Shontel Brown.
"This isn't about Nina vs any opponent; this is about the people versus big money," Ocasio-Cortez said, during a campaign event for Turner on Saturday, according to Fox 8.
"This is a deep blue seat. It's a deep blue seat. Districts like Ohio's 11th should be leading the country on issues. They are opportunities, they are very rare opportunities, very rare districts like this one that can take and be visionary," she added.
Only nine days remain until the Democratic primary on August 3. A July 19 poll obtained by Jewish Insider showed Turner ahead with 41 percent of support from voters, while Brown had 36 percent.
Turner is campaigning on a progressive platform that includes Medicare for All and support for a Green New Deal. In addition to Ocasio-Cortez, Turner has been backed by progressive stalwarts including Sanders and Representative Ilhan Omar of Minnesota.
Brown has received endorsements from many members of the Democratic establishment including former Secretary of State Hillary Clinton and House Majority Whip Jim Clyburn, of South Carolina.
In her campaign for the congressional seat, Brown has blasted Turner for not "fully" supporting Biden during the 2020 presidential election. On her campaign website, Brown points to her opponent's past criticism of the president.
"During this critical time of recovery from the virus, Northeast Ohio needs an experienced insider who will be a partner with Biden, not a foe, to get things done for the district," Brown writes on her website.
Brown's campaign did not immediately return a request for comment from Newsweek on Sunday.
But according to Fox 8, in response to Ocasio-Cortez's visit, Brown's campaign said in a statement that "the contrast in this race could not be clearer."
"Shontel Brown is the only candidate who from day one can work with the Biden administration and our house majority to deliver good-paying jobs, affordable healthcare, and affordable prescription drugs to northeast Ohio," the statement read.