AOC Tells Sarah Palin to 'Call 1-800-CRY-NOW' as Two Battle Over Feminism
Representative Alexandria Ocasio-Cortez responded to Sarah Palin calling her a "fake feminist" by telling her in a video posted Thursday on Twitter to "call 1-800-CRY-NOW."
The tweet came after Palin appeared on Fox News Wednesday night and said she was more of a feminist than the progressive Democrat from New York.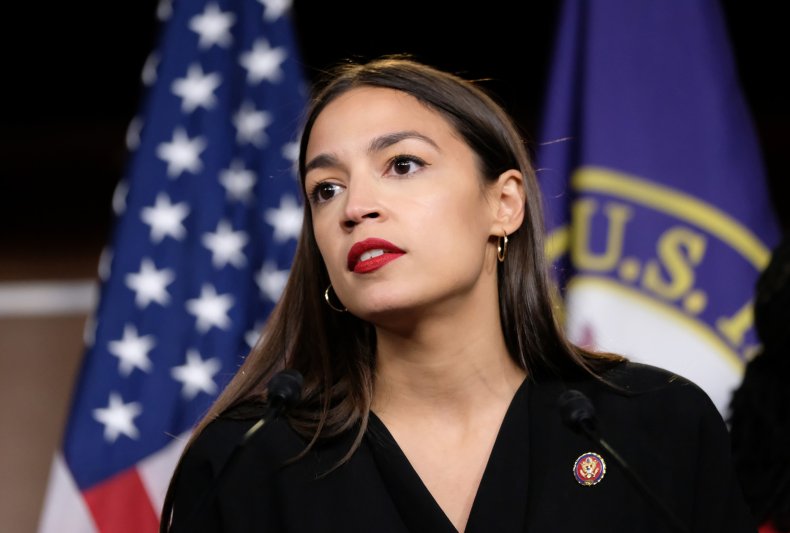 During the Fox News Primetime segment, the former Alaska governor and onetime vice presidential nominee was shown a clip of AOC talking to CNN's Anderson Cooper on Tuesday about Texas Governor Greg Abbott and his state's restrictive abortion law.
Ocasio-Cortez said the Texas Republican was "not familiar with a menstruating person's body" and should not be regulating one. This caused Palin to say to Fox News Primetime's guest host, Rachel Campos-Duffy, that AOC is "such a fake feminist that she would bring up an issue like this and try to use it to make some kind of political point."
"She's so off base politically, but even off base in the analogy or whatever it is that she's throwing out there. She's milking the whole female thing, and as a real feminist, I'm embarrassed for her," Palin added.
On Thursday, AOC responded on Twitter with a video and message that read: "I'm so sorry Sarah Palin is mad at me! In fact, to address this I set up a special hotline just for her."
In the accompanying video, Ocasio-Cortez speaks to Palin, asking, "Does my existence make you mad? Does the fact that, yes, I am a mouthpiece for the people of New York's 14th congressional district upset you? Well, I have help for you. Call 1-800-CRY-NOW. That's 1-800-CRY-NOW."
AOC followed up the message soon afterward with another tweet, writing: "In fact, we also set up a corresponding website—proceeds go to abortion and reproductive health providers in Texas."
The tweet links to an ActBlue donation page that directs money to different abortion funds. Ocasio-Cortez wrote shortly before noon on Thursday that the page had already raised more than $250,000.
The new Texas law bans abortions as early as six weeks, with no exceptions for rape or incest. On Tuesday, Abbott said rape victims can still get an abortion before a fetal heartbeat is detected and said Texas will work to "eliminate all rapists."
On Anderson Cooper 360°, Ocasio-Cortez said Abbott "speaks from such a place of deep ignorance...and it's not just ignorance. It's ignorance that is hurting people across this country."
Newsweek contacted Palin and Ocasio-Cortez for comment but did not hear back from either in time for publication.