New York Democratic Congresswoman Alexandria Ocasio-Cortez reiterated her support for Donald Trump's immediate removal from office on Sunday morning, describing his continued influence as a "clear and present danger" to federal lawmakers as well as the American public.
Ocasio-Cortez, a progressive member of the U.S. House who has spoken out against Trump's conduct throughout his presidency, is one of the congressional Democrats currently pushing for his prompt White House departure in the aftermath of the deadly Capitol riot this past Wednesday.
"I absolutely believe that impeachment should be scheduled for several reasons," said Ocasio-Cortez during a Sunday morning appearance on ABC News' This Week.
"Of, course our main priority is to ensure the removal of Donald trump as President of the United States," she continued. "Every minute and every hour that he is in office represents a clear and present danger, not just to the United States Congress but, frankly, to the country."
Calls for Trump to resign emerged alongside plans to force his early dismissal last week, after a mob of his followers staged a violent attack on the U.S. Capitol. Although the sitting president is due to exit office when Joe Biden is formally inaugurated next Wednesday, numerous officials argue that his term should conclude sooner. House Democrats, including Speaker Nancy Pelosi, have indicated that impeachment proceedings or invocation of the 25th Amendment could be in order if Trump fails to step down of his own accord.
Ocasio-Cortez said federal lawmakers are also discussing ways to prohibit Trump from running for president again, or pardoning himself from impeachment charges. If lawmakers pass impeachment articles related to Trump's conduct surrounding the Capitol riots, he would become the first president in U.S. history impeached twice during a term.
While citing an urgent need for Trump's White House retreat, Ocasio-Cortez addressed pushback from Republican officials who oppose Democrats' push to impeach him. On Friday, a group of seven GOP representatives penned a letter to President-elect Joe Biden, requesting that he block Pelosi's impeachment efforts "in the spirit of healing and fidelity to our Constitution."
"A second impeachment, only days before President Trump will leave office, is as unnecessary as it is inflammatory," the letter read.
Ocasio-Cortez underscored the gravity of last week's uprising at Capitol Hill on Sunday, additionally pointing to Trump's role in catalyzing the riot. The mob stormed the Capitol complex after a rally to oppose Biden's election victory, which Trump promoted and urged them to attend during the weeks preceding it. The sitting president's passive reaction to destruction that transpired at the Capitol further elevated concerns about his mental acuity and fitness to maintain his position as president. Moreover, Ocasio-Cortez noted that failing to impeach him could establish a dangerous precedent.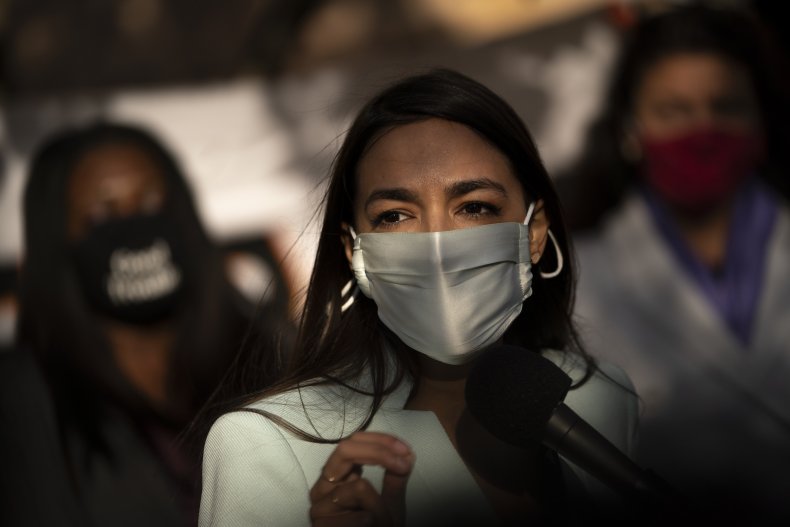 "We have to understand that what happened on Wednesday was insurrection against the United States. That is what Donald J. Trump engaged in, and that is what those who stormed the Capitol engaged in," she said. "When we talk about healing...the process of healing is separate, and, in fact, requires accountability. And so, if we allow insurrection against the United States with impunity, with no accountability, we are inviting it to happen again. That is how serious it is."
In a subsequent message shared to Twitter, the congresswoman suggested that Republicans seeking to halt impeachment pursuits are hurting the country by yielding to Trump.
"These Republicans are not asking for unity. They are requesting capitulation to a deeply unwell and volatile man," she wrote. "That will not heal or unify anything."
Newsweek reached out to Ocasio-Cortez's office for further comment, but did not receive a reply in time for publication.