Donald Trump Could Become First President Impeached Twice
It was always a long shot that President Donald Trump would exit the stage quietly, but the push by some Democrats for another impeachment trial could add an even more dramatic denouement to a turbulent term.
Bill Clinton (in 1998) and Andrew Johnson (in 1868) are the only other members of the exclusive presidential impeachment club, but Trump could really make history if Congressional Democrats clamoring for an unprecedented second trial get their way.
Trump has been condemned on all sides for his rhetoric and claims of election fraud that lit a touchpaper for his supporters to storm the Capitol Building on Wednesday, with U.S democracy itself considered to be among the debris left in its rotunda.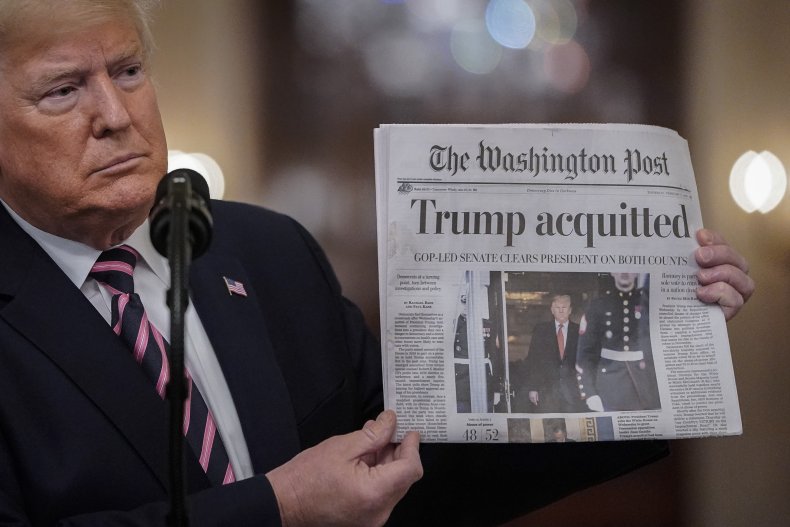 Progressives like Alexandria Ocasio Cortez, Ilhan Omar, Rashida Tlaib and Ayanna Pressley have joined a growing group calling for his impeachment, which also includes Massachusetts Sen. Ed Markey, Illinois Gov. J.B. Pritzker and Vermont's Republican Governor, Phil Scott.
But with less than two weeks to go before President-elect Joe Biden takes the oath of office outside the building that protesters managed to breach, time is of the essence.
If impeached in the House, Trump could theoretically face another trial in the Senate, but the upper house is scheduled to be in recess until January 19, which is only 24 hours prior to Inauguration Day.
Thomas Gift, director of the Center on U.S. Politics at University College London, said that the likelihood of Trump's impeachment was low, especially as it would be tough to muster the two-thirds majority in the Senate required to remove Trump from office.
"For one thing, the president is slated to leave office in less than two weeks, meaning that some Congress members might simply prefer to see his time in office expire naturally rather than short-circuit it by a few days," he told Newsweek.
"Additionally, for many Republicans, a vote against the president in such a high-stakes way would carry huge political risks given that the president continues to maintain considerable support among the GOP base."
We have been here before. The Democratic-led House impeached Trump in December 2019 for pressuring the president of Ukraine to investigate Biden, but he was acquitted.
Adam Schiff, who was the lead Democratic prosecutor during that trial, said on Friday that Trump should leave office immediately, and if he doesn't resign, it should be either through impeachment or the 25th Amendment.
That latter route in which the president is judged to no longer be fit to carry out his duties, has also been invoked by House Speaker Nancy Pelosi and Senate Minority Leader Chuck Schumer, who said Trump's "dangerous and seditious acts" warranted an immediate expulsion from office.
On Friday, the World Mental Health Coalition submitted papers to Congress calling for Trump to be psychiatrically assessed and said that his mental state makes him a danger to the country. It says the 25th Amendment should be used, even with only a few days left to run in Trump's term.
However, there could be considerable consequences should Trump be removed before January 20.
"It would likely make him a martyr to his supporters, further incite the far-right, and reinforce political divisions going into Biden's presidency," Gift said.