Donald Trump Needs Psychiatric Assessment, Mental Health Doctors Tell Congress
A team of Washington, D.C.-licensed psychiatrists and the president of an organization of mental health professionals that has been warning against the mental unfitness of President Donald Trump are submitting documents to Congress calling for the commander-in-chief to be psychiatrically assessed.
World Mental Health Coalition President Bandy X. Lee hopes the move will provide information that can make the 25th Amendment possible at the same time as offering immediate security measures.
Calls are growing to remove Trump before Inauguration Day on January 20 following Wednesday's storming of the Capitol Building by his supporters. He is accused of fomenting the chaotic scenes through his rhetoric and refusal to accept the election result.
Amid discussions over another possible impeachment process, House Speaker Nancy Pelosi has called for Vice President Mike Pence and the Cabinet to invoke the 25th Amendment of the Constitution, which allows them to determine if the president is no longer fit to carry out his duties.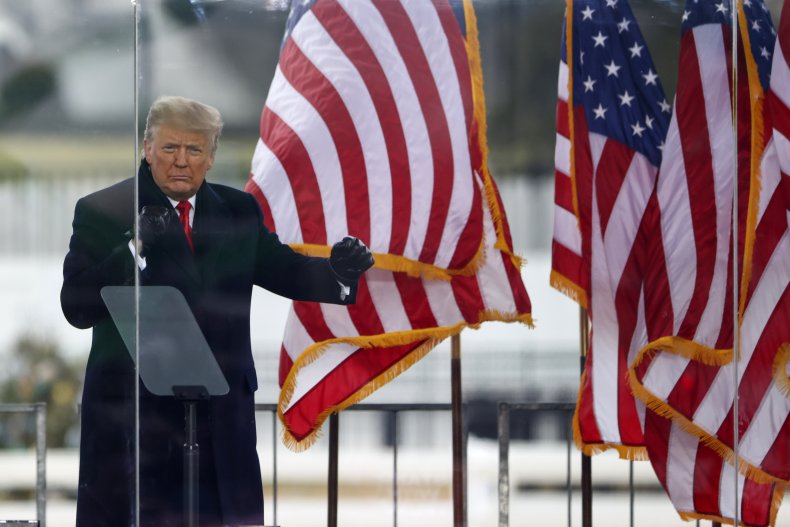 Lee is a forensic psychiatrist who has taught at both the Yale School of Medicine and the Yale Law School and co-authored The New York Times bestseller, The Dangerous Case of Donald Trump, which compiled evidence of Trump's mental state.
She said his reluctance to relinquish power and his COVID pandemic response were predictable based on information about his mental capacity. Even with only a few days left of his presidency to go, she said he still poses an unacceptable level of medical risk that requires intervention.
The coalition she heads has submitted to Pence and all the members of Congress, a submission that calls for "the involuntary admission" for Trump whom it says "needs to be evaluated for the least restrictive means of containment."
His refusal to accept the victory of President-elect Joe Biden and insistence that he had won by a "landslide" were consistent with "dangerous delusions of grandeur," the submission said.
"His ability to mount an even larger insurrection and violent upheaval remains, in addition to his retaining full access to nuclear and other weapons and the power to launch an international war," said the document, which was co-signed by two D.C.-licensed psychiatrists.
In April 2019, the coalition produced a mental health analysis of Trump based on the findings of the report into claims of Russian election interference by Special Counsel Robert Mueller, that concluded he was unfit for any job.
"We now have a lot of intimate information and many mental health professionals say, 'we know him better than any patient we have ever treated', and that seems to be a universal sentiment," she told Newsweek.
"The next two weeks will still be the most dangerous period yet unless there is correct intervention," she added.
Section 4 of the 25th Amendment says that the vice president and a Cabinet majority can give a written declaration "that the president is unable to discharge the powers and duties of his office," although this can be challenged by the commander-in-chief.
Section 4 also includes situations when a president "by reason of mental debility, is unable or unwilling to make any rational decision, including particularly the decision to stand aside."
A number of Trump's adversaries have raised questions over Trump's mental fitness, such as former White House communications director Anthony Scaramucci. However, for mental health experts to do so raises ethical questions.
The "Goldwater rule" states psychiatrists should not give opinions on those they have not personally examined. Named after Republican candidate Barry Goldwater, who ran for president in 1964 and who successfully sued the magazine Fact after it polled psychiatrists about whether he was fit for office.
Lee and her group have argued that the rule has been politically distorted by the American Psychiatric Association (APA), which expanded it in March 2017 to restrict not just diagnosis, but any comment on the mental health of public figures who had not had a personal examination.
In a statement in January 2018, the APA reiterated its "continued and unwavering commitment" to the rule, saying that "a proper psychiatric evaluation requires more than a review of television appearances, tweets, and public comments."
But while Lee says a diagnosis is a detailed process that requires medical records, if not always an interview, medical professionals have a responsibility to protect society against danger.
Lee told Newsweek: "While the 25th Amendment negotiations are happening or the impeachment process is started, there are not likely to be safeguards, given the lack of understanding of his true dangerousness from a mental health perspective, which is critically relevant." Newsweek has contacted the APA and the White House for comment.