Over 230,000 Sign Petition to Remove Trump as Lawmakers Urge Pence to Use 25th Amendment
More than 230,000 people have signed a petition calling for President Donald Trump's removal following the attack on the U.S. Capitol by a mob of pro-Trump demonstrators.
Hundreds of the president's supporters stormed the nation's Capitol on Wednesday as Congress convened to certify President-elect Joe Biden's electoral votes. The riot came shortly after Trump urged his supporters to march to the Capitol and confront lawmakers who refused to back his unsubstantiated claims of widespread voter fraud. Trump told supporters at a rally to "fight much harder," and his personal lawyer Rudy Giuliani said they should have "trial by combat."
Now, hundreds of thousands of Americans want the president removed, as lawmakers discuss invoking the 25th Amendment and a possible second impeachment for the president's actions.
"The daily damage he is doing to America—much of it criminal—is inexcusable. He continues to relentlessly spread conspiracy theories about voting and federal elections and is actively working to manipulate election results," the petition, launched by MoveOn's website, says. "Trump's incitement of mob violence earlier today in D.C. is just the latest in a series of insults and assaults on our democracy."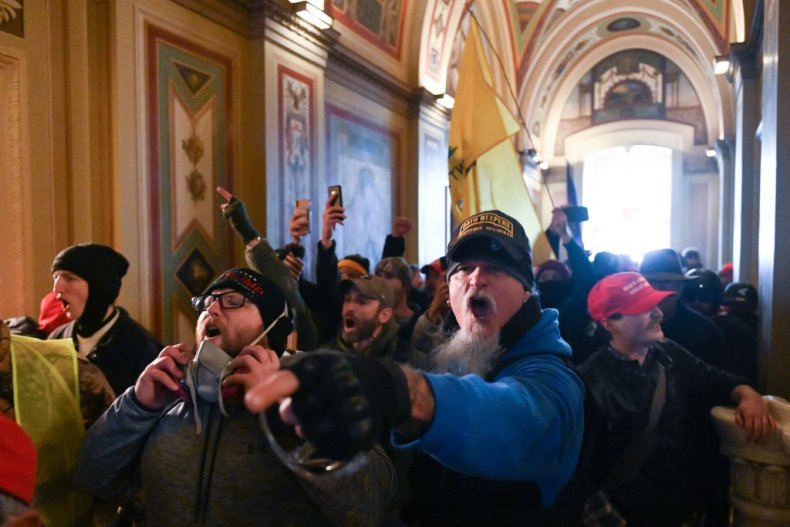 The petition is directed to the House of Representatives, the Senate and Trump's Cabinet. As of Thursday afternoon, the petition had garnered nearly 232,400 signatures, with the goal of reaching 300,000.
"Our nation's federal leadership must come together to remove Donald Trump from office. He is actively and illegally working to overturn the results of the election because he cannot stand to admit he lost. He's the leader of the violence and chaos at the Capitol right now. Enough is enough. Remove Trump from office. Now," the petition concludes.
Democratic lawmakers and Republican Representative Adam Kinzinger of Illinois have already called on Vice President Mike Pence to invoke the 25th Amendment to remove Trump immediately from office. That amendment to the Constitution allows for the vice president and the majority of Cabinet members to determine if the president is no longer fit to carry out his duties. They would submit the decision to congressional leaders, and Pence would serve as president until Biden is inaugurated on January 20.
"Sadly, yesterday it became evident that not only has the president abdicated his duty to protect the American people and the people's House, he invoked and inflamed passions that only gave fuel to the insurrection that we saw here," Kinzinger said in a video posted to Twitter on Thursday morning. "It's time to invoke the 25th Amendment and to end this nightmare."
Presumptive Senate Majority Leader Chuck Schumer, a New York Democrat, and House Speaker Nancy Pelosi, a California Democrat, have also urged Pence and the Cabinet to remove Trump. Pelosi said that Congress may pursue a second impeachment if Pence and the Cabinet do not act.
A group of Democratic House members on Thursday unveiled articles of impeachment as well. The articles were put forward by Representatives Ilhan Omar of Minnesota, David Cicilline of Rhode Island, Ted Lieu of California, Al Green of Texas, Hank Johnson of Georgia, Ayanna Pressley of Massachusetts, Rashida Tlaib of Michigan, Vicente Gonzalez of Texas, Jamaal Bowman of New York, Mondaire Jones of New York, Veronica Escobar of Texas, Alexandria Ocasio-Cortez of New York and Cori Bush of Missouri.
"Donald Trump remains the single greatest threat to our democracy," Omar said in a press release emailed to Newsweek. "Every day that he remains in the office of the presidency—overseeing the United States military and nuclear arsenal—is a day the safety of the American people and the world are threatened."
In the same press release, Jones said, "We must ensure that this is nothing more than a last gasp for Donald Trump and his Republican co-conspirators in the House and Senate. That's why I'm proud to join my colleagues in calling for impeachment."
The White House did not respond to Newsweek's request for comment in time for publication.