Rep. Adam Kinzinger Becomes First Republican to Call for Trump's Removal From Office by 25th Amendment
Representative Adam Kinzinger on Thursday became the first Republican member of Congress to call for President Donald Trump's immediate removal from office, following a day of violence and looting by a pro-Trump mob that carried out an insurrection on the U.S. Capitol Building. Lawmakers inside were certifying the presidential election results.
The Illinois lawmaker, who called on the outgoing commander-in-chief's Cabinet to invoke the 25th Amendment to swiftly oust him from his post, described the siege of the Capitol complex as "a wakeup call" to install a new "sane captain of the ship."
"Sadly, yesterday it became evident that not only has the president abdicated his duty to protect the American people and the people's House, he invoked and inflamed passions that only gave fuel to the insurrection that we saw here," Kinzinger stated in a video posted to Twitter. "It's time to invoke the 25th Amendment and to end this nightmare."
Rep. Steve Stivers (R-Ohio) later followed suit, telling Spectrum News that should the Cabinet choose to remove the president, "I would not oppose it, I will tell you."
The GOP duo were the only members of their party who had so far revealed such sentiments.
Despite the hours-long delay from the rioters, Joe Biden was certified as the duly-elected president by the U.S. Congress around 3:30 a.m. Thursday.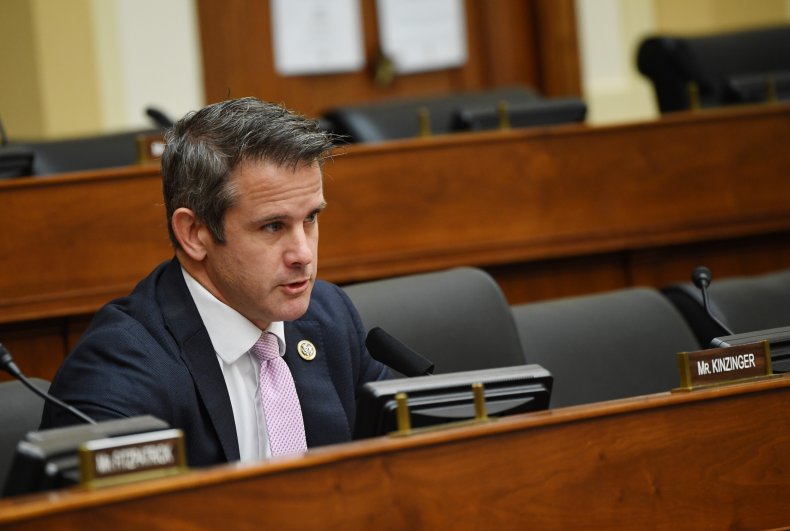 Kinzinger highlighted Trump's tepid calls for peace, long after his supporters had already violently pushed past police lines and physical forced their way through the windows and doors of the Capitol. Inside the House chamber, as police had an armed standoff with rioters while lawmakers, staff and reporters crouched in hiding, Democrats yelled blame at their GOP colleagues, pleading for them to call Trump and have him demand peace.
In posts on Twitter that were later locked or removed by the social media network out of fear it would stoke further violence, Trump's message appeared insincere: "Go home, we love you, you're special."
Just hours earlier, the president had ginned up thousands of those same rioters, urging them to march over to Congress and demand that lawmakers usurp the democratic process and overturn his election loss based on baseless conspiracy theories of fraud.
At the same event, Trump's personal attorney, former New York Mayor Rudy Giuliani, called for a "trial by combat."
"When pressed to move and denounce the violence, he barely did so, while of course victimizing himself and seeming to give a wink and a nod to those doing it," Kinzinger said. "All indications are that the president has become unmoored, not just from his duty, or even his own, but from reality itself."
Kinzinger, who for months has grown louder in his criticism of Trump's words and actions, took direct aim at others within the GOP who he described as being enablers to the sort of civil unrest that played out within the halls of Congress. His call for Trump's removal via the 25th Amendment joined the likes of many Democrats, including Senate Minority Leader Chuck Schumer (D-N.Y.). There have been reports that members of Trump's Cabinet have discussed the notion, but no such action has been taken.
Indeed, several Republican lawmakers and Trump loyalists—Reps. Matt Gaetz (R-Fla.), Mo Brooks (R-Ala.) and Marjorie Taylor Greene (R-Ga.), Texas Attorney General Ken Paxton (R) and Fox hosts Lou Dobbs, Martha McCallum and Laura Ingraham, among others—have pushed baseless claims that left-wing extremists and Antifa staged the mob attack that was responsible for four deaths and more than 50 law enforcement officers being injured.
Many other Republicans decried the siege and called it for what it was—an insurrection carried out by domestic terrorists—but few chose to associate blame directly to Trump and his bombastic rhetoric.
"We will arise from this, but we cannot forget what led us here: the liars and conspiracy authors are already at it again this morning with false narratives about yesterday's disaster," Kinzinger said. "Here's the truth: the president caused this. The president is unfit. And the president is unwell, and the president must now relinquish control of the Executive Branch—voluntarily or involuntary."
This story was updated to include information about Rep. Stivers.